IN a strange scene, Alyssa Valdez was seen in tears just outside the PLDT dugout at The Arena, just moments after leading the Ultra Fast Hitters to a big comeback against Philippine Army in her first game back in the Shakey's V-League on Saturday afternoon.
Tears of joy? Hardly.
Ricky Palou, head of organizing Sports Vision and at the same time Ateneo's representative to the UAAP board, was seen in a conversation with the popular Lady Eagle after the match along with Ateneo team manager Tony Boy Liao.
Palou later explained Valdez was not given a green light by the school to play for PLDT in the finals of the Season 12 Reinforced Conference, and in effect defied her school's orders by coming off the bench to lead the Ultra Fast Spikers to the fiery comeback from two-sets down.
[See Valdez marks V-League return by leading PLDT to big comeback over Army]
And why was she being barred from playing in the V-League?
"We wanted her to be completely well both physically and mentally for the (coming) UAAP (volleyball season), that's why we wanted her to rest train lang muna, no games," said Palou.
"In competition kasi, you exert more effort 'di ba? So if you're not completely well it could cause more injuries," he added.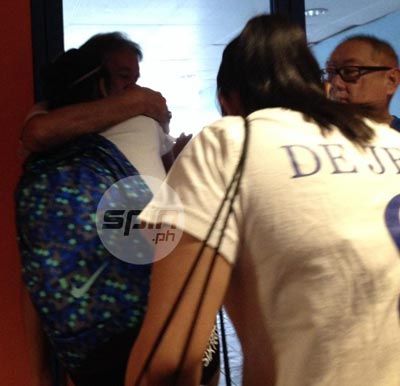 It was not the first time Valdez sat out games in the V-League. She also sat out the early stages of the Collegiate Conference, supposedly due to her doctor's advice to let her recurring injuries heal.
She was eventually given the go signal to play and even steered the Lady Eagles to a runner-up finish to National University in October.
Asked about it later, Palou said, "At that time, we thought na early pa naman there's still plenty of time to recover. But now, we want her to rest."
At first Valdez begged off from being interviewed but eventually relented. But before she could speak, Ateneo coach Tai Bundit, who was waiting for her outside the locker room, took her by the hand as led her out of the arena.
"Faster we have training," yelled Bundit when Spin.ph tried to talk to Valdez.
Recommended Videos