COACH Oliver Almadro's words of encouragement seemed to fire up Dani Ravena, and it drew mixed reactions on social media.
Almadro tried to motivate Ravena to go for the saves, with the match tied at a set each and a point separating Ateneo-Motolite and Pocari Sweat in the third set of their PVL Open Conference match on Sunday at Imus Sports Complex in Imus City, Cavite.
"Believe me, you're very good, don't doubt. Ravena ka, walang duwag na Ravena. Do you understand?" Almadro told the sophomore Lady Eagle, daughter of TNT coach Bong Ravena and former volleyball player Mozzy, and sister of basketball stars Kiefer and Thirdy.
"You know what you're doing, sometimes nagda-doubt ka lang kung tama 'yung gagawin mo or hindi," he continued. "Just follow the system, follow the process, start at the line then move, do you understand? You're doing good, believe me."
Dani just stood, nodding.
The words seemed to motivate Ravena as she registered 16 digs and 11 excellent receptions in the four-set win.
While Almandro was praised online for the motivational talk, some believe it was unnecessary.
But Almadro believes it worked, not only for Ravena but the rest of the squad.
"Siguro, kasi nakabalik eh. Siguro nakatulong 'yun," said Almadro.
"Sana mga ganoon ko, alam niyo naman hyper ako eh, sana 'yung mga ganoon ko mag-click sa utak nila. 'Yun ang hinahabol ko eh," he said.
"Wala naman talagang Ravenang duwag eh, tama naman," he added.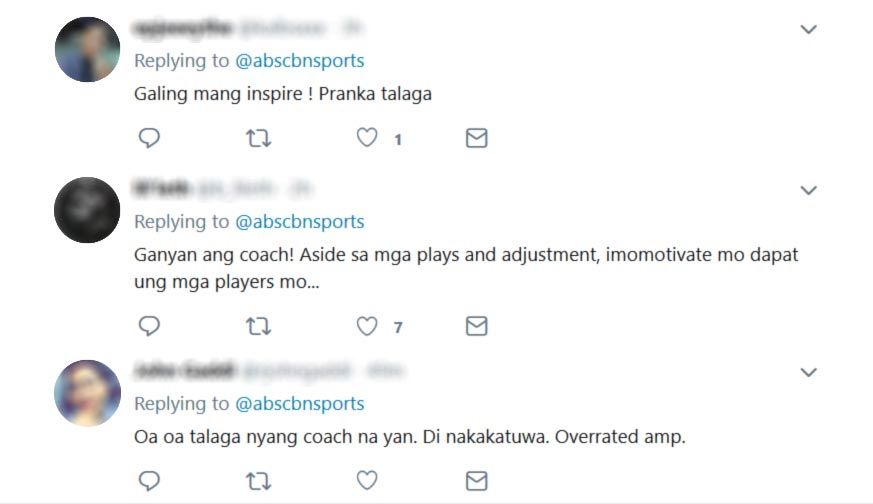 Recommended Videos