ANOTHER new year approaches, but before we welcome 2018, it's high time to pay tribute to an eventful 2017, especially in Philippine women's volleyball.
There were plenty of colorful and dramatic events in the collegiate ranks, club leagues and the national team stints in international competition that rocked the women's volleyball scene in 2017.
Champions teams and even individual players lived up to the true sense of being an athlete - humble in victory and gracious in defeat. The inspiring moments also came with some low points.
Here are some of the most memorable moments in Philippine women's volleyball from the year about to end.
HIGHLIGHT: La Salle Lady Spikers regain UAAP throne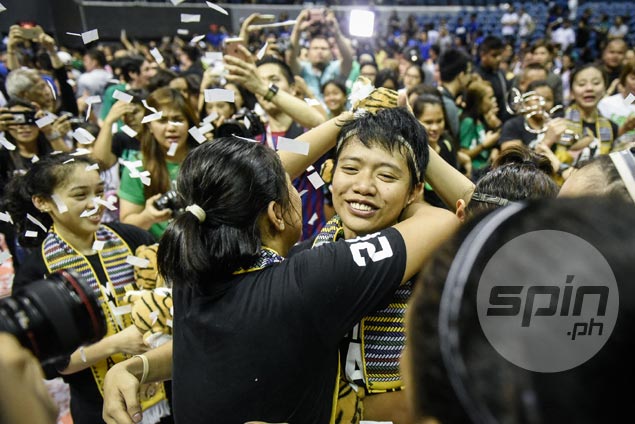 ADVERTISEMENT - CONTINUE READING BELOW ↓
For the fourth time in their six consecutive UAAP women's volleyball finals showdowns, La Salle reigned supreme over Ateneo, giving Lady Spikers coach Ramil de Jesus his 10th title in his 20-year stint with the Taft-based squad.
Desiree Cheng was hailed as Finals MVP, while Kim Fajardo ended her collegiate career as a champ.
HIGHLIGHT: Arellano University dedicates NCAA conquest to grieving coach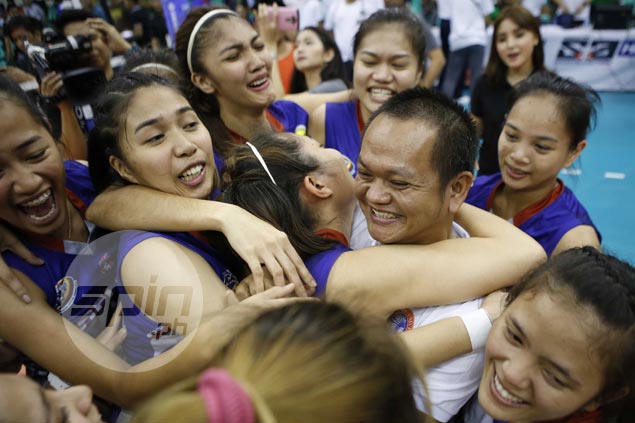 ADVERTISEMENT - CONTINUE READING BELOW ↓
The Lady Chiefs copped its second title in the NCAA women's volleyball tournament defeating then thrice-to-beat San Sebastian College. But the win was made more memorable as it was a bittersweet feat for AU coach Obet Javier, who lost his wife to cancer just days before the championship.
LOWLIGHT: Devastating injuries on rival volleyball leagues Philippine Super Liga and Premier Volleyball League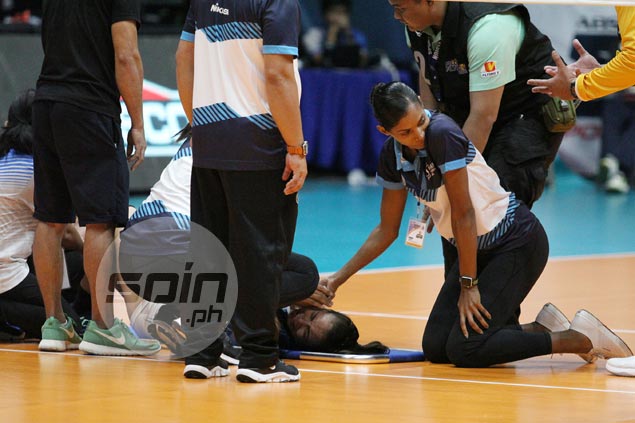 ADVERTISEMENT - CONTINUE READING BELOW ↓
Having two warring club leagues is already bad enough for a sport growing in popularity. For instance, the PVL again encountered a problem with the International Transfer Certificate of its imports but, nonetheless, foreign players were given the green light from the FIVB.
But for both sides to be devastated with cases of debilitating injuries on key players just worsens the situation.
Players like Kim Gequillana, Jema Gallanza, Jovelyn Gonzaga and Janine Marciano among others, getting stretchered off with separate gruesome injuries are sights that are hard to forget for volleyball fans. And these situations could possibly be lessened with a unified league with a steady schedule to reduce wear and tear, especially on collegiate players suiting up for club teams.
HIGHLIGHT: The rise of pint-sized libero Dawn Macandili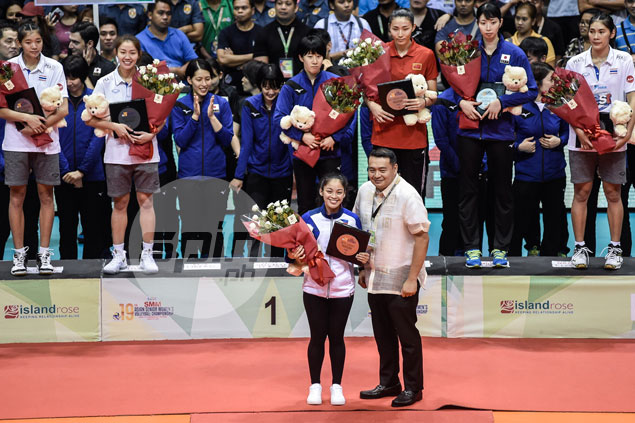 ADVERTISEMENT - CONTINUE READING BELOW ↓
The La Salle defense specialist stood tallest when Macandili was named the second best libero in Asia.
It was a proud moment for the national team and the entire Filipino nation when the 4-foot-11 Macandili was on her way to receive the award during the AVC Asian Women's Seniors Championship in September.
The Batangas native overcame opening game jitters and impressed not even her fellow Filipinos but even her foreign foes during the week-long tournament that was held in Biñan, Laguna.
"Nakaka-amaze kasi 'yung, parang training ka lang nang training, tapos gusto ko lang naman makatulong sa team para hindi bumagsak ang bola tapos may nakaka-recognize pala ng ganoon, parang nagpe-payoff pala siya (ang efforts ko)," said Macandili.
Her feat also elevated her from reserve role to suiting up for the national team in the Southeast Asian Games held in Kuala Lumpur, Malaysia.
HIGHLIGHT: Sara Klisura sets new scoring record
ADVERTISEMENT - CONTINUE READING BELOW ↓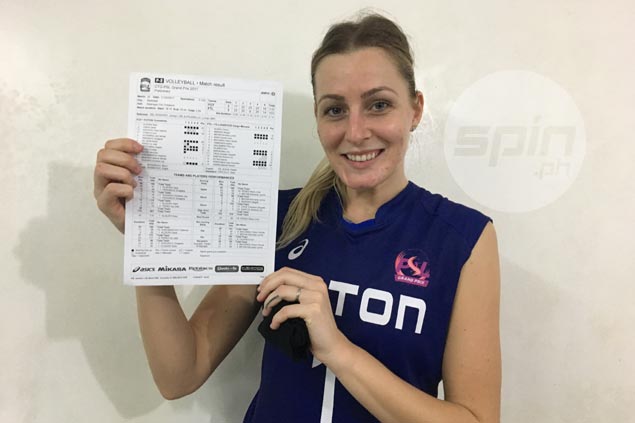 Foton's prolific Serbian import shattered the PSL scoring record after she poured in 41 points in a preliminary match win over F2 Logistics in the Grand Prix.
Klisura erased a previous record set by mane 'N Tail import Kristy Jaekel, who scored 40 points in the 2014 Grand Prix.
HIGHLIGHT: The Philippine women's national team makes progress
ADVERTISEMENT - CONTINUE READING BELOW ↓
The nationals were impressive in the AVC Asian Women's Seniors Championship, with wins over Hong Kong and Asian powerhouse Vietnam. The team finished eighth to secure a spot in the 2018 Asian Cup.
Despite weary bodies and aching muscles, not to mention homesickness, the team was ready for another battle in the SEA Games just days after the AVC tournament.
ADVERTISEMENT - CONTINUE READING BELOW ↓
The national team again impressed in biennial meet with a win over Malaysia but ended up losing to Vietnam in the pool stage and to perennial SEA Games champion Thailand in the crossover semifinals.
Still, the Pinay spikers had the chance for the bronze but faltered in a rematch with Vietnam. Despite the failed bid for a medal, though, the fact that the team managed to contend with Asia's best was a big step forward for the Philippine squad.
LOWLIGHT: The endless drama on social media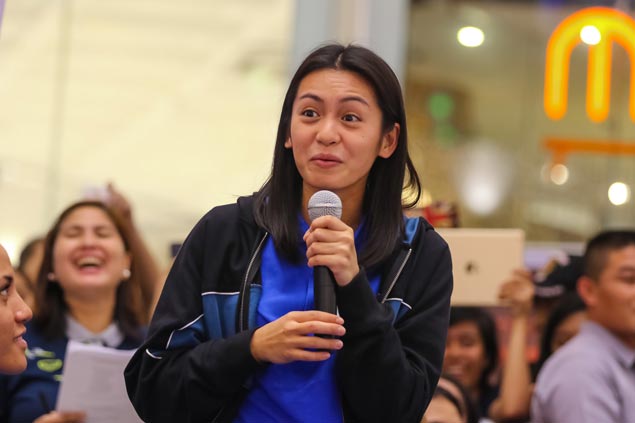 ADVERTISEMENT - CONTINUE READING BELOW ↓
Social media allowed volleyball fans to shower praises on their idols but at the same time throw unlimited bashing on whoever they hate.
Opinionated fans bashed Larong Volleyball sa Pilipinas, Inc.'s selection of the national team pool, the omission of their favorite player, or the inclusion of someone they deem less worthy, or what they think was unfair treatment for their idol.
Some players, however, like outspoken middle blocker Aby Maraño engaged fans in debate, and there's also the case of Denden Lazaro taking a stand on social media clearing her side in a controversial photo op with a male fan caught on video.
Others, though, called for more responsible social media use, a worthy resolution for the new year not just for volleyball fans but for all.