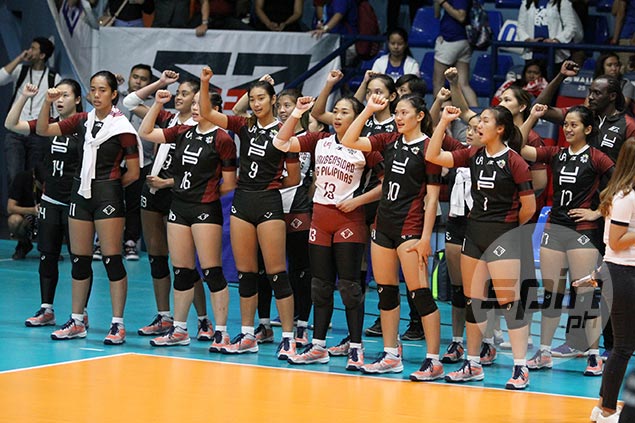 UNIVERSITY of the Philippines women's volleyball team honored former long-time team patron Lourdes Guerrero, who passed away due to aneurism, with a big win to stay in contention for a semis spot in UAAP Season 80.
UP stayed in the Final Four race after a straight-set victory over National University, 25-18, 25-22, 25-20, on Wednesday at The Arena in San Juan.
"Our game today was really dedicated to her," said graduating spiker Ayel Estrañero.
The UPWVT mourn the loss of Lourdes Guerrero who joined our creator on 27 March 2018. She was a cornerstone in the team's support system and was there to take care of us when there was no one else. pic.twitter.com/U42mfOiXGR

— UPWVT (@OfficialUPWVT) March 28, 2018
Guerrero, who was the founder and president of Alumni Association of UP women's volleyball team, was 'everything' to the players.
"She's really the backbone of everything, she founded everything. Dati kung wala kaming sasakyan, kotse niya. Kung walang driver, siya nagda-drive," shared Estrañero. 
"Hindi lang siya sponsor, she was like a mother to us, a sister, a friend. Tita Lourdes was really everything to us," she added.
Guerrero, who was a former player of UP, was in comatose for two years before she died on March 27.