AFTER being away from her family all these years, Jeng Bualee has finally reaped the fruits of her labor.
Seven years of waiting came to an end for the well-loved Thai import, who can now take pride in being a champion after steering Sandugo-San Sebastian to the Shakey's V-League Open Conference title.
The highly-touted Thai was a two-time MVP of the country's premier ladies volleyball tournament, but was never a part of a champion team until the Lady Stags' 2-0 sweep of the Cagayan Valley-Perpetual Help Rising Suns in the Finals.
She capped the moment by running away with the Finals MVP plum.
"Syempre I'm happy, very masaya," said the ever-smiling Sandugo star player.
Behind that bubby personality, however, is a strong-willed lady who struggled and sacrificed a lot adjusting to her new environment for the sake of her family.
"At first everything was hard," Jeng said as she recalled the time when she first came over six years ago. "I don't know how to talk the language, I can't communicate with my teammates. When we are playing I can't follow (instructions) because I can't understand them. Sometimes I cry."
It's the thought of her family that gave the guest player the strength to stay on when she was on the verge of giving up.
"Because of my family that's why I came here to play volleyball. I want to support them," said the 28-year old Sandugo skipper in halting English. "When I miss them I call them and then I'm ok na. I don't feel homesick anymore."
According to Jeng, her parents have a rice farm in their province in Udon Thani and live alone in their house as her older brother is a monk who stays in a monastery.
"I told my mom and dad that I will send them money and they should not worry about me. I told them I want to be with them for a long time so they just stay at home and rest," she related.
In due time, the foreign player who would cry at an instance when she can't understand a thing her teammates would say, soon learned to adapt to the culture of the country she eventually called her second home.
"Noong una mahirap kasi hindi pa talaga siya marunong mag-English so tiyaga talaga na kausapin namin siya, i-explain naming sa kanya yung mga bagay-bagay pero di nagtagal ayun natuto naman na siya," recalled Suzanne Roces, who's been friends with Jeng for four years now.
The Thai has become so accustomed to the Filipino way of living that she now considers sinigang and adobo as among her favorites. And like any foreigner who's been to the country, Bualee has also tried eating balut upon the prodding of her coach Roger Gorayeb.
"Ngayon nga madami na alam yan na Tagalog, minsan nga nangbu-bully na," said Roces in jest. "Mang-aasar yan, makulit kasi eh pero pa-joke lang, yung hindi nakakapikon na asar."
"Mabait yan si Jeng, magaling maki-sama at ma-alaga. Minsan pagluluto niya kami ng Thai food, bigla na lang yan kakatok sa kwarto sa dorm may dalang pagkain. Ang hilig niya lutuin `yung Somtam, parang version ng champorado sa kanila," she added.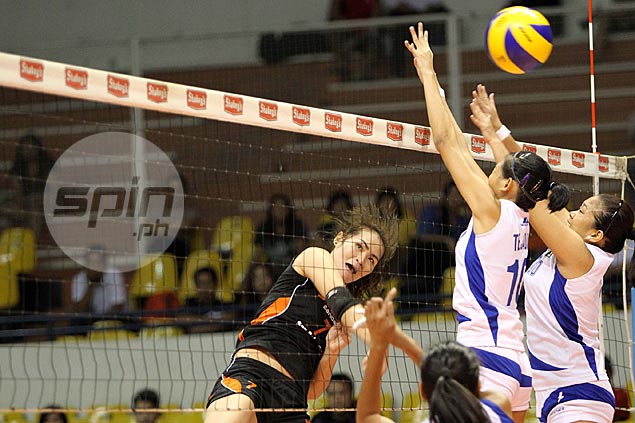 Jeng stays at the players' quarters inside the San Sebastian campus, and has ventured to nearby Divisoria for shopping.
"When it was my first time in Divisoria, they told me to put my wallet inside the bag, they'll tell me not to bring my cell phone and bring only my money," she recalled. "Because in my country you can carry your wallet anywhere, you can wear necklace, or jewelry all the time. But here it's bawal in Divisoria."
Being away from her family, Jeng found a second father in coach Gorayeb, who's been her guide since she came over in 2006.

"Coach Roger is my father here in the Philippines. He is very mabait, I tell him my problems, we always talk to each other. He listens to me, and I follow what he tells me," said the Thai, a marketing graduate.
"Parang anak ko na yan si Jeng," seconded Gorayeb. "Sa bahay yan minsan nakatira kasama mga anak ko. Magalang na bata, magaling makisama, at sa pagkain hindi maselan."
The champion coach also has nice words for Jeng in terms of her attitude on the court.
"Maayos ang work ethic niya, pag naglaro o kahit sa ensayo man all-out yan. Basta andyan si Jeng malaki ang naitutulong niya sa team, pati na sa volleyball mismo dito sa Pilipinas. Madami nang mga players ang natuto sa kanya at isa din siya sa mga dahilan bakit sumikat ang volleyball ngayon."

Her skills and talent, not to mention her friendly demeanor, readily endeared Jeng to a lot of Filipino volleyball fans, who showed their support by watching the Thai in action every game – be it at the Ninoy Aquino Stadium or The Arena in San Juan.
"I did not expect to have many fans. They are so mabait, I'm friends with them. They smile at me and I say hi to them and they are happy," said Jeng with much appreciation.

Then again, you can't please everyone, and Jeng is no exception.

"Some fans don't like me. I don't care when they boo me. I just show them what I can do, but I'm not mad, I came here to enjoy volleyball," she explained.

Bualee plans to make a quick return to Thailand and visit her parents now that the V-League is over.
By next month, she will be back on the road, first playing for Vietnam in another volleyball competition, before going back here for another tour of duty.