VOLLEYBALL matches are always exciting to watch whenever highly competitive teams are playing especially with a playoff berth or a championship is on the line.
Fans watching on their television sets either at home or at work, or those tuning in at livestream or even on social media feel almost the same excitement as those present at the venue for every strong crosscourt kill, a solid single block followed with a scream from the defender or an excellent dig that was converted into a point.
But there are those rare times when fans are sent to the edge of their seats, stunned in silence, because of a horrendous injury.
Monday night was one of those moments, as just when Adamson was about to close out the match against College of St. Benilde in the elimination round of the Premier Volleyball League Collegiate conference, Lady Falcons skipper Jema Galanza twisted her right foot after a bad landing. The Arena in San Juan was shook as the Lady Falcons coaching staff rushed to Galanza, who was obviously in pain.
Fortunately for Galanza, initial x-rays revealed no fracture.
Others, though, have not been as fortunate. Here's a short list of the most gruesome injuries in the recent history of Philippine college volleyball.
1. Angge Tabaquero (ACL, May 25, 2010)
ADVERTISEMENT - CONTINUE READING BELOW ↓
Former UST top hitter Angge Tabaquero sustained an ACL injury in a match against San Sebastian College in Game One of the Finals of the Shakey's V League Season Seven First Conference.
Tabaquero was off to a blazing start for the Tigresses but an awkward landing off an attack in the first set led to the injury.
UST won the best-of-three series opener, 25-21, 22-25, 25-20, 25-15.
Tabaquero, who was in her final year in the UAAP prior to the injury, served as guest player for UST the following year.
In 2014, she teamed up with former Tigress Aiza Maizo-Pontillas in Cagayan Rising Suns and completed a rare 16-0 sweep of the SVL Foreign Reinforced Conference.
The former UST captain now serves as an assistant coach to Adamson mentor Air Padda.
2. Kathy Bersola (ACL, January 7, 2015)
The UAAP Season 77 had just started but it was a quick season for University of the Philippines middle blocker Kathy Bersola.
The UP stalwart landed awkwardly after her spike got blocked by Adamson's Amanda Villanueva late in the fourth set of the Lady Maroons' 22-25, 25-21, 29-27, 34-32 victory at the MOA Arena.
Her left knee appeared to buckle during the landing. She was taken out of the court on a stretcher and immediately taken to the St. Luke's Hospital in Taguig City for examination.
Fortunately, Bersola didn't miss the following UAAP season due to the change in the academic calendar. During that time, the K-12 educational format was first implemented, so instead of the volleyball season opening on November, it was moved to January that allowed Bersola more time to heal and prepare.
In Season 78, Bersola teamed up with rookies Isa Molde, Diana Carlos and veterans Nicole Tiamzon and Pia Gaiser to carry the Lady Maroons to a Final Four finish, the team's first after 13 years.
The following season, however, was not as sweet.
They had a promising 4-0 start, including a major upset of eventual champion La Salle, only to lose their next four games.
But academically, Bersola was a champion. She graduated as summa cum laude in her Sports Science undergraduate course.
3. Ara Galang (ACL and MCL tears, bone bruise on her left knee, March 7, 2015)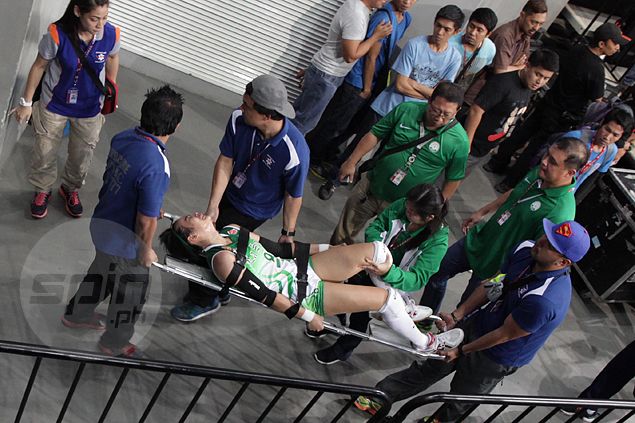 ADVERTISEMENT - CONTINUE READING BELOW ↓
Hoping to reclaim its lost glory in the UAAP women's volleyball tournament, La Salle star Ara Galang put her game face on against National University in the Final Four of Season 77.
The prolific outside hitter unleashed a powerful attack after another. But after she scored on a spike to give the Lady Spikers a 23-20 lead in the fourth set, Galang landed awkwardly and appeared to twist her left knee, crumpling into the floor in pain.
Medics rushed to the La Salle veteran and Galang said the pain was '10 on a scale of 10.'
To add insult to injury, Galang's mother rushed to the dugout but MOA Arena guards stopped her from getting in. The elder Galang was seen crying and begging to see her daughter, to no avail.
Meanwhile, La Salle defeated National University 26-24, 21-25, 25-18, 25-21, in the stepladder semis but the team was naturally in no mood to celebrate during that time.
Like Bersola, Galang also had time on her side due to the shift of the opening of classes that affected the UAAP calendar.
The former La Salle star proved that no injury will stop her, as Galang soared and spiked as if she never came from a major injury.
Galang led the Lady Spikers to reclaim the throne in Season 78.
In August 2016, Galang also stood proud when she played a vital role for the F2 Logistics title run in the Philippine Super Liga All-Filipino Conference.
4. Camille Cruz (ACL, March 11, 2015)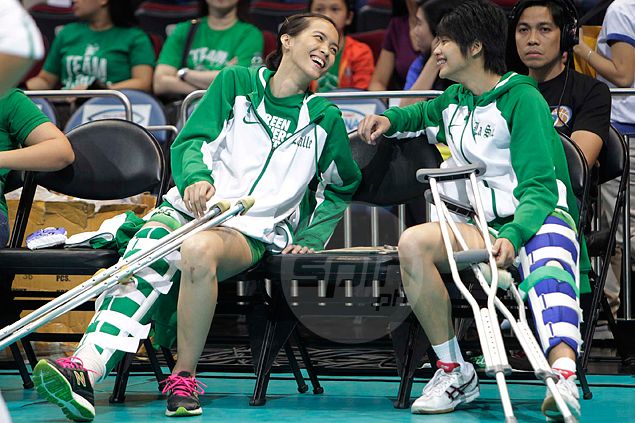 UAAP Season 77 was difficult time for La Salle.
Just four days Are Galang's injury, Camille Cruz injured her right knee after attempting an attack in the third set of the game which the Lady Spikers lost in straight sets to Ateneo, 25-18, 25-19, 25-19, in Game One of the Finals.
The pain was so great Cruz's scream was heard even in the television coverage.
It is the third time Cruz suffered an ACL tear in her injury-plagued career, one that happened just three years after she had the same injury.
Although Cruz still had two more playing years with La Salle after her injury, she didn't make it to the lineup for the next two seasons.
5. Kat Tolentino (ACL, July 11, 2015)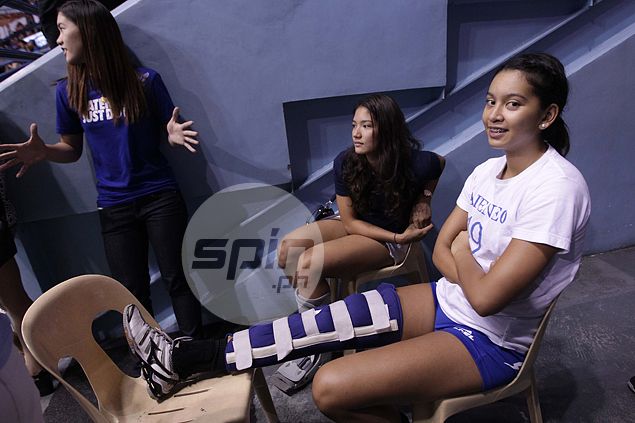 ADVERTISEMENT - CONTINUE READING BELOW ↓
Kat Tolentino waited for a year before she could finally suit up for Ateneo but her debut in the Shakey's V-League ended before it could begin.
The 6-foot-2 Filipino-Canadian, who redshirted for the Lady Eagles for a year, was getting ready for their game against University of Santo Tomas in the Season 12 Collegiate Conference when she injured her right knee during warm-ups.
But the emotional burden is more exhausting than the physical pain as she dealt with the third ACL injury of her career even before she could make her debut with the Lady Eagles.
The first two ACL injuries happened in January 2013 and January 2014, both on her left knee.
Tolentino's supposed debut in the UAAP in Season 78 was postponed due to her injury. But in Season 79, she was able to suit up for the Lady Eagles and made it to the Finals. Ateneo, however, lost to La Salle in the championship.
6. Princess Gaiser (ACL, March 5, 2017)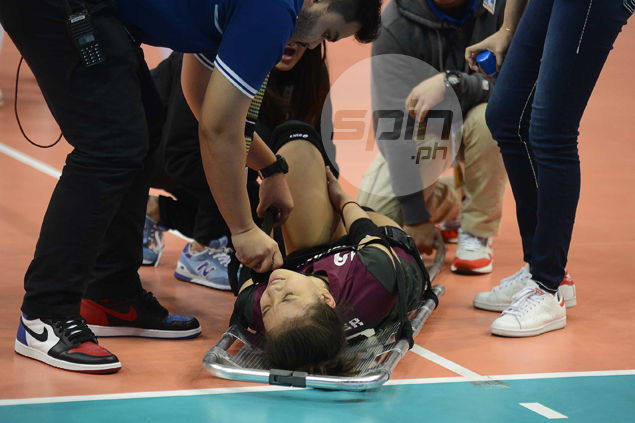 University of the Philippines libero Princess Gaiser was stretchered off after suffering a knee injury early in the match against National University in the UAAP Season 79 women's volleyball tournament.
The defense specialist was crying as medics, including orthopedic surgeon Raul Canlas, immediately checked on her inside their locker room at the MOA Arena.
Gaiser twisted her left knee when she was changing in position anticipating a coverage. NU was leading in the first set, 4-2.
After she recovered from her injury, Gaiser, who has already maximized her playing years in the UAAP, remained active in volleyball but this time on the sidelines as a commentator for PVL.
----
Other injuries happened on the practice floor with former UST star Pam Lastimosa, and Ateneo's Maddie Madayag going down with the same torn ACL injury in training sessions of their respective teams.
Hit us up on the comments if you remember other incidents of gruesome injuries to UAAP volleyball players.