FIVE years ago, a lanky, timid Filipina teen named Jaja Santiago was recruited to try out for a spot in the University of California-Los Angeles (UCLA) women's volleyball team.
The offer, made by Joy McKenzie-Fuerbringer, a Fil-American assistant coach at UCLA, was seen as a ticket to the big time for Jaja, then 6-foot-2 and an incoming freshman at National University.
Surprisingly, the 17-year-old Jaja, saying she was reluctant to be away from family and spend time in a foreign land by her lonesome, declined the offer.
Fast forward to 2018 and Santiago, three inches taller, looked every inch as she was expected to be: a dominant force in Philippine volleyball, thanks to a rare combination of size and athleticism.
She stood out in the UAAP, the Premier Volleyball League (formerly Shakey's V-League) and the Philippine Super Liga and was a mainstay in the national teams sent to battle overseas.
Jaja competed in the 2015 and 2017 Southeast Asian Games, 2015 Asian U-23 Women's Championships, 2016 and 2017 AVC Asian Women's Club Championship, 2017 Asian Women's Seniors Championship, and 2016 FIVB Women's Club World Championship and was better for the experience.
Still, not a few people can't help but ask the 'What ifs'
Continue reading below ↓
Recommended Videos
What if Jaja decided to accept the offer of a UCLA athletic scholarship? What if she made the Bruins' lineup and gained all the experience and exposure in the US NCAA Division I?
For Rosemarie Prochina, a member of the Philippine team that won the country's last SEA Games gold medal back in 2003, there was no doubt that the UCLA stint could've been a life- and career-changing experience for the statuesque native of Tanza, Cavite.
The SEA Games gold medalist was certain the experience abroad would've turned Jaja into a 'beast' on the court.
"Kung kinuha niya ang opportunity na 'yun pagbalik niya dito, wala na. Wala na makaka-block dyan kasi alam na niya sa sarili niya na kung ano ang husay niya," said Prochina.
Former University of Santo Tomas ace and now TV analyst Dr. Ian Laurel said he completely understood why Jaja decided against trying her luck overseas, given her family's situation at that time.
"We have to also consider the situation that Jaja was in at that time," said Laurel. "I think that was the time na her dad passed away and (her older sister) Dindin also was the only one helping out the family when it comes to providing for the family's finances.
"So hindi mo rin masabi how the emotional, psychological and emotional aspects of Jaja's situation at that time would have an effect (on her stint in the US)," he added.
But setting aside those factors, Laurel agreed a US stint would've done Jaja a world of good.
"But certainly, speaking if you're gauging it on training and competence when it comes to coaching the skills of a player, definitely malaki (ang kaibahan ng laro niya ngayon)," he said.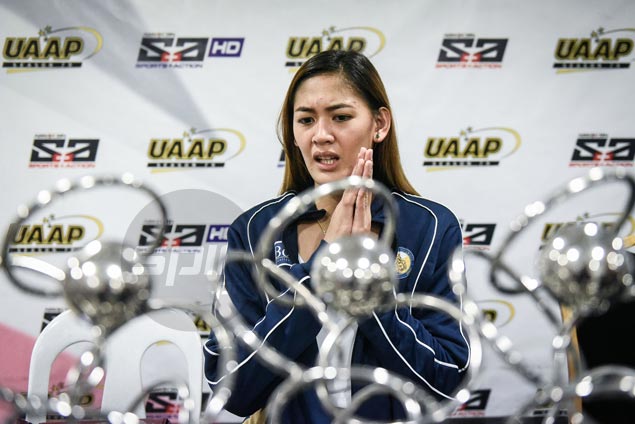 Laurel echoed Prochina's view that the level of competition in the US would've helped Santiago reach her full potential. Unlike back home where the average height of a woman is 5-2, Jaja would've learned to develop her skills than rely solely on height.
"Kasi nga she's not even parang forced to play to her full potential kasi maliliit nga ang mga kalaban niya dito sa kanya," he said. "Minsan 'yung kalahating palo niya lang, kahit hindi na itodo, pwede na."
"And 'yung mga palo ng kalaban niya, when it comes to blocking and defense, mas mababa sa kanya so kahit hanggang kalahati siguro, 50 percent output kaya na niya ma-block so hindi na niya isasagad," he added.
However, veteran coach Roger Gorayeb said it is hard to tell if a US stint could've worked for Jaja.
The outspoken mentor explained that in the game of volleyball, unlike basketball where one can rebound his own miss and score, a player cannot dominate the game all by herself.
Gorayeb, who coached Jaja at NU, said a volleyball player, no matter how good, must still rely on teammates to stand out.
The former national coach stressed that Santiago can't score 30 points in one game if her teammates did not execute their roles properly.
"So it all starts sa receive," he stressed.
Serbian coach Moro Branislav was more convinced a stint in the US college leagues wouldn't have made much of a difference for Santiago.
Branislav, who has coached in different club leagues in Greece, Romania, Tunisia, Saudi Arabia, Kuwait, Libya, Belarus and North Korea and worked with the national teams of Yugoslavia, Serbia, Zaire and Romania, believed Santiago would've been better off had she played in Europe.
"If Jaja went to Europe that will make a difference but in the US, believe me in America, there's not much," said Branislav, who recently quit Foton to coach another PSL club in Cocolife.
Branislav had no doubt that the level of competition in the US is not as high as in Europe or other Asian countries such as China, Japan and Korea.
Since there's no professional women's volleyball league in the US, the best American players choose to play abroad instead of staying in the country, Branislav added.
US middle blocker Rachael Adams and wing spiker Jordan Larson are with Eczacibasi VitrA Istanbul, outside hitter Kimberly Hill plays for VakifBank Istanbul, middle blocker Foluke Akinradewo is with Volero Zurich and middle blocker Lauren Gibbermeyer is with Pomi Casalmaggiore, the coach pointed out.
"American national team is good but the best volleyball players in America play abroad. At this moment, around 300 of the best American players play outside the country," he said.
"In America the collegiate level is not as high as in Europe. In my country, the college players are as good as the professional players. Meanwhile in Asia, the best are China, Japan and Korea," he added.
To drive home his point, Branislav cited the case of Tijana Boskovic, a 19-year old wing spiker of Eczacibasi VitrA Istanbul who emerged MVP in the 2016 FIVB Women's Club World Championship in Manila.
The Serbian teen sensation played against Jaja and PSL F2 Logistics Manila. She was also part of the team that finished runner-up to Zhu Ting-led China in the 2016 Rio Olympics.
"My example is Boskovic, she was the MVP in the World Club and how old is she? She's only 19 but she was the best of the best," said Branislav.
"Those age brackets are the best time to hone a player's potential. In Europe those players 18, 19, they already compete with the best volleyball players in the world but here in the Philippines, they are in the university," he added.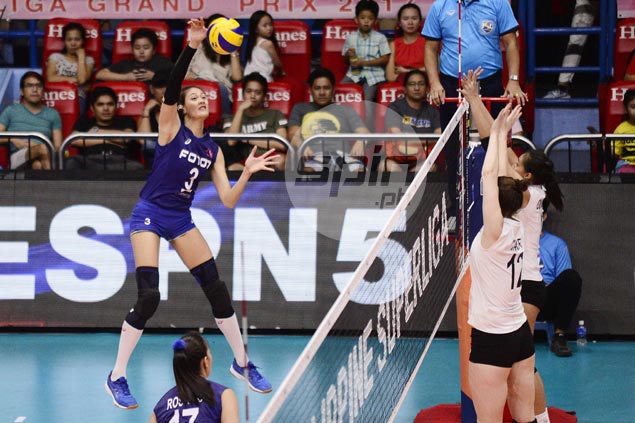 So would a stint in the US NCAA been enough to turn Jaja into a 'beast?'
"My answer is no," Branislav said emphatically. "In America there's no quality college volleyball."
"Believe me, give it two or three years, the (import-flavored) PSL Grand Prix will be better than the American university leagues," he added.
Prochina thinks otherwise.
Speaking from experience, Prochina said the value of training and playing overseas cannot be emphasized enough, citing the case of the Philippine teams in the nineties which went to Japan, Korea, China and other parts of the world to train and play in different club leagues.
Those teams, Prochina added, also tapped Russian coach Stanislav Lyugaylo, with former University of Santo Tomas master tactician Emil Lontoc serving as deputy.
That team won a SEA Games bronze medal in 1991 and beat powerhouse Thailand in four sets for the gold medal in 1993 - the last Philippine side to achieve that feat.
None of that would've been possible without overseas exposure, Prochina said.
"Hindi naman kami mananalo kung hindi kami nag-training abroad. Kung hindi naman dumating ang Russian coach namin, hindi kami mananalo ng ganun-ganon na lang," she said.
That was exactly what Jaja passed up when she declined the UCLA offer, Prochina added.
"Kasi dito sa atin ang gauge, malakas na siya kasi ang kalaban niya 'yun lang din," she said. "Pero kung doon siya, higher-caliber athletes ang kalaban niya, mas mae-enhance pa 'yung galing niya."
"Malalaman pa niya na mas may igagaling pa siya kasi kung mas magaling ka na sa kalaban mo, dito (mababa) na level lang siya so ikaw dito ka na lang din. Pero kung ang kalaban mo andyan (mataas na level) ikaw sasabayan mo 'yun," she added.