Foton Pilipinas got the thumbs up from President Duterte on Tuesday night during the team's courtesy call in Malacanang ahead of its campaign in the AVC (Asian Volleyball Confederation) Asian Women's Club Championship set from September 3 to 11 at the Alonte Sports Center in Binan City.
Led by Philippine Superliga American imports Ariel Usher and Lindsay Stalzer as well as Italian mentor Fabio Menta, the Tornadoes came in full force to apprise the President of the tough battle the Philippine representatives face against the best club teams in Asia.
During the light discussion, Duterte even bantered about the Tornadoes passing for Philippine representatives for a beauty pageant due to their height and charm.
He also asked Menta about his coaching record. And when the 54-year old Italian answered he's been coaching for more than 20 years, he said: "Oh good, I know we will win."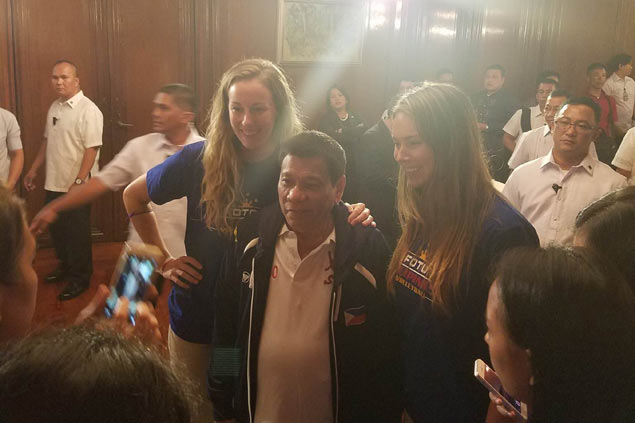 It was the second time for President Duterte to shake hands with members of a national sporting delegation after opening the palace's doors to athletes, coaches and officials headed to the Rio de Janeiro Olympics last month.
It, however, was his first time to mingle with volleyball players from the Superliga.
"Sports is my passion because it takes the youth away from (doing) drugs," he told the Tornadoes during their brief meeting. "I will try to watch your games if I have time. All I can say now is (wish you) good luck and mabuhay kayo!"
Aside from Usher, Stalzer and Menta, also present were Jovelyn Gonzaga, Maika Ortiz, Rhea Dimaculangan, Jen Reyes, Ivy Perez, Patty Orendain, Carol Cerveza, Angeli Araneta and Jaja Santiago, who will skipper the squad that aims to come up with a semifinal finish.
Team owner Rommel Sytin was also there as well as team manager Joma Angulo.
The Tornadoes will be opening their campaign against Pocari Sweat of Hong Kong on Saturday followed by Thongtin Lienvietpost Bank of Vietnam on Sunday.
Other teams seeing action are NEC Red Rockets of Japan, Bangkok Glass of Thailand, Altay VC of Kazakhstan, Sarmayeh Bank of Iran, Jakarta Elektrik of Indonesia, Taichung Bank of Chinese Taipei, Ba'yi Shenzheng of China, Malaysia and 4.25 Sports Club of North Korea.
The country's hosting of the event was made possible by PSL President Ramon 'Tats' Suzara and league chairman Philip Ella Juico.