HAD there been a basketball program at Immaculate Conception Academy during her grade school days, Gretchen Ho might to this day still be playing the sport she considers her first love.
"Basketball was my first sport," Gretchen admitted to Spin.ph giggling. "My childhood dream was to be a professional basketball player. My dad kept bringing me to watch PBA games live when I was a kid."
The aspiring cagebelle ended up turning her focus to volleyball only because it was the one team sport she could play at ICA back then, but the switch hasn't been that bad for the 22-year-old charmer.
Today Ho is one of the most popular volleyball players in the country - the talismanic star of a successful Ateneo team and one of the torchbearers of a sport that has undergone a major renaissance over the last decade.
Looking back, Gretchen admits the switch has been for the better.
"I learned to love the sport as much as I did basketball. I joined the varsity team when I was in grade school and continued up until now," said Ho, who finished a management engineering course at Ateneo and is now taking up communications in his fifth and final year with the team.
Ho's batch at Ateneo has turned the Lady Eagles into a force to be reckoned with in women's volleyball, from the time they led the team to the Season 9 (first conference) title in the Shakey's V League.
On Saturday, the Lady Eagles have a chance to bring a maiden women's volleyball title to Katipunan when they take on two-time champion La Salle in a best-of-three series that this early is tipped to break all attendance and TV ratings records in the sport's history.
With success comes popularity. Ho has become one of the most recognizable faces in Philippine sports. She has dozens of accounts on Facebook created for her by fans, and the followers of her official account are close to hitting the 200,000 mark.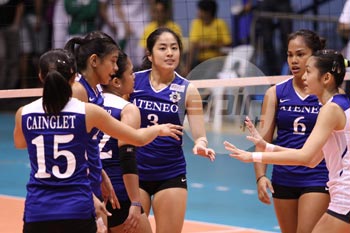 She and her teammates have become so popular that additional security men have to be tapped during Ateneo games to maintain order among fans who wait patiently to catch a glimpse of the Lady Eagles outside the venue.
Volleyball, however, has been more than just about success and popularity for Ho, who puts more value on the sense of family the sport has brought her.
"My volleyball family is my second family," she said. "I've gained a mom in coach Vilet (Ponce de Leon, her coach in high school) and a dad in coach Roger (Gorayeb in college), and a whole bunch of sisters in my teammates because of volleyball."
"I think it's the people who really make a difference in your life," she added.
There, of course, is her real family.
"They've been there for me ever since. They've seen me at my best and at my worst," she said of her parents. "They know my achievements and frustrations, my strengths and weaknesses, and my ups and downs.
"They're the ones who continue to believe in me and push me to give my best every time. They've always supported me in my volleyball career and I'm really grateful for that."
But more than anything else, she is grateful to the sport for helping shape the person that she is today.
"Volleyball has taught me the importance of being a man of character, and the importance of values such as discipline, hard work, and sacrifice," Ho said.
"I really owe a lot to volleyball and I'm just grateful for everything."