THE cast of local players who will represent the country as part of the Philippine Super Liga All-Star team set to compete in the FIVB World Club Women's Championship on October 18 to 23 at the MOA Arena is finally complete.
The lucky seven have been chosen among the 27 hopefuls who were invited for the tryouts, namely: RC Cola Army pair Jovelyn Gonzaga and Rachel Anne Daquis; Petron duo Jen Reyes and Ces Molina; Foton stalwart Jaja Santiago; and F2 Logistics tandem Kim Fajardo and Mika Reyes. They will be joined in the team by seven foreign players who have yet to be named.
After a rigorous whole-day tryout on June 24, the eight coaches of the participating teams in PSL All Filipino Conference deliberated thoroughly and ended up picking the seven deserving players mentioned.
Still, volleyball fans have been sounding off on the picks, divided on accepting the choices or lobbying the case for their own favorite stars. But to add to the lively conversation, SPIN.ph laid down each of the players team and individual achievements in both local and international competitions to show that the chosen seven have the right mix of skills, potential, youth, and accomplishments among the volleybelles in the country.
Continue reading below ↓
Recommended Videos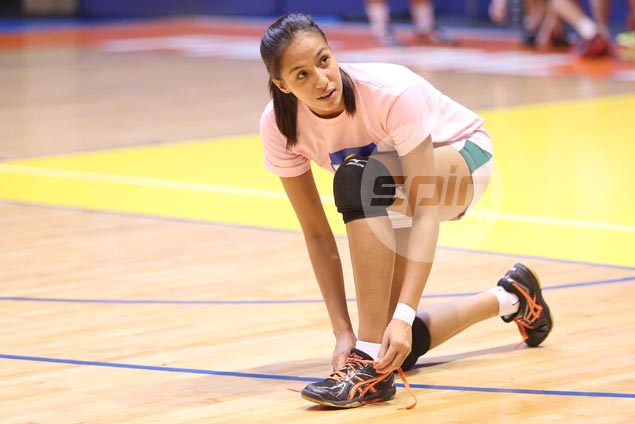 Jovelyn Gonzaga
Age: 24
Hometown: Jordan, Guimaras
Position: Opposite spiker
Current club team: RC Cola Army
Notable stints: Team Captain, Philippine Team for 2015 Southeast Asian Games, Singapore; Member, Asian Beach Volleyball tournament
Team accomplishments:
Three-time Shakey's V-League Champion – Season 8 Open Conference (Philippine Army); Season 11 First Conference (FEU guest player); Season 11 Open Conference (Philippine Army)
Four-time PSL Champion – Inaugural Conference 2013 (TMS-Army); Grand Prix Conference 2013 (TMS-Army); All Filipino Conference 2014 (Generika-Army); Invitational Conference 2016 (RC Cola-Army)
PSL Beach Challenge Cup Champion (RC Cola Army) 2016
Individual accolades:
Two-time Shakey's V-League MVP – Season 10 Open Conference (Army); Season 12 Reinforced Conference (Army)
Shakey's V-League Finals MVP – Season 11 Open Conference (Army)
Two-time Shakey's V-League Best Attacker – Season 10 Open Conference (Army); Season 11 Reinforced Conference (Army);
Three-time Shakey's V-League Best Opposite Spiker – Season 12 Open Conference (Army); Season 12 Collegiate Conference (FEU); Season 12 Reinforced Conference (Army)
PSL MVP – Invitational Conference 2016 (RC Cola Army)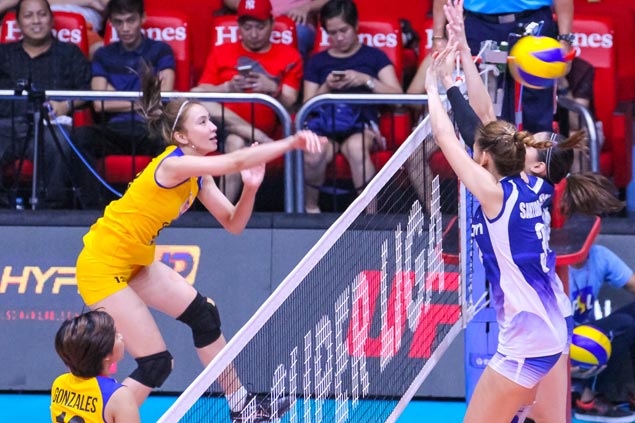 Rachel Anne Daquis
Age: 28
Hometown: Taytay, Rizal
Position: Outside hitter
Current club team: RC Cola Army
Notable stints: Member, Philippine team for 2015 Southeast Asian Games in Singapore; Member, Petron team for 2015 Asian Women's Club Championship in Vietnam; Member, PSL All-Star team for 2016 Thai-Denmark League in Bangkok, Thailand
Team accomplishments:
UAAP Champion – Season 70 women's volleyball tournament (FEU)
Three-time Shakey's V-League Champion – Season 8 Open Conference (Philippine Army); Season 11 First Conference (FEU guest player); Season 11 Open Conference (Philippine Army)
Five-time PSL Champion – 2013 Inaugural Conference (TMS-Army); 2013 Grand Prix Conference (TMS-Army); 2014 All Filipino Conference (Generika-Army); 2015 All Filipino Conference (Petron); 2016 Invitational Conference (RC Cola-Army)
Individual accolades:
PSL MVP – 2015 All Filipino Conference (Petron)
Shakey's V-League MVP – Season 11 All Filipino Conference (Army)
PSL Finals MVP – 2015 All Filipino Conference (Petron)
Two-time Shakey's V-League Finals MVP – Season 8 Open Conference (Army); Season 11 First Conference (FEU)
Two-time UAAP Best Server – Season 68 women's volleyball tournament (FEU); Season 69 women's volleyball tournament (FEU)
Two-time Shakey's V-League Best Server – Season 7 Open Conference (FEU); Season 11 All Filipino Conference (Army)
Shakey's V-League Best Outside Hitter – Season 12 Open Conference (Army)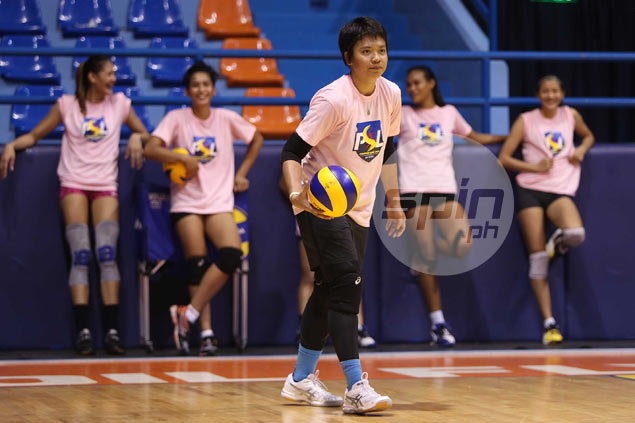 Kim Fajardo
Age: 22
Hometown: Calatagan, Batangas
Position: Setter
Current club team: F2 Logistics
Notable stints: Member, RP Youth Under-16 National Team (2008)
Team accomplishments:
Three-time UAAP girls volleyball tournament champion – Season 70 (UST); Season 71 (UST); Season 72 (UST)
Two-time UAAP women's volleyball tournament champion – Season 75 (La Salle); Season 78 (La Salle)
UAAP women's beach volleyball tournament champion – Season 78 (La Salle)
Individual accolades:
Two-time UAAP Best Setter – Season 76 women's volleyball tournament (La Salle); Season 78 women's volleyball tournament (La Salle)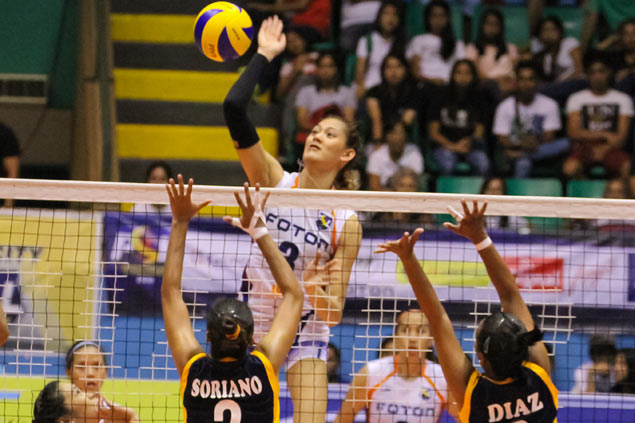 Jaja Santiago
Age: 20
Hometown: Cavite City
Position: Middle blocker
Current club team: Foton
Notable stints: Member, Philippine team for 2015 Southeast Asian Games in Singapore; Member, Philippine team for 2015 Asian Under-23 Women's Volleyball Championship in Manila; Member, 2015 VTV Cup in Vietnam; Member, Philippine team for 2016 Asian Women's Club Championship
Team accomplishments:
Four-time Shakey's V-League champion – Season 10 First Conference (NU); Season 12 Open Conference (PLDT); Season 12 Collegiate Conference (NU); Season 12 Reinforced Conference (PLDT)
Individual accolades:
UAAP Rookie of the Year – Season 76 women's volleyball tournament (NU)
Two-time UAAP Best Spiker – Season 77 women's volleyball tournament (NU); Season 78 women's volleyball tournament (NU)
Shakey's V-League Best Middle Blocker – Season 13 Open Conference (NU)
PSL Second-best Middle Blocker – 2015 Grand Prix (Foton)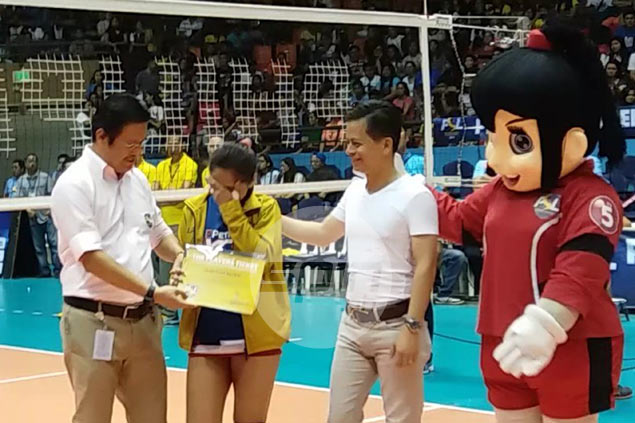 Jen Reyes
Age: 25
Hometown: Marilao Bulacan
Position: Libero
Current club team: Petron
Team accomplishments:
Two-time Shakey's V-League champion – Season 8 Open Conference (Philippine Army); Season 10 First Conference (NU)
Two-time PSL champion – 2014 Grand Prix (Petron); 2015 All Filipino Conference (Petron)
Individual accolades:
Two-time UAAP Best Digger - Season 73 women's volleyball tournament (NU); Season 75 women's volleyball tournament (NU)
UAAP Best Receiver – Season 75 women's volleyball tournament (NU)
Three-time Shakey's V-League Best Receiver – Season 8 Open Conference (Army); Season 10 First Conference (NU); Season 10 Open Conference (NU)
Shakey's V-League Best Digger – Season 8 First Conference (NU)
Shakey's V-League Best Libero – Season 12 Open Conference (Meralco)
Three-time PSL Best Libero – 2014 Grand Prix (Petron); 2015 All Filipino Conference (Petron); 2015 Grand Prix (Petron)
PSL Best Receiver – 2013 Inaugural Conference (Cagayan Valley)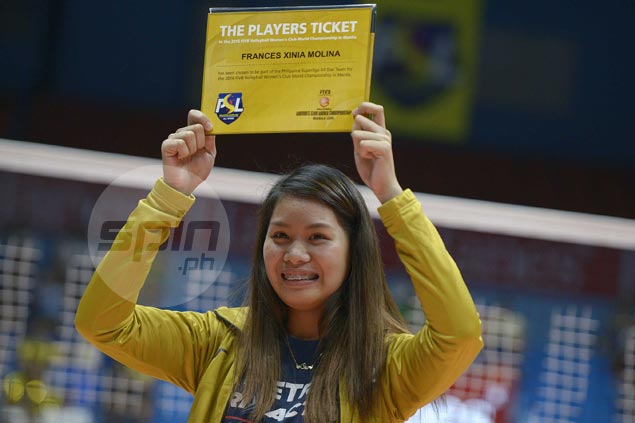 Frances Molina
Age: 21
Hometown: Cabanatuan, Nueva Ecija
Position: Outside hitter
Current club team: Petron
Notable stints: Member, Petron team for 2015 Asian Women's Club Championship in Vietnam; Member, PSL All-Star team for 2016 Thai-Denmark League in Bangkok, Thailand
Team accomplishments:
PSL Champion – 2015 All Filipino Conference (Petron)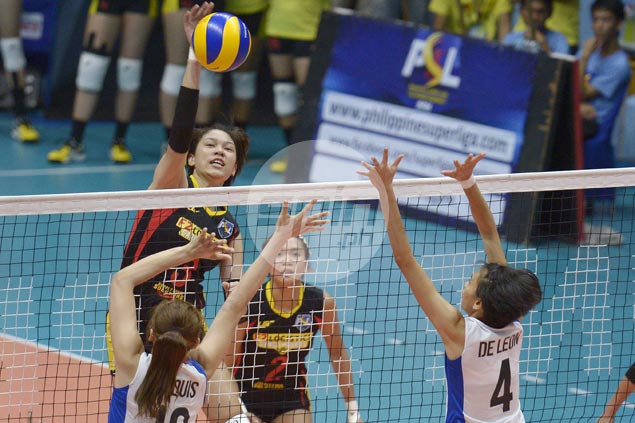 Mika Reyes
Age: 22
Hometown: Pulilan, Bulacan
Position: Middle blocker
Current club team: F2 Logistics
Team accomplishments:
Three-time UAAP Champion – Season 74 women's volleyball tournament (La Salle); Season 75 women's volleyball tournament (La Salle); Season 78 women's volleyball tournament (La Salle)