I'M a Two-Timer.
The image of a hysterical wife and pieces of china flying through the air in the direction of a beleaguered and panicked husband may be the first thing that comes to mind, but this is a sports blog, not Dr. Phil or Dear Abby's advice column. A little information can be a dangerous thing, so let's put things in proper perspective, shall we?
The complete text emblazoned on the t-shirt that was handed to me at the registration tent read:  "The Few. The Proud.  The Two-Timers.  Timex 226 Bohol Triathlon 2011-2012." This collectible piece of clothing was made exclusively for and distributed to the triathletes who were doing the Timex 226 full distance (3.8k swim, 180k bike, 42k run) triathlon for the second consecutive year since it was introduced in 2011. The back of the shirt lists the names of all the two-timers, 27 in all, who decided that one full distance triathlon in one lifetime just wasn't enough.  I am a Two-Timer, and this is my race report. 
Okay, that's not entirely accurate. This is an account of my experience at this year's race, and not necessarily a report of how the race was conducted, replete with statistical porn and tickertape news bits like bike splits, run course elevations, temperature/humidity variations, and the like. I'm just calling it the way I raced it.
Having done the race last year, I entered this year's 226 with a relaxed, almost contemptuous demeanor, knowing that it was next to impossible to do any worse than I did just fifty-two weeks back. I made sure to stay away from any exotic food (Tex-Mex, Indian, double-deep fried chicken wings, etc.) that might again set off a revolution in my gastro intestinal system.  I also found time to ease up on my training, get a deep tissue massage, and attend my weekly yoga class on the week of the race.  I even had the audacity to have a few drinks at a party I attended the night before flying out to Bohol. To each his/her own, I thought to myself, as I read status updates on Facebook from co-participants some of who where still trying to get in some brick (combination swim, bike, run sessions) hours in.  I'm not going to kill myself over this (or any) race.
It's suddenly race morning and I wake up to the strains of George Harrison chirping, Here Comes The Sun on my mobile phone alarm.  I am shrouded by an unfamiliar sense of calmness, an easiness that I slip into like a well-worn pair of shoes. I shuffle through the dark room and begin my routine. There seems to be enough time for everything today. I stretch, do my business, enjoy a hearty breakfast, make a final sweep of my transition gear, and suit up for the race. All my bags are packed and I'm raring to go.
Swimming has never been my strong suit.  I remember reading an article that posited this first leg of the race as entirely isolated from the bike and run legs that followed it.  And wrong as it may be, I chose to believe it.  Swimming utilizes as much as eighty percent of the upper body to propel the swimmer forward, relegating the lower body (otherwise known as the legs) to a virtual second-tier, supporting role. If this were a movie poster, the legs would fall under the 'Also Starring' billing. So to this day, I've never bothered to develop a decent swim kick, as I put my faith in my girly arms to get me through this portion of the tri-sport event. And since my swim times from previous races show me exiting the water a few minutes behind my more swim-conditioned (is there even such a term?) teammates and fellow participants, I'd say I've done pretty well for myself despite being a slacker in the swim kick department.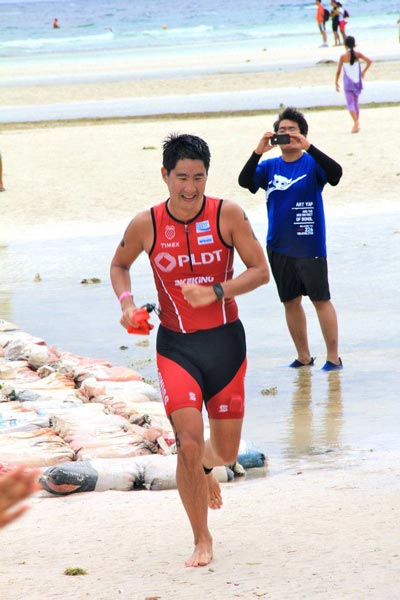 The race director fires the starting gun and I try my best to stay with a group of teammates who have decided to utilize a drafting formation to help one another through the three-loop swim leg. We maintain a steady and very manageable pace, keeping within a foot and at times mere inches of each other, to stay comfortably in the middle of the pack. About 200 meters into the second loop, the sea begins to hiccup, sending intermittent swells that break the swimmers' cadence. Pretty soon, most of us are struggling to pull ourselves forward with freestyle as our natural stroke of choice. Fighting through the waves that threaten to push us off course, I switch to an unpracticed breaststroke and find that I am able to move ahead more effectively. I decide to switch between both (freestyle and breast) strokes, adjusting according to the efficiency of one or the other given the water conditions. Things pretty much go without incident from there, except for a few minor cuts sustained around my toes while negotiating my way from the stony beach to the transition area.
While running has been my first love, the last six months have seen cycling achieve full-time mistress status. I remember visiting a bike store of impressive scale in Melbourne fittingly called The Freedom Machine, and couldn't help but nod in agreement as the store manager handed me a freebie water bottle to take home. Just as running has its addicts and aficionados, so does cycling have its hardcore fans and enthusiasts who eat, sleep, and live the lifestyle. Spending more time on the saddle this year has made me more appreciative of this two-wheeled wonder's attraction.  So when the weekend comes around, I always pray for good weather (because I absolutely loathe riding on a bike trainer), looking forward to another cycling adventure on my freedom machine.
Am out of transition fairly quickly, and am determined to redeem myself on the bike ride that caused me to finish third to last entering the run leg last year.  This, of course, I achieved courtesy of food poisoning which sent me on five visits to various gas station rest rooms along the course. Not going to happen this year, I mumble to myself, as I chomp on my second energy bar. With overcast climate accompanied by light rain at the start of the race, which midway shifts to a blazingly bright noontime sky, the ride proceeds rather uneventfully. I occupy myself by counting my place among the riders with each U-turn (there are six) I make. With the exception of one pit stop that costs me no more than three minutes, I am comfortably in the middle of the pack entering the final 12-kilometer stretch back to transition. By this time, I have ingested five energy bars, two flasks of gels, and copious amounts of water and electrolyte drinks, which is an all-you-can-eat affair compared to what I had last year. 
You can't go wrong with a run-walk strategy, advised Mel along with running partner Chito, as we sipped coffee while discussing the proper way to approach an ultra-marathon. Having read short articles and features extolling the many benefits of running guru Jeff Galloway's run-walk method, I remained a skeptic until I downloaded one of his books onto my Kindle and actually tried run-walking my way through a couple of 42k long runs over two consecutive weekends. The results astounded me, but more importantly, converted me to this 'new' and most efficient running method, whose major benefit (among others) leaves the run-walk practitioner feeling fresh and strong during and after the run.  I was determined to use it in an actual race.
Stick to the plan and you'll be fine. I'm all smiles as I emerge from the changing tent, having swapped my tri-suit for a more comfortable ensemble of running tee and shorts, calf compression sleeves and visor, and featherweight running shoes.  I even manage to stop for photo ops on my way out to the main highway where the 10-km-and-change loop starts its gentle incline. This is my favorite part of the race. I get to smile, wave, and exchange hi's and hellos with the friendly townsfolk of Anda. Warm greetings and sunny smiles abound, which are often reciprocated by the race participants through a casual wave, an emphatic fist pump, or a grateful 'Daghang Salamat' ('Thank you' in the local dialect). As promised, the many aid stations along the course are more than adequately supplied with water, soda, electrolyte drinks, bananas, chips, pretzels, orange and apple slices – and pork loin.  Bear with me on this.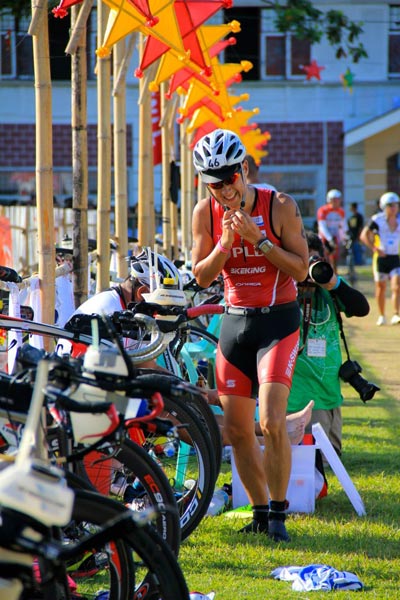 Porkloin?! I am taken aback when the aid station volunteers at the 5k-turnaround point to a plate of neatly arranged cylindrical pieces of processed meat as part of their nutritional offerings, along with standard fare of bananas.  Why pork loin, I ask with amusement.  Because there's no more fried chicken, comes the retort.  Okay, ask a stupid question … Now back to the race.
As the veil of darkness descends on the run route, I switch on my unobtrusively light Energizer lamp that I've decided to wear around my waist (compared to most who have them on their heads), that provides ample illumination for the rest of the leg.  Having the light assures me that oncoming traffic, of vehicles and people alike, will be able to spot me even from a considerable distance.
Utilizing the run-walk method from the get-go has kept my legs fresh and my confidence strong; I feel that there's still a lot of juice left in this engine, and that I can finish strong with just a few more clicks to go.  My watch beeps to signal my reaching kilometer 40, although the '2 km To Go' tarpaulin signage is nowhere within my field of vision. Based on my strategy, I'm supposed to walk for five minutes before running all the way to the finish. I glance at my watch to check the time elapsed. My head jerks backward as I see that I have less than seventeen minutes to make my self-imposed target time. I consider myself an average runner who likes to avoid stressing myself out on target times; so I usually provide an allowance for any unforeseen situations (cramps, sudden call of nature, credit card past due date billings). Now it looks as if I'm going to have to forget the walk altogether and hustle. 
I pick up my feet with the urgency of a woman after that last pair of shoes on sale — it would be really nice to have, but I can always wait till the next sale in case I fail to get it. In this case, that opportunity carries a one-year wait, which I certainly don't have the patience for.  So I'm finally past the '1 km To Go' sign and am soon at the heels of a co-participant who had earlier built a sizeable gap when I started my last five-minute walk. We can still make a sub-14 (referring to my target time of sub fourteen hours), I call out to him. That's what I'm trying to do, he replies. We pace each other in silence as we round the corner until the finish arch is within sight.  On the arch is a digital Timex clock where the official running time is displayed. There's about 200 meters to go and still a good three or so minutes to spare.   We're going to make it, I whisper to myself.
You go ahead, I prod.  Thanks, he acknowledges and proceeds to run across the grassy dirt path and up the ramp. Crossing the finish arch and hoisting the sponsor's banner overhead, he basks in the satisfaction and pride of being called a tarsier, and an Andaman. His just compensation, aside from a shiny silver medal around his neck, are the cheers of the crowd and the warm, comforting embrace of his wife. Not too shabby for what some consider 'just one long training day.'
I've got next.
                        --------------------------------0---------------------------------
Before you start anything, learn how to finish it.                       
                                                                                                               – Source Unknown