She: Whose motorcycle is parked outside the house? That can't be yours, Hon.
He: It's called a Vespa, Dear. And didn't you just say that our fuel expenses were going up lately?
A GROWING number of men would like to think that entering their forties constitutes a privilege, or for some a right, to behave in ways so uncharacteristic and off-tangent, they baffle their spouses and defy rational explanation.
What is supposed to be a normal biological process of crossing from one's birth year to the next has metamorphosed into a re-birthing, a second life, if you will, that becomes the catchall explanation for irrational behavior and, oftentimes, even more irrational purchases. I've heard stories from friends and about friends who have taken that sharp left and emerged with either one or all of the following: a radical new hairstyle, an elaborate and very conspicuous tattoo, a flashy sports vehicle, a pretty young thing whose name is lifted either from a liquor menu, or some exotic vacation hideaway. These are grown men who, even in their youth, would probably not have attempted pulling off this level of indulgence, and who nonchalantly attribute that freshly inked tribal tat, spanking new Bimmer, or jailbait who answers to the name Savannah, to the gender-exclusive phenomenon known as midlife crisis.
Continue reading below ↓
Recommended Videos
Asked by Esquire UK what the term 'midlife crisis' means today, author of Middle Age: A Natural History and reproductive biologist David Bainbridge posits: I think there are three separate elements: one is a sense of psychological upheaval or angst; the second is running after inappropriately young women; and the third is reverting to childish and irresponsible activity — like buying a motorbike. Assuming that men have been hard-wired since the teenage years to be angst-ridden and by and large perpetually difficult to deal with, that would leave me to grapple with Mr. Bainbridge's second and third elements.
It would be unfair not to give the 'midlifers' (as we shall call them henceforth) their day in court. Let's suspend reality for this particular argument and assume that the judge and jury would vary in composition, depending on the reward Mr. Midlife has gifted himself with. For the ponytail, Porsche, and everything material (and frivolous), we'll have his significant other and a jury of his peers pass judgment. For his new arm candy, let's lock Judge Judy in the broom closet while the same jury hears the case. Your witness, Counselor.
The first and seemingly obvious explanation, aside of course from an entered plea of 'Not Guilty,' would be the 'I deserve it' defense. After years of putting in all those hours in the office, meeting clients and suppliers afterhours, and pulling all-nighters to meet deadlines, doesn't a midlifer deserve some form of reward for his selfless efforts in the service of capitalism (Assuming the exclusion of government employees or worse, politicians) and the important people in his life like spouse and family?
Reason number two is inarguably defensible: I can now afford it/her/them. Since most of his youth was devoted to sacrifices both small and big, which also cost him a lot of personal time and personal finances, it would seem fair to let this justification slide. With the kids' educational plan set up, the mortgage nearly fully paid, and enough acorns squirrelled away for retirement, that new Porsche is at best a modest extravagance. The girl on this side though, will cost just a little more, depending on the level of upkeep required.
'Live A Little' embodies the third defense. It's time to enjoy the fruits of hard-earned labor, and tickets to center court for the Wimbledon finals or a visit to Ferrari World in Abu Dhabi just isn't going to cut it. It's got to be something more permanent or lasting (tattoo/piercing), more aesthetic or tactile (car/motorcycle/girl?). It has to be something that will register collective shock and awe from the intended audience, creating polarized reactions of admiration and repulsion.
Flying in the face of conventional wisdom and logic is the final defense: Just Because. Because I can. Because I want to. Because it's there. Totally irrational and ludicrous, it has to be the weakest and most indefensible of all arguments, but it is this split personality of whimsical and weighty that makes it such a compelling reason, invoked first, last or in between cross-examination. And because of its visceral nature, the Just Because defense, which would never hold up in any legal and uncorrupted court proceeding, stands tall as a damn good reason for getting that diamond stud on my left earlobe. Little boys in grown men's bodies are what we are.
Here's a news flash: Men are as vain as, or even vainer than, women. The rapid increase of slimming salon packages, cosmetic nip and tuck services, and gym memberships directed squarely at the male population over the past years prove that men are as fastidious about their looks as their female counterparts. As men cross over (with some not even quite) into their fourth decade of existence and begin to experience the first throes of premature… aging, the battle to stay fit and younger looking takes on a whole new level of awareness and competitiveness. The inescapable receding hairline, the incredible expanding gut, the depressing failing eyesight, the much-slowed sports reflexes — these are par for the course in Midlife Hills, and we're only talking about the front nine here. Oh, the pressure of it all!
Fortunately for those among us who are squeamish about going under the knife and having to sheepishly explain those few vacation leaves to the boss, or having our daily food intake dictated by a caliper and clipboard toting nutritionist cum fitness instructor, or worse, a doctor behind a desk who could afford to lose the extra pounds himself/herself, there exists sport. In light of all the pressure on looks and health, another kind of mid-life crisis has slowly crept into the public consciousness in recent years. It's a not-so-curious case that has created a new consumer group, generated impressive sales of sports equipment and related merchandise, given birth to a new marginalized sector of society called tri-widows, and pushed the boundaries of age-group competitiveness. It's name: the Midlife Triathlon Crisis. I call it The Midlife Trisis.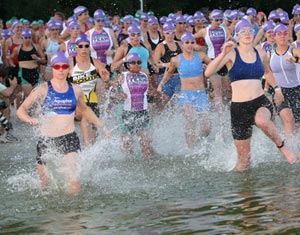 Why suck at one sport when you can suck at three? I laughed out loud when I heard a teammate mention this before setting out on one of our weekend bike rides last year, secretly wishing I had thought of it, as it best describes the daunting tasks confronting mid-lifers who decide to take the plunge and 'give it a tri.' Swimming, biking, or running over long distances is challenging enough as individual sports, let alone doing all three in succession over periods ranging from an hour (mini-sprint events) to eighteen hours (full ironman distance cut-off time). Because in the logical scheme of things, who would really want to put themselves through any or all of the following: a) innumerable number of training hours at ungodly times of the day throughout the week; b) passing on all the so-bad-they're-good stuff like burgers, fries, and beer (I've excluded pizza as I've learned it's a favorite pre-race dinner food, known for its nutritional benefits and 'food safety' guarantee) in favor of protein shakes, power bars, and energy gels; c) foregoing pub crawls with the boys on weekends because of long bike rides and/or long slow distance (LSDs, in tri-speak) runs the following day; d) racing through the three events that will have you cursing the very day you climbed aboard the triathlon express bound for Suffertown, Miseryland.
So why do it at all? The gamut of answers runs from the practical to the absurd. In no order of importance or urgency, here are the reasons why midlifers like this soon-to-be-forty-eight-year-old triathlete put themselves through such adversity, and insist on fighting through pain and injury to get to the starting line or across the finish line.
Bragging Rights. A sense of accomplishment would have been a nicer way of saying it, but this is a blog and not a diplomatic discourse with the Senate blue ribbon committee. As a friend once observed, Endurance is an animal that someone of age can tame better than an impatient youngster — and triathlons require proper pacing through three events in order to finish the race strong, or at least in one piece. Aside from being able to tell anyone who cares to know that they've completed an Ironman, it gives midlifers a special inner warmth and satisfaction to realize at race end that they've kicked some twenty- and thirty-something year olds' asses all the way back to last week. What can I say? It's an ego thing.
Stay Fit, Live Longer. Most of us know how fragile life is and how a strong, fit body can hold off the natural ravages of aging, so we're eating smarter and making sure we strengthen those muscles, nail that cardio session, and get enough rest and recovery for the next day/race. If we continue this lifestyle, we're almost assured of seeing our great grandkids – and maybe even running with them, climbing the Pyrenees, and celebrating our golden anniversary untethered to a life-support system. Besides, being able to fill out that body-hugging triathlon suit without looking like a poster boy for Sausages 'R Us gives us midlifers more reason to train and work harder.
Compliments, Compliments. Did I say men were vain? Did I mention ego just two paragraphs back? It's always good to hear blandishments about looking much younger than your age or having such a lean and strong physique, but to actually know it as a truth is even more gratifying. Men enjoy hearing compliments about their looks as much as their abilities. If a midlifer triathlete says that looks aren't important to him, there's a good chance that he's lying — to you and to himself.
Spending Ability. Taking a page from the typical midlifer's defense above, this reason basically addresses the high cost of being a triathlete. Scan through any triathlon race list and you'll discover that the 40-and-above age groupers are easily among the top three age groups with the most number of participants. Entry fees, travel expenses, lodging costs (for some out-of-town races), and meal allowances can quickly burn a hole in the pocket of the average wage earner. Throw in the required nutrition, apparel and newfangled equipment/accessories such as bikes that can cost more than your child's entire college education, and your salad days may just be within whispering distance. Not so for the mid-life triathlete, who's already thinking of getting that latest triathlon-specific bike that has everything but portable air-conditioning.
Healthy Competition. Even in the absence of a wager, competition among men is a natural self-starter and serves to trigger that extra effort in most competitors to go beyond limits and push harder. It starts from the time we fight over a toy at playtime or jostle over the best viewing position in front of the television. It has no age restriction or limitation, and it is responsible for setting new records and eventually surpassing them.
Essentially, a midlife trisis is a good thing.
While driving around in a flashy convertible that goes from zero to sixty faster than you can say "Hasta Luego" may be the epitome of cool for some folks, the idea of uttering the same line (in your head) to fellow competitors during the run leg of an Olympic distance triathlon seems to bring about a different kind of high among midlife triathletes. Maintaining the lifestyle from middle age and beyond can help keep one strong, alert, and focused. It can also teach patience, sportsmanship, and time-management.
A mid-life trisis has enough positives and benefits to keep more middle-aged males stuck to the sport of triathlon for a long, long time.
---------------------------------0-----------------------------------------
American comedian Jack Benny provides the right perspective: 'Age is strictly a case of mind over matter. If you don't mind, it doesn't matter.'