FOREGOING typical prose of a race narrative, I'm going with a 'finish the sentence' format just this time. Why?  Because with the plethora of blogs, Facebook status updates, and articles on the Cobra IM 70.3 that have flooded the net lately, it's just ridiculous. I've read so many race reports in the past few days that I'm getting motion sickness from the repetitive accounts about the huge swells during the swim leg.
But really, it's because this blog article is late. So here goes.
I'm at my busiest when I'm just about to leave for a trip. It never fails. But it teaches me to prepare ahead, which is what I did this time around.  Making a list and checking it twice, I was packed two days before departure and didn't need to lose sleep (or forget things).
Preparations can take months or minutes, depending on the what's and how's. I set aside two months to prepare for this race, working with a race calendar that hardly had an off-season, so there was enough of a base to build on. My coach put in harder sessions that forced me to step outside my usual workouts.
I've never been to a place without first checking where the toilet is. The toilet is my best friend, and when you have a bladder the size of a peanut, you learn to appreciate the simple pleasure of a good, long pee. Yes, orgasms are overrated and pissing is underrated.
Upon arrival, I unpack all my belongings and settle into my room as quickly as possible. Hang and/or neatly pile my clothes, lay out my toiletries by the sink, pack away my emptied luggage, get acquainted with the room/hotel amenities and AC/light controls. With everything in its place and the basics down pat, am out the door to tackle the next thing on the agenda.
How do you expect me to give you the benefit of the doubt, when doubt is all you leave me with? Fodder for blind items. What happens in Cebu doesn't always stay in Cebu.
Customer service is a complete experience. I'm not as finicky as the average patron, but I do put a premium on promptness and courtesy in delivery of service. And I'm not shopping for excuses. I just quietly walk away and never come back.
When I signed up for this race for the first time five years ago, I didn't think it would change my way of looking at life. But it has. Sport is an excellent teacher, but the education it provides also depends on the kind of student you are.
Reconnaissance rides are key to familiarization with part of the course and to test your bike's road-worthiness. But with the wet roads and the pockets of vehicular traffic along the route, I opted to just save myself the stress and skip it altogether.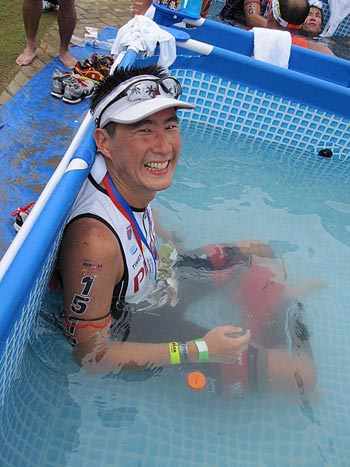 Carbo-loading meals work for me now, more than ever. I'm always hungry. And thirsty. I'm having a cold one right now. Who's going to argue with a beverage that provides a balance of carbohydrates, protein, potassium, magnesium, and vitamin B-6?
The excitement level rises when I rack my bike during check-in and gaze across the expanse of the transition area, teeming with bike porn enough to put the Eurobike Expo to shame. And then, there's my three-year-old roadie with clip-on aero bars. Winner.
Sleep did not elude me this time around. I was able to get enough rest days before the race, and woke up knowing it would be a good day.
There never seems to be a shortage of idiots and arrogant people. What are they doing in positions of influence, and why do other people believe them? Because nobody said that life was fair.
Taking my time was part of my race plan. 
The swim leg is my least favorite part of the race, and it continues to be. The madness that ensues following the blare of the starting horn is often described as a washing machine on spin cycle, where kicks, elbows and swats to your face and the rest of your body are par for the course. Swells? What swells? I was too busy trying to escape the equivalent of standing in an elevator at rush hour to notice. And everywhere I turned, I swam smack into a pod of flutter kicks and flailing arms.
With the way things started, it was important to just relax and have fun. 
Getting out of the transition as quickly as possible wasn't high on my priority list. I took my time rinsing my feet off, putting my socks on, taking a swig of water, fastening my race belt, putting on my helmet and shades. 
I always sing on the bike leg. I like the classics.  CCR's 'Bad Moon Rising,' Steppenwolf's 'Born To Be Wild,' and America's 'Ventura Highway.' And then, there are the movie themes, which I hum when I'm chasing a rabbit.  'Raiders Of The Lost Ark' and 'Star Wars' are natural defaults.
Distress and relief are two sides of the same coin—as far as relieving myself while on the bike leg. I finally learned 'to go' on the bike, and timed it perfectly both times I entered the tunnel.
Get settled quickly on the run, I told myself. Start with a controlled pace and resist the urge to go faster. You do not want to pay for it at the latter stages.
Water, energy drinks, gummy bears, and gels were in adequate supply. The organizers learned from last year's debacle, and did a great job this year.
Nothing beats seeing a smile on a familiar face, whether amongst the hundreds of faces in the crowd, or from a fellow athlete. I always get an extra push when I'm struggling through a tough run leg and I look up to see a friend egging me on not to give up and filling my head with all sorts of lies like "You're doing great" or "Looking good, Bob!" 
Pushing hard through the last kilometer of the race is always painful. And the finish line always seems farther than what your watch's readout tells you.
In the end, the pay off is worth all the sacrifice. I develop temporary amnesia, forgetting the hours put in and the aches and pains that nagged me through all those days in the sun and the rain, training. 
This race is done. I'm thinking about my next race. Now, where's that beer?
* With apologies to Esquire magazine
                  ---------------------------------------0--------------------------------------
IMHO (In My Humdrum Opinion)
27th Fiba-Asia Men's Basketball Championship: What I've learned
1. We are fair-weathered fans. Hello, Azkals and Manny Pacquiao.
2. Winning makes us instant patriots. Suddenly, there's 'Puso' and 'Pinoy Pride' all around. Maybe we can sprinkle some of that heart and pride in our daily lives and make a difference — starting with 'No Counter Flow.'
3. We're sore losers—and winners. Racial digs - at the Chinese, the Koreans, the Iranians, or whomever it is we beat or lose to — are not considered offensive. We call it funny. It wears thin — very quickly.  And it says a lot about us.
4. 'Gilas', 'Marcus', and 'Jason' will be the more popular choices of baby names in the next few weeks, with 'Hadadi' and 'LeBron' distant seconds.
5. Second doesn't necessarily suck — if it takes you to the Worlds, and if you just happen to be second.