IT'S two days before my last triathlon for the year, and I sense trouble. Sweat pours from the top of my head like a leaky tap, stinging my eyes and soaking my jersey — par for the course that is a stifling and balmy 50k recon bike ride. I'm barely holding my balance while mashing my quads on a slow grind up the first hill, passing two other riders who have taken embarrassing spills fighting their way up this treacherous incline. I manage to get past the first switchback before deciding to unclip, dismount, and get in line with most of the riders (aka weaklings) who have wisely decided to push their bikes uphill instead of bravely (or is it foolishly) spinning their way up the slopes.
A racecation this isn't.
Just a day before, my companions and I swam laps in Thanyapura sports hotel's 50-meter Olympic sized pool at six in the morning, getting in anywhere between a kilometer to a kilometer and change of water therapy. The swim time was mostly refreshing (I say 'mostly' because I realized from that practice swim that I was probably going to exit the swim leg last among the five of us come race day) and allowed me to stretch out after my flight in from Manila the previous day.
This bike ride was supposed to be relaxing, but it's gone from fun ride to fu-- me up ride. Our guide, Ricky, a member of the Thai triathlon team and a local hero, warns us that this is the easier of the two hills series. I'm not listening - which is a really bad thing, considering what happens on race day. I'm through the hills after staggering up the last ridge, and the rest of the ride seems pleasant enough to put a genuine smile on my face, nothing like the twisted grin I sported earlier.
I'm able to recover enough to test my reserve pair of running shoes on the track oval at the resort an hour before dinner. After learning that a considerable portion of the run leg would be on a series of grass, gravel, mud, packed earth, and, of course, blacktop and concrete, my minimalist shoes suddenly don't seem like a good option. Our sales conference, lasting a day and a half, has effectively shifted my focus from swim, bike, and run to sales targets, business expansion, and marketing strategy. The pre-conference breakfast and lunch breaks are enough to give participants time to get to know each other, exchange ideas and strategies, and attend to other pressing matters like scheduled Thai massages and visits to the downtown mall.
We're able to end just before noon of the second conference day, which finds the five of us who are racing the following day hopping into a rented pick up, our bikes strung together at the back with some straw rope hastily sourced from hotel maintenance. Registration is a breeze, and we're able to check-in our bikes (which includes a fast, efficient, and free bike service tune-up at the expo tent) in less than thirty minutes. After a quick and healthy lunch of overpriced burgers, fries, and mineral water, we're back in the rented pick up on our way to Chalong pier to meet the rest of the conference attendees and their/our companions.
This day before the race gives us all decompression time in the form of a five-hour boat cruise around Chalong Bay. Aside from liberal amounts of beer and food, we get to enjoy other amenities: juvenile fun in the form a water slide perched on the boat's second floor, snorkeling action around the coral-rich waters, and, for the more adventurous, uber-exciting beach combing at the nearby beach. As evening falls, we're treated to onboard entertainment courtesy of a Russian singer who's repertoire consists mostly of Russian pop standards and Eighties music. Nothing quite unites a diverse group of nationalities than unintelligible versions of 'Venus' and 'It's My Life.'
We're back in our hotel before 10 and I'm able to get all my race gear prepped and ready before eleven. I'm showered and under the covers before midnight before waking up four hours later to meet up with the group at the hotel lobby after a simple breakfast of coffee, juice, cookies, a health bar, and a sandwich. Big breakfasts on race day aren't my style.
The race venue is a hive of activity, but the race marshals and volunteers have everything pretty much under control, keeping the peace and politely pointing out to participants the do's and don'ts. The race organizers obviously did sweat the small stuff, from the tabs on the bike stickers for easy peel-and-apply and efficient race kit distribution to last-minute bike checks by onsite mechanics and tire pumping stations at the transition area. This looked to be one of the better races I had joined since starting my triathlon, ahem, career over five years ago.
After triple-checking my bike and run gear at transition, I shuffle onto one of the ferries that transport participants across the lagoon (where the second part of the swim leg takes place) to the beach where the first leg begins with a shore entry into the ocean.
Splash, Dash, Splash
The starting horn for my age group sounds and I stride into the surf that has now calmed considerably, compared to half an hour earlier. I reckon the presence of so many swimmers may have somehow scared the big swells off. I'm grateful to be able to swim with the least amount of aggravation from the wayward limbs and encroaching bodies that are typical for such races. The spin cycle on this washing machine has been set to low today, and I follow the school of swimmers with an even effort as we round the buoy, making our U-turn towards shore. Apart from one swimmer who is using me for drafting practice and whose irksome incursions into my swim path cause me to stop and shift directions thrice, it's practically an ocean swim practice session with more people.
There's the one hundred meter dash from the antiseptic salt water of the ocean into far-from-fresh water of the lagoon, and the presence of floating curtains of waterweeds makes for an even more interesting swim leg. The stench of the water is reminiscent of the first wakeboarding lake in the Camarines Sur Wakeboarding Park, where I did my first 70.3, bringing back not-so-fond memories of swimming in a gigantic cesspool. Draft man seems to have found me again, and he continues to invite more exasperation by nipping at my side with his strokes. I allow him to pass, just to get him off my back. The rest of my swim is just a steady pace towards the mossy and mucky exit chute out of the lagoon towards transition. It takes a while for me to put on my compression sleeves, socks, shoes, race belt, helmet, and sunglasses — not that I'm in a terrible rush to chase a PR. Before heading out, I help a companion with his tri-top that has rolled up his back from the inside; he thanks me, and we wish each other luck as I run with my bike to the nearby fence, take a quick pit stop, and am soon out on the bike course.
Hill Kills
The first portion of the bike course winds through inroads of rubber tree plantations, and does not allow riders enough momentum to speed up. There are numerous twists and turns along the route, which are all properly anticipated by road markers, race marshals, and local police. There are gentle undulations scattered across varying stretches of open road before the first series of killer hills hits at around kilometer 44. It's the same hill series I encountered just two days ago, and I've thought it wise to judge ride up the first two switchbacks before dismounting and pushing my bike up the incline.
And I am not alone. Not by a long shot. There is a small procession of riders pushing their bikes uphill, each trying to keep a constant walking pace until the apex of the hill is reached. I strive to keep an even breathing pattern as I swing my legs up and forward until I can see the top of the ridge. The descent that follows is mild consolation and short-term relief, and is mediated by marshals with yellow and green flags indicating the level of caution to be taken as riders streak downhill. At kilometer 47, the hills attack a second time. On this occasion, I don't even attempt to spin upwards — I dismount immediately. After a couple of switchbacks, it's not more than a few hundred meters before the descent begins again. From there, the road leads out to the highway where riders can comfortably settle into aero positions and ride out the relatively flat and smooth road.
I'm riding comfortably and passing a few riders on the flats, but feel some tightness building in my hamstrings and try to spin it out after slowing at the aid station. When the second pair of hills appears on the horizon, my bike, sensing more tribulation ahead, decides to disengage the chain from its gear. Lucky to have no one behind me, I pull to the left shoulder, dismount, reattach the chain, and begin my trek uphill. The tightness in my hamstrings has now spread to my quads, and I'm struck with the bright realization that those four (or was it five) beers the night before just may have a role in this creeping dehydrated state that I'm in. Hey, there's always a first time — and I couldn't have picked a better race to try my reckless strategy on. So here I am at kilometer 75 sweating like a horse and intermittently stopping through my uphill hike to quiet my cramping thighs. I climb back on my bike and spin at the lowest gear setting possible, hoping that I'm through what Ricky mentioned as the tougher of the two hill challenges. I know that if I get off on even the lower gradient inclines, my thighs may permanently jam and I will have to walk the entire run leg.
This is the toughest bike ride I've done, I mumble under gasps upon reaching the 80th kilometer that serves yet another set of uphills that cause me to roll my eyes and wonder if I'm going to make cut-off (whose exact time limit I'm not even aware of). Dismounting for a fourth and final time, I queue up with other riders who I saw successfully scale the previous set of hills, but have finally been beaten down and humbled by this last batch, as we trudge upwards to the waiting volunteers who spur us on with 'Not much further now,' 'You're almost there,' and 'Just a few more meters to the top.'
The downhill at kilometer 82 offers me a brief respite; the final stretch towards transition is uneventful as the course heads onto flats that take us back to the resort. As I spy another road sign pointing me toward the resort and transition, I am filled with excitement at recommending this race to friends and fellow triathletes, if only for the excruciating yet most fulfilling bike course.
Not-So-Fun Run
My mind is mobbed by thoughts of how to get through the run course without cramping, as I gingerly jog towards my bike rack in transition. The response comes in a nanosecond: They are coming for you, and there's little you can do about it. My hamstrings feel extremely tight and my quads still feel locked up from the hill repeats not too long ago. Putting on my shoes and visor, then grabbing my pack of gels and salt tablets, I manage to trot out onto the grassy start of the run course with my calves still relaxed. I'm still hoping they hold out for at least half of the 21k I have to scurry through until I can call it a day.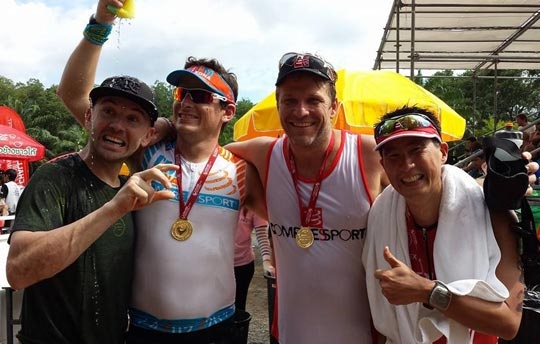 Though the course is mostly flat, save for a few ripples through terrain shifts and across the golf course, it is the noontime sun that bears heavily on the participants, sapping any surviving precious energy and spirit that the bike leg has not already extracted. Adequately stocked and strategically situated, aid stations are a godsend, replete with water, assorted flat soda, ionic drinks, energy gels, sponges, and ice. I stop at every one of them to drink and douse, doing my best to stave off the impending attack of muscle-strangling cramps. But despite all efforts to beat them back with gels, ionic drinks, ice, and cold water, the familiar twitching and twisting in my quads and calves arrive before the halfway point. Throughout the year, I have been able to hurdle my dehydration issue, but today the score reads Cramps 1, Bob 0.
But I'm not one to go down without a fight, so I fall back on my tried and tested run-walk strategy for the balance of the run. All around me, I see many an athlete slow down to a shuffle, trot, and eventually, walk. We saunter towards aid stations, parched zombies in trisuits, expressing extreme gratitude towards the volunteers who cheerfully hand us cups of hydration, blocks of sponges, and pieces of ice to quench our dehydrated bodies. I have to pull to the side of the road a number of times to stretch my calves; the throbbing in that section of my legs indicates I am still under-hydrated. Two well-positioned volunteer stations stocked with muscle-cooling/heating spray cans come to my rescue by providing me temporary relief, as I grapple with the remaining distance. Wait a second. This article is getting almost as long as the run leg. Let's fast-forward.
I'm two kilometers from the finish line and running alone. There is roughly a kilometer of concrete and another of grass and soil/mud to run through before I hit the red carpet. I'm walking it. I'm walking it until I get back enough confidence that my legs will not lock up and embarrass me as I head for the finish. As the finish arch comes into view, so do familiar faces waiting and cheering at the right side of the arch. My friends and their families are applauding and whooping it up as I plant my feet on the red carpet. Suddenly, I hear the high-pitched voices of my friend's daughters over the PA system egging me on with cheers of "Go, Bobby, Go" and "You can do it, Bobby. Run!" That's all I need at this point: pressure. My quads are taut and feel like dried up pieces of driftwood while my calves refuse to shut up, wailing and whining like spoiled brats who didn't get the toy they wanted. I'm doing my best not to fall over as I propel myself forward in running form, which can be described as a penguin scuttling across a bed of smoldering coals. When I finally cross the line, the race announcer bellows: 'Bobby, you don't have to 'Go' anymore because you're finally done with your race. Congratulations.'
It's my slowest finish time to date (not counting the year I came back from a fractured rib and collapsed lung with only a month left to train before the race), but also my most satisfying. With a crowd of friends for support and motivation, I finish this awesome experience with aching legs that will take days to recover, a big smile that will stay on for weeks, and an amazing race story I will never tire of telling.
--------------------------------0---------------------------------
IMHO (In My Humdrum Opinion)
One recent Saturday, as I sat in my car patiently waiting behind a queue of vehicles exiting the parking lot, I was amazed at the sight of overflowing crowds of well-dressed people standing outside the many clubs and bars that line a particular nook in The Fort. It was close to midnight and the clubs were packing it in with the party set, themselves patiently waiting to enter the venue of their choice.
The following day, at the start of my long run, regular run partner Hec sidles up to me on his MTB, and I ask him: What pleasure do you think people get from dressing up, standing outside in the heat waiting perhaps hours to get into a club, and once inside continue standing around overly crowded rooms called lounges, screaming in each other's ears just to be heard, pay for overpriced drinks, and leave the place several hours later in the wee hours of the morning, smelling like a cocktail of alcohol, sweat, cigarettes, and humanity?
Almost immediately, Hec answers: Don't you think the very same people are wondering what pleasure we get from waking up before the sunrise, pushing ourselves through a swim, run, and/or bike workout for the next few hours, under extreme heat or during a thunderstorm, only to repeat the process the following day?
Me: No further questions, Your Honor.
--------------------------------0---------------------------------
"What is talent, really? Is it the fact that your heart pumps more volume than the average person's, or that your blood turns less acidic when exercising so that you recover faster? No — talent has to do with your capacity for suffering. You just learn to suffer more. In the end, maybe, there is no explaining."
Eddy Merckx, Tour De France and Giro d'Italia legend