"The need to belong" is a theory promoted by social psychologists, such as Baumeister and Leary (1995), who suggest that humans experience a need to form and maintain interpersonal relationships and group memberships, and that this "need to belong" is innate, although the intensity and expression of the desire varies amongst individuals and cultures. (Source:  Wikiversity)
NOWHERE is the need to belong theory more evident and more centered on than in the world of sports teams.  Without teams, there would only be individual sports that, although interesting in themselves, would not be able to provoke the same level of collective fervor, interest, and following that team sports does.  The absence of teams in the sporting world would deprive the world of Jordan, Pele, and Di Maggio — icons of sport who emerged from an already outstanding cast of athletes to carve out their own legends. Thousands, perhaps even millions of jobs would be lost, if we all woke up one day to find nothing but individual sports like golf, boxing, and tennis left to report, market, and entertain.
Teams in sports are philosophically and commercially a most viable human relations component that we cannot do without.  Teams are groups that we identify with, believe in, and thus support — with or without the tacky merchandise.  Teams are tribes that we share an affinity with and that we sometimes follow with unsighted loyalty, turning blind eyes and deaf ears to the folly and foibles of certain members. Why, some fans are known to forsake even their own families in favor of their favorite teams, devoting more time and sacrifice to follow their teams on the road, and getting into all sorts of trouble in defense of their beloved team.
A Motley Crew
A team is not unlike a family that comprises a motley crew of dysfunctional members who, through strange fate or negotiated contract, must work, play, and even live with each other for a period of time.  Non-professional teams, with the wider range of ages and sporting backgrounds are more likely to resemble the family unit.  From a more personal standpoint, the team's cast of characters may sometimes be identifiable with one's own relations, from the loveable cousin and the doting aunt to the incorrigible uncle and the black sheep brother.
There are those members in the team that you can always count on to bail you out with that extra pair of gloves, a ready explanation to your spouse on why you were home late, or emergency cab fare that everyone seems to forget to bring. You have the geeks who analyze race results and training schedules to the minutest detail, and who can talk your ears off and explain it in Greek and English - if at all you're willing to listen. And there are the gifted ones. The ones who make you wonder if you even belong to the same species, because they simply go faster, higher and farther with half the effort or time it takes you to do the same.  And there can be as many personalities as there are members on the team, which makes it all the more interesting.
Pride Without Prejudice
There is pride — a lot of it — that comes with being part of a team.  It's not a matter of wearing a sponsor's name on your chest, rather, it is the sense of knowing that you belong to a group of individuals that looks after its members, makes sure that everyone is accounted for, and provides the specific support each individual needs.  As a member of the team, the least one can do is accomplish what's necessary to deserve to be part of that team.
Like all organizations or groups, a team has rules and policies that govern it. It's the best way to manage objectivity and to keep everyone honest. The more admired and organized teams are characterized by strong team spirit coupled with absence of prejudice towards any of its members.  There are the transgressors who like to push their luck and test the limits, but they are few and are quickly dealt with by the leadership. This is where leadership is of prime importance, as the team leader/s, who hold the team's best interest at heart, must make the unpopular decisions of implementing the rules and upholding policies, if only to maintain order and fairness.
Pulling Together
It is amazing how much you can accomplish when it doesn't matter who gets the credit, so goes a famous quote. A recent unfortunate incident that befell two members of the triathlon team I belong to reinforces the importance and relevance of this quote, and what it means to be part of a great team.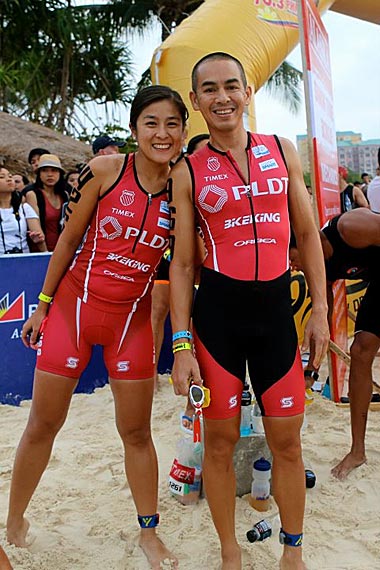 In a freak accident during a 16k run event held in Cebu City, husband and wife and teammates Peter and Sandra Gonzalez were struck from behind by a wayward vehicle while running the first few kilometers of the race. The impact of the bump left the couple sprawled on the pavement, with both sustaining yet undetermined number of bodily injuries.  As the panic-stricken driver sped off, team members who had witnessed the mishap sprung into action, and a flurry of activity ensued.  Ed ran back to the other members to tell them what had happened. Mayi, Vinson, TJ I, Ting, Kat C, Kat A, Yna, and Mesh attended to Sandra and Peter along with the medics and ambulances that arrived on the scene. Mark, TJ C, and Tony ran after the vehicle which was surrounded by concerned town folk who had seen what had happened, and prevented the assailant from fleeing. Later, Ting and Mayi rode in the ambulance with Sandra, while TJ I and Kat's hubby, Dan, did the same with Peter.  With Mark going with the police to the station, the rest of the team -- all eight of them -- piled into an AUV taxi and headed to the start/finish line, where the team van was waiting with a change of clothes, cellphones, and a ride to the police station, the hotel, and the hospital.
The buzz of activity did not end there.  At the hospital ER, while the couple was being treated and undergoing X-rays and CT scans, phone calls were made to team members in Manila like Rene, Miguel and Rico who could assist in contacting surgeons and lawyers on short notice. Kat C and Ting took care of the hospital arrangements and also contacted Doc Randy should there be a need to fly Peter to Manila for surgery. Kat A coordinated an airlift for Peter, if deemed necessary, and Irene arranged the late checkouts and room transfers with the hotel. Over at the police station, Ed took pictures of the vehicle involved in the accident and bought food for the team, while TJ C, Mark, and Tony played good cop-bad cop in dealing with the local authorities.
There were a few tense moments that had the team on tenterhooks, such as when the doctors were examining Peter for a suspected spinal fracture (which was later ruled out following further tests) and when Sandra's parents, who were only notified from the hospital, got upset about being the last ones to know about their daughter's accident, after learning about it on Twitter (Who knew Sandra's mom was a techie?).  By early afternoon, the couple, with matching IVs, was transferred to a two-bed suite, and an exhausted but relieved company of friends and teammates trooped to the airport to catch their flight back to Manila.
The story has a happy ending. With the whole team pulling together behind them, Peter, just slightly battered and bruised, and Sandra, sporting a new six-stitch beauty mark at the back of her head, were cleared to fly home to Manila after three days in the hospital.  Ed relates:  I think last Sunday's events brought everyone closer; while the 16 of us were together in Cebu, our teammates in Manila were also with us in spirit. The 16 of us divided up automatically and covered all the bases.
That fateful Sunday in Cebu was a true test of teamwork and team spirit, of the lengths teammates will go for each other's welfare and safety.  Two weeks later, a thanksgiving mass and dinner at Vinson's residence were held as a recognition of gratitude for the gift of life. It was also recognition for the gift of team.
We Are Family
Like family, a team is there with you through the good and the bad times, through sick and sin, and -- on a more morbid note -- till death do you part.  Teammates encourage and motivate you to stick with the program. They push you to get better, to keep going, even when you yourself don't believe you can go a step further.  They celebrate your triumphs, both big and small. They ask for your opinion while giving you unsolicited advice. They laugh at your jokes and tell you if you're not funny. And they cry with you and console you for your loss and during your most difficult moments. 
This shared kinship is no great surprise given the amount of time spent in each other's company. A team's members assume many roles: friend, surrogate father/mother, brother, sister, mentor, cheerleader, relationship counselor, legal advisor, devil's advocate, nutrition expert, training consultant. The list goes on. And as a member, one learns about his/her role and its relevance to the entire team through interacting with the rest.
Because that is what team is all about: friendship, family and everything in between. 
* With apologies to the late Kurt Cobain and Nirvana