ZAMBOANGA CITY — A young triathlete from Lanao del Norte captured the overall title in the first major triathlon held in this city, showcasing the region's deep reservoir of talents in Sunday's inaugural Compressport Hermosa Triathlon.
Satar Salem, 23, bested two teammates as the powerhouse triathlon team SND Barracuda dominated the competition organized by Fuerza Multisport for the city government of Zamboanga in connection with the city's annual Hermosa Festival.
Salem was more than seven minutes ahead of his closest rival, Paul Jumamil, as he crossed the finish line in front of the iconic City Hall in two hours, 18 minutes and 5 seconds. Jumamil was a distant second with 2:25:47 while John Alcala was third in 2:27:13.
Herbalife's Ronald Molit, coach of Fit PH and race ambassador, finished fourth overall and was runaway winner in his age group (35-44 years), beating Herbalife teammate Elmer Santiago and Trinics' Gerald Asiado.
The women's field was dominated by one of the country's top age groupers, Compressport race ambassador Ines Santiago of Herbalife, who took the women's overall title in 2:47:34. She was almost 20 minutes clear of the second placer, Barracuda's Angelica Jasmin Rejas. Rena Marte of Trimac was third overall.
Mayor Beng Climaco sent the triathletes off with a gong as more than 200 participants plunged into the vinta-lined swim course off the city's Paseo del Mar to start the swim-bike-run distances of 1.6 k, 43 k and 12k. The event was part of city' month-long celebration of the annual Hermosa Festival, the oldest and one of the most colorful festivals in the country.
Continue reading below ↓
Recommended Videos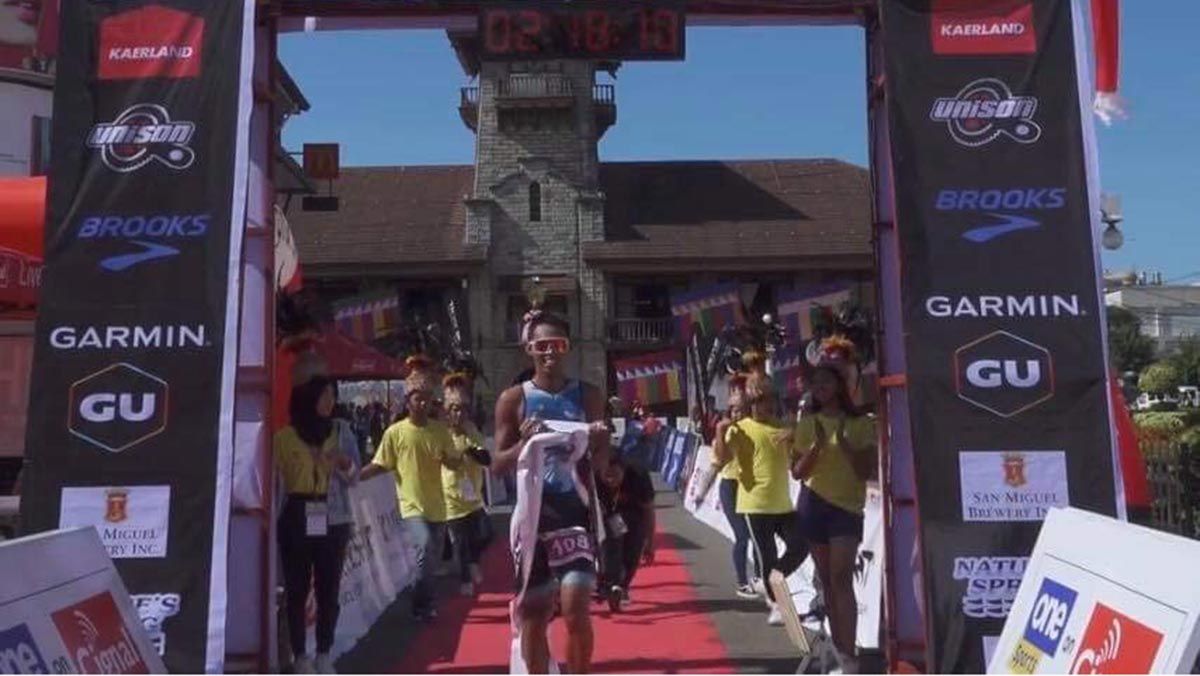 The event was organized by Fuerza Multisport, led by triathlon coach and race director Jojo Macalintal, in coordination with the city's special events head, Christian Olasiman.
Salem, one of the country's most promising young talents in the swim-bike-run multisport, is a member of the talent-laden team Tri-SND Barracuda sponsored by Mayor Ulwan Dimaporo of Sultan Naga Dimaporo (SND) town in Lanao del Norte.
The title sponsor of the triathlon is Compressport, a line of high-performance compression apparel distributed by Unison Bikes. It is also sponsored by Kaerland Homes, Brooks, TYR, Garmin, Gatorade, Pepsi, Klean Athlete, Milcu, Cardimax, Sleepasil, Nature Spring, San Miguel Beer, Unison Bikes, AC Bikeshop, Ceepo, Adele Homes, Grace Cosmetics and Therabro. Cignal TV is the official media partner.
The other winners:
Men's: (18-24) 1. Jailani Lamana, 2. Hanin Maruhom, 3. Miguel Aldeguer; (25-34) 1. Henpazeer Adjilani, 2. Dennis Borbolla, 3. Roel Quitoy; (45-54) 1. Reujen Lista, 2. Ronan Marasigan, 3. Bouye Joseph Letigio; (55-above): 1. Efren Rosales, 2. Nestor Hupida
Women's: (18-24) 1. Lizamae Ong; (25-34) 1. Edna Agoo, 2. Arianne de Guzman, 3. Tricia Mae Garrido; (35-44): 1. Marizza Reyes, 2. Mary Grace Olfindo, 3. Gelyn Ninofranco; (44-54): 1. Kathryn Rose Kuan, 2. Rowena Roca, 3. Carina Manansala
Relays: (All male) 1. Excelsior Scout Ranger, 2. Golden Med/ZRC/Zapco, 3. AC Bikeshop-West Metro Tri; (Mixed) 1. Tri SND Barracuda, 2. Zamboanga Runners Club, 3. ZRC Team Kelly