SUBIC - Hong Kong bets dominated the junior elite division in Day One of the 2015 ASTC Asian Triathlon Cup in Subic Bay on Saturday.
Yu Hang Kok beat compatriot Michael Lam by one second with a time of 56 minutes and 54 seconds to take the gold in the men's junior elite. Oscar Coggins finished third to complete a podium sweep for Team Hong Kong.
"In the swim, I was kind of worried because there were some jellyfish, on the road it was a little bit hot but I was able to manage it," said Kok, a first-time winner in the ASTC.
In the distaff side, Camden Richter (1:05:38) and Cheuk Yi Hung of the former British colony took the gold and silver medals, respectively, with Yu Yan-huang of Chinese-Taipei settling for the bronze.
Richter, the defending champion, said she benefited from her familiarity with Subic, having raced in the freeport three times previously.
"(Coach) told me to go out really hard because it was a smaller race and there wasn't that many people to fight in the water to get to the first buoy and to try and stay away as long as I could," said Richter, who considered the run the most difficult due to the heat but kept it up to finish strong.
Continue reading below ↓
Recommended Videos
Bailee Brianna Brown of Hong Kong also claimed first place in the women's mini sprint in the 13-15 category with a time of 48:52. Coming in second and third were Nicole Eijansantos and Sam McInnes, both from the Philippines.
Another international participant who came in strong was Mohamad Chebat of Syria who bested Filipino athletes Austin Morfe and Joaquin Rafael Tayag in the men's sprint (16-19 age group).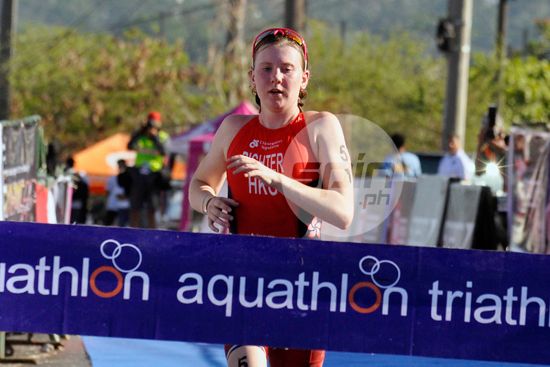 Promising local athletes took center stage in the age group categories with Ironkid winner Brent Valelo ruling the men's mini sprint while Maria Margarita De los Reyes and Marie Antoinette Balagtas claimed first-place finishes in the women's mini-sprint's 16-19 and 20-29 age brackets, respectively.
On Sunday, close to 600 triathletes will be seeing action in mini-sprint, sprint and standard distance events around Subic Bay.
Malawaan Park along Argonaut Highway serves as the new swim venue, followed by cycling along Argonaut Highway (plus Rizal Highway for standard distance) and running (Argonaut Highway for mini-sprint and sprint distances, Boulevard district for standard distance).
Harbor Point Ayala Mall will serve as the second transition area and finish line.
At stake is P600,000 in cash for the elite category winners and P10,000 for the Century Tuna Male and Female Superbods awards.
SPIN.ph is a media partner of the event sponsored by New Balance, Standard Insurance, Gatorade, Century Tuna, Harbor Point, Ayala Malls, Asian Centre for Insulation, Subic Bay Metropolitan Authority (SBMA) Tourism Department, Subic Traveler's Hotel, East West Building Technology, Inc., Resort's World Manila, Camayan Resort, Ocean Adventure, The Lighthouse Marina Resort, Seafood Island, Magaul Bird Park at Jestcamp, OGIO, PTT, StatMed, Omega Pro, 2Go Express, RaceDay, Kikay Runner, SBR.ph, Multisport, PinoyFitness.com, Travelife Magazine and XPS TV.