CONTINUING our feature on exceptional athletes from different sports who have made the transition to triathlon, we find mountaineer Ige Lopez, swimmer and power lifter Kevin Fule, trackster Jay Nacino, and mountain biker and footballer Aldean Lim sharing more of their insights on what challenges and what cheers them on in multi-sport.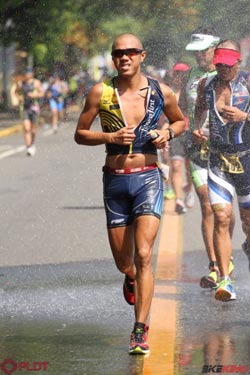 How has your previous sport helped you (if any) in triathlon?
Ige says that his years of mountaineering have trained him to be mentally tough, buttressing this with a motto mountaineers live by: Comfort makes you weak. Before the advent of ultra-light materials, mountaineers even used to engage in a pissing contest to see who had the heavier backpack, which was an indication of how tough you were — the bigger the backpack, the tougher the mountaineer. And since you pretty much rely on yourself when you're out on the trail, preparedness as far as your supplies (food, medicine, clothing, shelter, etc.) is paramount to getting through the entire trip, and sometimes ensures your very survival. Ige has learned to be self-sufficient, self-contained, and independent as a result of his sport. He related an incident when he went off on a five-day hike and was already sick from day one. Though there was always the choice of turning back, Ige decided to tough it out and carried on through the five days, dealing with his condition as best he could. The experience left him stronger, as he came away learning to suck it up and tough it through a multitude of challenges, from body aches and pains (while lugging all his supplies on his back) to negotiating the trail through good and inclement weather. As for the physical benefits, Ige says that his legs, ankles, and the rest of his lower body and core benefited from all those up and down hill trekking through uneven surfaces and unpredictable shifts in weather patterns.
Continue reading below ↓
Recommended Videos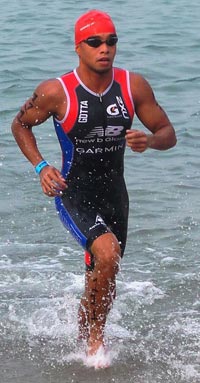 Kevin doesn't put as much time into his swim training as he does the bike and run, since the (swimming) skill set is renewed each time his body enters the water. The second nature emerges, he attests. The mental aspect of Kevin's game was honed through his nine years of swimming, of which he confesses to be a 'training athlete' for five of those years. By that, he means that he was always great in practice but a failure come race day. It may have taken Kevin a long time to get over the choker label, but he managed to overcome it by doing two things: first, he embraced his mistakes, sweeping aside all excuses rather than live in a state of denial or issue disclaimers to explain his poor performance; and second, he utilized pressure to bring out the best in himself. Kevin is quick to add that his parents used negative reinforcement to get him to focus on swimming, threatening him with hiring a tutor to help him with his studies. It proved a cunning and well thought out strategy that got Kevin to balance both studies and sport.
Jay maintains that running marathons and ultra marathons ingrained the ability to stay focused and run through the pain - tools that are necessary to swim, bike, and run your way to the finish line of various triathlon race distances. There are more periods of rest in triathlon as you make your way through three different sports, unlike running that offers little respite from the pounding your entire body absorbs with each foot fall on the blacktop, concrete, or trail. One area that running did not help Jay with was in the form of overconfidence, which may partly have been caused by the influence of peers. Friends who knew of Jay's running achievements boosted his ego by telling him that he would easily destroy the competition during the run leg. It didn't happen. But Jay has learned since then that it's important to persevere, to improve on your weaknesses, and to never give up.
Compare the most difficult races of your former sport vs. triathlon.
Ige: No comparison. Triathlon's difficulty lies in the training. Training is mundane and boring, so that's where the challenge lies. Consistency is key, and the goal is to do better. If the goal is just to finish, there is no challenge.
Kevin: They're both races - so physically, they're the same. Mentally, swimming is tougher because there are no distractions from work or family. Pressure was harder as a student; even if I came out on top, the coach would ask, "Why couldn't you have gone faster?"
Jay: Track was harder. It was a 'train till you puke' method.
What has triathlon taught you?
Ige: Specificity of sports.
Kevin: Time-management and priority setting.
Jay: Humility. You realize there are so many things you don't know, or know so little of (e.g. bike parts, swim technique, run strategy, etc.)
Aldean: Nutrition planning (which I apply to ultra marathons as well) and discipline to race specificity.
What about competition? How does that figure in your multi-sport career?
Ige: Mountaineering was/is very personal and 'soulish' while triathlon's competitiveness consumes you. It eats you up. In a way, the commerciality of triathlon has caused the sport to lose its soul. There is a resulting 'loss of love for the sport.'
Kevin: I live for competition, though I see it as fun too. I must see myself as competitive in this sport. I enjoy training with intense and like-minded individuals who don't hold back and give it their all.
Jay: Competition is beating myself first before getting to a level where [beating] others becomes competition.
Aldean: Competition is having prepared for something and testing that level of preparedness.
Rate your level of interest in triathlon.
Ige: I used to be a hundred percent, until I settled down and shifted priorities. After four 'helmet changes' (i.e. severe crashes that rendered the bike helmets unusable'), I'm not as competitive [as before] and will not risk life and limb. I used to compete even during training rides. As a coach and former hard-core competitor, I would like to see and let others shine.
Kevin: One hundred percent.
Jay: Still a ten. Am not in a rush and want to enjoy. I realize I have other priorities like my career and family, and need to work around them as well.
Aldean: Ten. I believe in going all out if I get into something, and I will keep doing it as long as it's fun.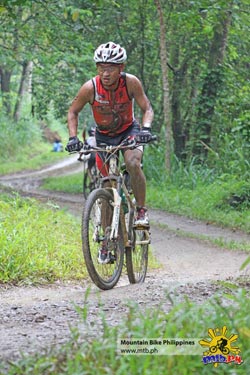 Frustrations? Challenges?
Everyone agrees that financial expense is both a frustration and a challenge in the world of multi-sport. The rising cost of race entry fees, transportation, lodging, supplies, meals, and the like bear heavily on those who choose to pursue the triathlon lifestyle. As coaches, Ige and Kevin cite time-management (i.e. torn between the decision to coach or race) and the prevailing view that coaches are judged by their skill level and not their knowledge of the sport. Also, because of the prevalence of a culture of instant gratification, there is growing impatience on improvements among newbies and/or athletes coached. Jay, who bought additional personal insurance after sustaining a few nasty scrapes while training, bemoans the low regard of the general (and mostly) vehicle-driving public toward the safety of athletes who run and train on the roads and highways within and outside the metropolis. Basic road courtesy is sorely lacking, but that is not to say that triathletes, runners, and cyclists cannot peacefully coexist and share the road with tricycles, jeeps, buses, trucks, and other passenger/non-passenger vehicles. Aldean grouses about people who enter the sport just to keep up with the Joneses. They enter multi-sport to acquire bragging rights to the title 'triathlete' and (sometimes) as a result are unmindful of proper training and race etiquette/protocol, which can cause tempers to flare or minor/major injuries.
Ige, Kevin, Jay, and Aldean are all passionate about multi-sport for personal and shared reasons. And though Ige and Kevin are coaches, they, like Jay and Aldean, remain students of the sport. All four triathletes will continue to learn with every day that they train and every race that they swim, bike, and run.
--------------------------------0----------------------------------
IMHO (In My Humdrum Opinion)
Ten Stupid Questions/Remarks About Triathlon and Endurance Racing (and my silent retorts)
10. Are you doing all three (swim, bike, run) at one time or on separate days? (Separate days. I like to challenge myself more and get shit-faced drunk in between legs.)
9. What's the distance of your marathon? (Last time I checked, it was 42.195 kilometers; unless I was asleep when they shortened it to 5k!)
8. Whew, I just finished my first 10k marathon. God is good! (You were probably in the toilet when God was giving out brains.)
7. A marathon is 42 kilometers?! How are you going to do that? (Well, basically you put your left foot over your right and repeat as necessary.)
6. Good luck with your marathon. I hope you win. (Thanks. If all the Kenyans suddenly dropped dead and eighty percent decide not to race, I just may have a shot.)
5. Follow up to #6: Did you win? I saw your medal pic on Facebook (I did! I won that medal — along with 40,000 other runners).
4. How do you eat during the race? (Oh, I stop at the nearest fast food and grab a burger with everything on it. And large fries. And an upsized drink.)
3. Don't you get appendicitis if you eat while racing? (They're called stomach cramps or side stitches … dummy. And they don't kill you.)
2. What do you do if you have to go? (We basically go in our suits. That's why we wear nappies.)
1. I don't run because it hurts my knees. (Really? Jeez, I feel for you. I've never tried running on my knees, so I'll wait till my feet give in.)
--------------------------------0----------------------------------
Triathlon: How about a different kind of threesome?