IT is every tennis player's goal to strive for victory every season, but the road to the BNP Paribas WTA Finals Singapore presented by SC Global is not easy. Only the top eight female singles players and doubles players will make the cut, so every point they earn at each WTA tournament counts.
When they qualify for the season-ending WTA Finals in Singapore, they come with only one thing on their minds: to give it all they've got — and end the season in style.
This means avid and casual tennis fans alike will be in for a treat from 23 October to 1 November when Singapore again plays host to the WTA Finals, featuring only the top players in the game. And with US$7 million prize money on the line — one of the biggest in the tennis world — the stakes don't get any higher than this.
One game to rule them all
ADVERTISEMENT - CONTINUE READING BELOW ↓
One aspect of the WTA Finals that stands out from other championships is its round-robin format, so fans get to see their favorite players, such as top stars Maria Sharapova or Simona Halep, compete in several matches before the final. It is entirely possible for winners to recover from a defeat in an earlier match to eventually take home the trophy — making every match as exciting as the next.
Last year's champion Serena Williams recovered from a defeat by Simona Halep in the round-robin match to emerge victorious in the finals. Williams, the current world No. 1, will again feature in the WTA Finals 2015, qualifying in a record-setting 109 days.
One place to see them all
Apart from the heart-stopping rallies and high velocity serves, all attendees can look forward to a myriad of activities outside Centre Court.
Look out for the first-ever Singapore Tennis Evening at Marina Bay Sands on 30 October, when fans will see tennis royalty celebrated for annual achievements alongside award-winning UK singer Paloma Faith, who will be performing in Southeast Asia for the very first time. Fans will also get closer to the action than ever before, with scheduled player practice sessions to catch the stars off-court and the outdoor Fan Zone featuring interactive games, sports challenges and daily opportunities to meet the players.
ADVERTISEMENT - CONTINUE READING BELOW ↓
With all the thrills and spills planned for this year's WTA Finals, don't miss your chance to attend one of the best tennis events of the year.
Singapore turns 50 years old this year and you are invited to join in the celebrations. There are a slew of exciting flight, hotel, dining and retail deals lined up just for you, so there is no better time to visit the Lion City. For more of what's in store in Singapore, check out www.yoursingapore.com/goldenjubilee.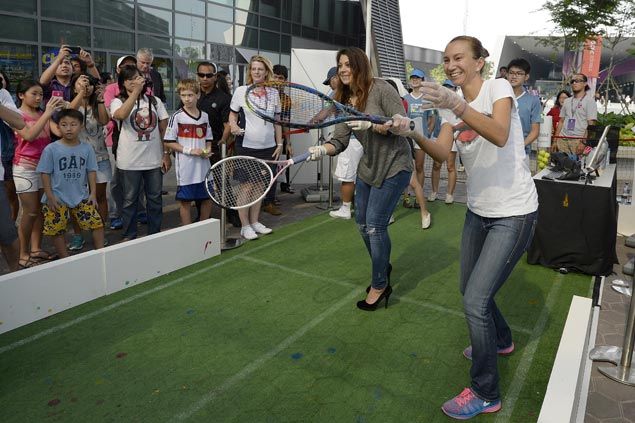 ADVERTISEMENT - CONTINUE READING BELOW ↓
Buy your tickets now
Exclusive WTA Finals package for the Philippines from US$751!
Tour package includes 3-night hotel stay with daily breakfast, tickets to Session 12 (31 Oct singles and doubles semifinals) & Session 13 (1 Nov singles and doubles finals), and round-trip airport to hotel transfers
Purchase from www.redrocktravel.net. Terms and conditions apply.