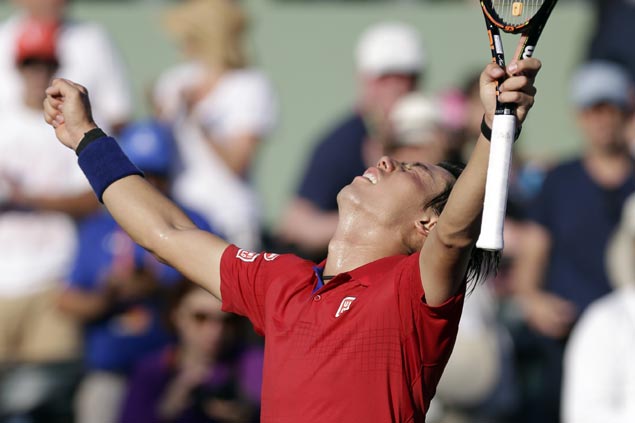 KEY BISCAYNE, Fla. (AP) — Serena Williams' early exit at the Miami Open cleared the way for two younger players to reach the final.
Svetlana Kuznetsova is 30. On Saturday, she'll face the winner of Thursday night's (Friday, Manila time) semifinal between Angelique Kerber, 28, and Victoria Azarenka, 26.
Eight-time champion Williams, 34, lost to Kuznetsova in the fourth round, but the next generation of women's tennis wasn't ready to fill to void.
Instead, Kuznetsova kept winning. In the semifinals, she erased 12 of the 14 break points she faced to beat Timea Bacsinszky 7-5, 6-3.
The Russian is back in the final 10 years after she won the tournament.
"It means I've been a lot of times out here in front of you guys," she told the crowd with a laugh.
Kuznetsova hadn't enjoyed much success at Key Biscayne in recent years, but she won four consecutive three-setters to reach the semifinals. At No. 19, the Russian is the lowest-ranked women's finalist in the event since No. 38 Kim Clijsters earned the 2005 championship.
"I'm happy I could hang in there," Kuznetsova said. "I haven't been feeling my best, but I've been fighting with every ball and trying to run as much as I could."
In men's play, No. 6-seeded Kei Nishikori overcame five match points and beat No. 16 Gael Monfils 4-6, 6-3, 7-6 (3).
Monfils became soaked with sweat on a steamy afternoon but rallied from a break down in the final set.Nishikori fell behind 0-40 serving at 4-5 but erased those match points and another in that game, and overcame one more match point serving in the 12th game.
"I thought I almost gave up the match," Nishikori said. "It was tough conditions. Especially the last couple of games, I don't know what I was thinking."
Nishikori will play Friday against the winner of the match Thursday night between No. 12 Milos Raonic and No. 24 Nick Kyrgios.
American twins Bob and Mike Bryan, who turned 38 this week, lost in the semifinals of doubles to Pierre-Hughes Herbert and Nicolas Mahut, 6-3, 6-3. The Bryans hold a record 16 Grand Slam titles but haven't won a tournament since August.
Kuznetsova earned the first break of her semifinal in the 10th game to take the grueling, 65-minute first set. She broke three consecutive times in the second set to pull away from the No. 19-seeded Bacsinszky.
"I was playing to finish it in two sets so I have a little bit of time to rest," Kuznetsova said.
ADVERTISEMENT - CONTINUE READING BELOW
If Kuznetsova wins the title, she'll return to the top 10 for the first time since 2010. She's already assured of surpassing $20 million in career prize money.
Speaking of which: The 15-year veteran weighed in on the recent debate about prize money, saying women on tour deserve the same pay as men.
"My thing is, guys that travel can have kids. They can have a family, right?" she said. "We cannot. Since 16, I am a professional. I gave up everything — friends, home. We give more than 100 percent. ... We're not taking their money. We just want to earn the same."
However, Kuznetsova said she's opposed to women playing best-of-five matches in major tournaments, as the men do.
"I don't think it makes sense," she said. "You will see us struggling, cramping, squeezing and yelling. It's going to look weird."