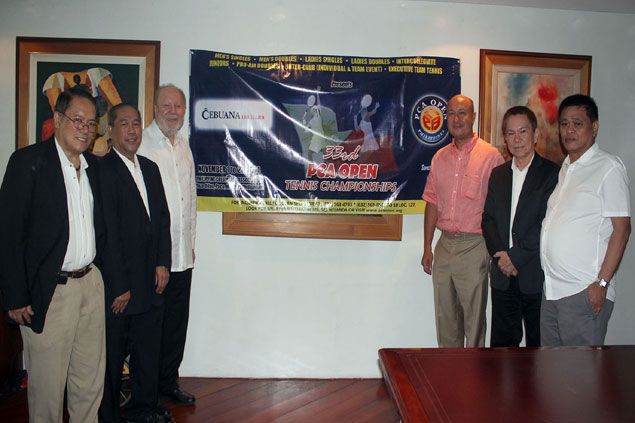 CEBUANA Lhuillier and the Philippine Columbian Association (PCA) renewed its partnership for the 33rd edition of the PCA Open tennis championships that kicks off on November 1 at the PCA covered clay tennis courts at Plaza Dilao in Paco, Manila.
This will be the seventh year Cebuana Lhuillier is supporting the country's longest-running tennis tournament that saw the rise of Philippine national team mainstays Johnny Arcilla and Czarina Arevalo, who ruled the men's and women's open division eight and five times, respectively.
Cebuana President and CEO Jean Henri Lhuillier said he is hoping the renewed partnership would further help the country's tennis grassroots development program as young netters can hone their skills in the junior age group and inter-collegiate divisions.
Lhuillier presented PCA officials with the P600,000 check recently at the PJ Lhuillier office in Makati City.
Action in the age group, inter-collegiate, Pro-Am doubles, inter-club (individual and team event), and executive team will run from November 1 to 23, while the main draw of the open singles, doubles, and mixed doubles will be held from November 15 to 23.
Other top local tennis players who ruled the tournament were two-time winner Rolando So, three-time champion Joseph Lizardo in the men's, and netter-turned broadcaster Diane Castillejo, Sarah Rafael, Maricris Fernandez, and Jennifer Saret.
The men's singles champion will receive P100,000, while the women's singles winner gets P50,000
PJ Tierro, A.J. Lim, Leander Lazaro in the men's, while the Patrimonio sisters  -- Anna Clarice and Christine -- and Khim Iglupas in the women's and a host of others are out to dislodge Arcilla and Capaddocia's stranglehold of both crowns.
For more information, call Rina Raturat or Sel Nelmida at 5634703 or 5368501 to 10 extension 127.