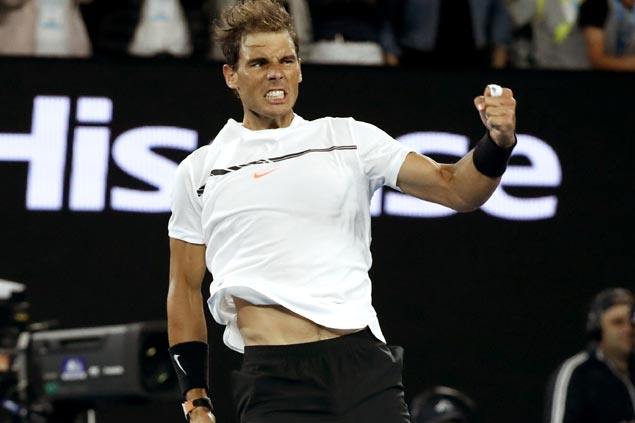 MELBOURNE, Australia — Rafael Nadal defeated Milos Raonic 6-4, 7-6 (7), 6-4 to reach the Australian Open semifinals, returning to the last four at a Grand Slam tournament for the first time since winning the 2014 French Open.
Nadal's return ensures there'll be three 30-somethings in the men's semifinals, equaling the Open era mark set at Roland Garros in 1968. Nadal will play Grigor Dimitrov on Friday, the day after 35-year-old Roger Federer takes on 31-year-old Stan Wawrinka in an all-Swiss semifinal.
The women's semifinals also contain three 30-somethings with the Williams sisters (Venus, 36, and Serena, 35) and Mirjana Lucic-Baroni, 34.
Nadal, whose ranking has slipped to No. 9, also believed he'd return to another Grand Slam semifinal despite struggling with injuries and a lack of confidence in recent years. The last time he made it this far was at the 2014 French Open when he claimed his 14th Grand Slam title.
The win over Raonic was Nadal's 50th at Melbourne Park, where he won the title in 2009 and lost in the final in 2012 and '14. The Spaniard saved six set points in the second set, including two in the 13-minute tiebreaker.
Raonic, who aggravated an adductor injury during the match, had beaten Nadal in their most recent match two weeks ago in Brisbane.
"Even when I was winning a lot I had doubts, you can imagine I had more when I had injuries," Nadal said. "I think I had a great career, but at the same time I had a lot of tough moments. That makes me enjoy even more the good moments I'm having today."
Nadal lost in the first round here last year and had extended injury layoffs before and after the U.S. Open to let his left wrist recover from injury.
Raonic last year reached the Australian Open semifinals, when he was hampered by a hip injury and lost to Andy Murray after leading by two sets-to-one, and went on to reach the final at Wimbledon.
ADVERTISEMENT - CONTINUE READING BELOW
He improved to a career-high year-end No. 3 ranking and beat Nadal in three sets in the quarterfinals at the tuneup event in Brisbane earlier in the month.
Dimitrov had a 6-3, 6-2, 6-4 win over No. 11 David Goffin on Wednesday to reach the Australian Open semifinals, returning to the last four at a major for the first time since Wimbledon in 2014.It was the No. 15-seeded Dimitrov's fifth win from as many meetings with Goffin. He's on a roll in Australia after winning the Brisbane International tuneup tournament ahead of the season's first major.