HE was the Francis Casey Alcantara and the Jeson Patrombon of his time - a promising Filipino tennis player who, during his prime, campaigned in the world juniors circuit and dreamt of campaigning in the pro ranks.
Unfortunately, Karl Santamaria's blossoming tennis career and dream of becoming a pro were rudely ended, not by injuries but by 'The Big C.'
Now 35, Santamaria is proud to have survived the biggest battle of his life and, now cancer-free, glad to have found his true calling as a national coach.
He is currently the coach of the dominant National University tennis team in the UAAP and is set to take on a new challenge with the national team that will take on Sri Lanka in the Davis Cup Asia/Oceania Group II tie this weekend at the Valle Verde Country Club.
No challenge, however, was quite as daunting as the one he experienced as a young 17-year teenager when it was discovered he was suffering from cancer.
Teen rising star turned cancer patient
In the mid-90s, Santamaria was one of the budding juniors players in the country, competing in the top-level International Tennis Federation (ITF) juniors circuit - exactly what Alcantara, Patromobon, and now teenage sensation AJ Lim are doing right now.
Continue reading below ↓
Recommended Videos
But everything changed in August of 1996.
"I came from playing in the Junior Davis Cup, and in the ITF (International Tennis Federation) juniors tour. I was supposed to train in Australia but at the last minute, I decided to go home," he recalled to Spin.ph.
"Pagbalik ko dito, napapansin ko na I'm always cramping at madali akong mapagod but I was in good physical condition. Nagkaroon din ng ilang days na nilagnat ako. Sabi lang ng family doctor ko, mag-pacheck-up just to rule out anything.
"Pagdating ng check-up, it was discovered that there was a mass as big as my heart somewhere in my chest. In a matter of weeks, we got multiple opinions and finally this doctor, the former administrator of the Philippine Heart Center, sabi niya it's benign or malignant."
Santamaria suffered from Stage 2 extra-testicular germ cell carcinoma non-Hodgkin's lymphoma, or testicular cancer in layman's terms - the same cancer that disgraced Tour de France champion Lance Armstrong battled early in his career.
Devastated, Santamaria had no choice but to undergo chemotherapy and take all the medication. Remember, this was in the late 90s when treatment for cancer were just coming off the experimental stage.
"It improved my chances from 20 percent survival to 80 to 100 percent survival because of the new drugs," Santamaria said. "That was the set of medicines that also saved Lance Armstrong because he was already in Stage 4.
"It was very effective but the side effects are that there is the possibility of damage to the kidneys and the possibility to have no children. Maybe it was me being too young and the priority was to survive so I just took the chance."
'I was checking out'
Chemotheraphy was difficult, according to Karl, son of the legendary volleyball coach August Santamaria.
"That was the worst feeling ever," he shared about the pain of going through the process. "The process of chemotherapy is that it tries to kill the cancer cells but it also kills the healthy cells. That's why you don't experience the side effects because of cancer, it's because of the chemotherapy. Nagsusuka ka, hindi ka makakain."
The pain unbearable, Santamaria admitted he was ready to give up.
"There was this time during the course of the chemo (treatment) that nahihirapan na ako physically. I would go to the hospital physically but emotionally, I was checking out.
"Good thing my doctor, Dr. Valorie Chan of UST, was so nice. She told me something that turned me around. She said, 'Medicines are medicines, and you can make it work for you or not. You just have to have a positive attitude toward it, and you have to fight.'"
Taking his doctor's words to heart, Santamaria saw things turn for the better dramatically that by December of 1996, he was already declared cancer-free.
"Usually, doctors don't say that, but 'yung point na 'yun, sabi ko, 'Tama siya kasi the medicines can also be your savior kung gugustuhin mo.'"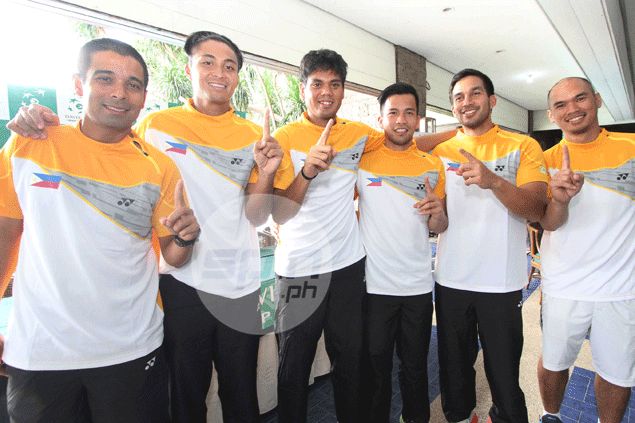 True calling
Cured, Santamaria went on to return to competitive action, playing for University of Santo Tomas in 1997 before finally finding his true calling.
"Nung gumaling ako and I was going back to tennis, I talked to the coaches and asked them what I can do during the summer, and they told me na may mga summer camps sila. I started to teach kids. That's where I fell in love with coaching. I found my calling here," he said
Coaching was something he became good at. Immediately after graduation in 2001, Santamaria was offered the job as head coach of UST.
"Una, I was hesitant kasi the players that I would be coaching were my former teammates, and I was a fresh grad. 'I may have been over my head on this,'" he remembered thinking.
Santamaria went to lead the Espana-based school to seven titles in the men's division from 2001 to 2011 before moving to NU, where he was just as successful after leading the Bulldogs and Lady Bulldogs to their third and second straight titles in the UAAP tennis tournaments.
The Patrimonio sisters, Anna Christine and Anna Clarice, led the Lady Bulldogs to their second straight crown by beating Santamaria's former team UST. In the men's division, Fritz Verdad was adjudged MVP as the Bulldogs clinched their third straight title via an 11-0 sweep and extended their winning streak to 33 overall.
After several coaching gigs in both national women's and juniors level, Santamaria was recently appointed national men's team head coach.
Life after cancer
The NU tennis coach is happy to note there is no recurrence of the cancer that cut short his tennis career.
Fears that he may never have a child were also eased. After getting married last year, Santamaria happily relayed that he is set to be a father as his wife is scheduled to give birth to a baby girl this April.
"It's been 19 years. I still go through annual checkups. Sabi ng doctor ko, after 15 years na hindi na bumalik, you're as good as new," said Santamaria.
Things happen for a reason, and it's no truer than in Santamaria's experience.
"Nung gumaling ako, one of the questions I asked rhetorically was. 'Bakit ako?' I didn't smoke and drink, and I was an athlete. I had so much going for me. I was going to study and have scholarship in the United States. If ever, I would have wanted to be a professional tennis player. That was my dream.
"I think sometimes, God works in mysterious ways talaga. It was his way of telling me na 'yung pagiging professional player, hindi para sa 'yo and probably He knew that I would not quit trying. I saw it as He was saying that, 'Playing is not for you,'" Santamaria said.
Santamaria said his battle with cancer gave him a whole new perspective in life.
"I always tell my players na you have to value every day of your life. It's always a new chance to do something good, something better. It really made me appreciate the little things in life. When you are in the hospital, and you see the sunlight in the morning, nagpapasalamat ka na.
"When a challenge or a not so good thing happens to me, I always tell myself, jokingly, 'What could be worse than getting cancer?' It's always at the back of my mind. I've been through worse, I can face everything. I have a deeper appreciation of life and I know that I passed one of the toughest tests any person can go through at a very young age."
Asked what his advice is to cancer patients and to their families, Santamaria said its always to keep a positive attitude in life.
"It affects the whole family when you have cancer. It's not just you. That's why I keep telling people that I come across with who are in the same predicament to stay strong. If you are a family member or when you are with them, make them feel happy," said Santamaria.