INCHEON, South Korea—The Philippines is off to a fine start in the Asian Games tennis competition, sweeping past Mongolia, 3-0, on Saturday at the Yeorumul Stadium.
Ruben Gonzales whipped Badrakh Munkhbaatar, 6-3, 6-2, in the first singles while Patrick John Tierro overcame a slow start to beat Erdenebayar Duurenbayar, 6-4, 6-2, to clinch the tie.
Treat Huey and Gonzales completed the sweep with a 6-0, 6-0 win over Oyunbat Baatar and Sukhjargal Sukhbaatar in the doubles.
The Philippine netters, however, face a daunting task in the second round against second seed Chinese Taipei, composed of Chen Ti, Lu Yen Hsun, Peng Hsien Yin, and Wang Yeu Tzuoo.
"I don't feel much (pressure). We are all professionals and we do this for a living," said Gonzales, when asked about the team's chances to earn a medal in the team event.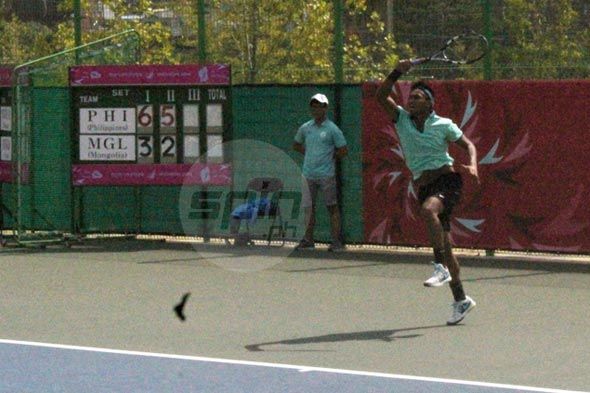 Continue reading below ↓
Recommended Videos
Tierro broke serve in the ninth game for a 5-4 lead after a surprisingly tough first set against Duurenbayar.
"Mahirap din kasi walang pattern 'yung game niya. Serve lang siya ng serve. Puro malalakas na serve kaya hindi ako nakakuha ng groove. Mahirap din," said Tierro.
Tierro is only hoping for the best in their round-of-16 match with Chinese Taipei, who drew a bye in the first round.
"Chinese Taipei ang kalaban naman and they are really really good. Pero bilog naman ang bola," said Tierro.