NAY PYI TAW – One team is on the rise while another is seemingly on the fade.
Such is the overall story of the Philippine men's and women's poomsae squads after coming up with contrasting results in their respective events Wednesday at the Wunna Theikdi Indoor Stadium.
Composed of Djustin Mella, Raphael Mella and Vidal Marvin Gabriel, the men's poomsae squad clinched the gold medal with a total of 7.920 points while Indonesia notched 7.590 points for the silver and Thailand settled for the bronze medal with 7.550 points.
Gabriel then went on to win the silver medal in the men's poomsae singles.
In the women's side, the troika of Janice Lagman, Rani Ortega and Rinna Babanto was good only for the bronze medal with 7.665 points. It was powerhouse Vietnam that took the gold medal with 7.950 points while Thailand settled for silver with 7.785 points.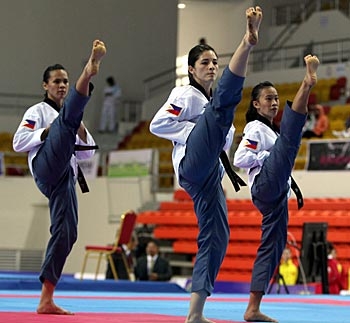 Poomsae coach Jeanne Pierre Sabido admitted that the women's team was never the same since winning back-to-back titles in the 2009 Laos and 2011 Palembang Games.
And though the departure of Camille Alarilla is considered a key factor, Sabido said Father Time is to blame after having seemingly caught up with the comely pair of Ortega and Lagman.
"Some teams sent their junior squads who are between 16 to 20 years old," said the 30-year-old Sabido, who skippered the men's poomsae team four years ago.
"Janice and Rani are already 26 to 30 years old. Medyo malaki and age gap nila against their rivals and matigas na ang mga buto nila. I think it's about time for us to start developing young players. This is a perfect moment to form a completely new team."
Sabido added that the 16-year-old Babanto could be the anchor of the next generation of women's poomsae artists.
"She's young and very promising," he said. "If Rani and Janice will decide that they'll no longer compete, I guess Rinna can be the guide of our future team."
On a brighter note, the men's team – a squad which was formed only two months ago – made heads turn with their crisp moves and impressive synchronization.
"Contrary to the women's team, our men's team is such a young team. Actually, masyadong malayo ang score nila sa silver medalist na Indonesia. That's how dominant they were. They will be a force to reckon with in the years to come."