FOR pro surfer Luke Landrigan, the Philippines is just one big surfing wonderland. And for more Filipinos to share his love for the sport, he's just all too willing to teach others how to catch the next big wave.
Landrigan heads his very own surfing school in La Union – considered the surfing capital of the north - and said that now is the best time to try out the sport.
"The best months (for surfing) depend on what side of the country you are in. In the Pacific side, there are more waves than the South China Sea side. In the Pacific side, the best waves are from September to May, while for the South China Sea, the best waves are from October to April," he said.
He identified La Union, Siargao, and Baler, as the best-known surfing spots in the country.
Landrigan, who won the gold at the Aloha Boardsports Pro Invitational Long Board Division, and the silver at the Asian Beach Games in Indonesia, was also recently chosen to be the brand ambassador of Ginebra San Miguel Premium Gin.
He views his first endorsement deal as a way for him to promote the sport among Filipinos, especially since the Ginebra San Miguel Premium Gin brand caters to a wide market.
Continue reading below ↓
Recommended Videos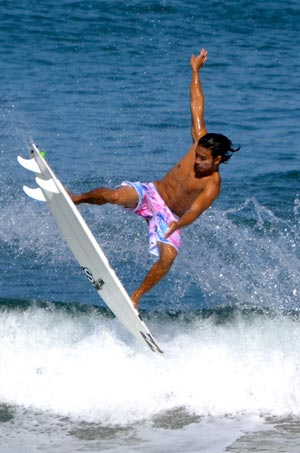 While on the surface, surfing seems to be all about the adrenaline rush, Landrigan says the sport requires a huge amount of discipline and lots of practice.
"You can learn the basics, but to be really good at it and really enjoy it, you have to be dedicated."
"Great surfers also have a strict code: you have to respect and protect the beaches," he added.
Most beginners who attend his school come from Manila, he said. The most students they have in a class are around 40, but he says almost all can stand up and surf within the first hour.
"But before you learn how to surf, you should first learn how to swim," he added.
Landrigan says while the country has a long way to go in competitive surfing, getting more people to take up the sport is the first step.
"There are so many good surfers here, especially in the provinces that have good waves. But where there is talent, there's also lack of support," said Landrigan, who looks up to Andy Irons and local Jay-R Esquivel as surfing idols.
"In the past, people thought that surfers were just beach bums. Nowadays, there are doctors and lawyers who surf," he says.
Surfing, he said, is best experienced rather than explained.
"There's a saying that only a surfer knows that feeling. If you haven't surfed then you will never understand it. But let me attempt to put the experience into words. It's like your first kiss and your first roller-coaster ride rolled into one," he said.