TWEETIE de Leon-Gonzalez wants to leave the Celebrity Squash Tournament with a bang.
The August 8 event at the Manila Polo Club will be the swansong for the model-actress, who has organized the tournament for the past six years to help promote the sport she has come to love late in her life.
"It's a sport I discovered late in my life. Almost everyone you can find playing squash has been playing it for decades already. It was sort of like dying as a sport, I somehow discovered it and loved it," she told Spin.ph.
"I tried to revive the sport and this is the best way I knew how, by promoting it by involving celebrities and getting them interested in the sport.'
The latest edition will be her last as part of the Squash Rackets Association of the Philippines.
"I'll be leaving the board soon and maybe someone will take over this task but I was the one who introduced this to the board because it's my way of promoting the sport," she said.
The tournament will gather 28 players from different industries — fashion, media and sports. The participants will be divided into four teams of seven players each.
Based on their skill levels, the players will be distributed evenly so each team has a fighting chance. Players will be classified according to brackets, 1 being the toughest down to 7 which is beginner level.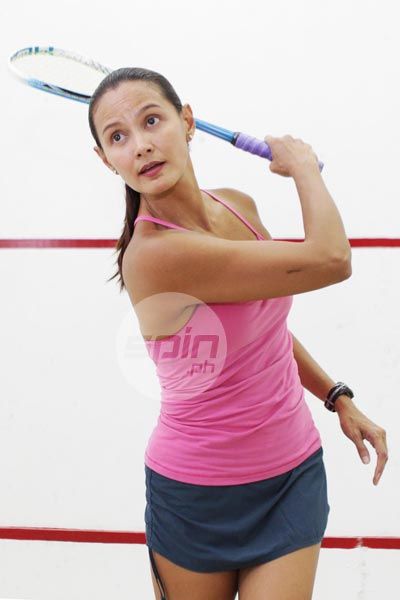 The tournament will be a round-robin affair and each team plays three games with the winner determined by the number of wins and in the case of a tie, on total points.  
"It's fun. It's not a serious tournament. It's really a gathering of friends and newbies and personalities from different industries," de Leon-Gonzales explained.
"We've had regular participants and there will be those who are new. The community is just growing. People look forward to it because of the vibe during tournament day itself. There's really no pressure, just friendly competition."
Adding spice to the event will be national athletes who will be there as participants and officials.
When someone asked me, 'What's at stake for the winner?' I say, 'Bragging rights, dude!'" (laughs).
The tournament is also a good time for the participants to catch up.
"We make kuwento and you'll see everyone's sitting on the floor, laughing and waiting for a burger. It's really pretty informal but most of them are pretty competitive," said de Leon-Gonzalez.
"At the end of the tournament, everyone goes home with a loot bag. We also have raffle prizes donated by companies who have been our friends for a long time. Kantiyawan, that's how we close the event."
And hopefully, make a few converts to a sport she had grown to love.