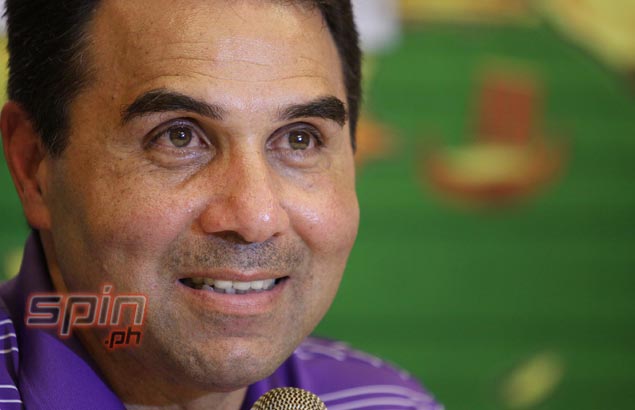 HE hailed Philip Cezar as the best local player he had ever played with or against, referred to San Miguel's 1989 Grand Slam team as "phenomenal," acknowledged the greatness of Robert Jaworski and expressed his debt of gratitude to `The Boss,' Eduardo `Danding' Cojuangco.
But more than anything else, Ricardo Brown remembers the Filipino fans.
"The thing I remember most about the PBA was the connection, passion and loyalty of the Filipino basketball fans, there's nothing like it," Brown, now 55, told mediamen at the PSA Forum, barely 12 hours after disembarking from the plane for his first visit in the country in 22 years.
A lot of things have changed in the basketball landscape since Brown, the deadly Fil-American point guard who terrorized opposing teams in the PBA with his outside snipings and court wizardry, reluctantly ended his playing career in 1990 due to health reasons.
But the wonderful recollections of his decade-long stint in the Philippines – including eight as a pro – remained forever etched in his mind.
Brown arrived in the country on Monday night for a whirlwind visit to be highlighted on Sunday when he is honored by the PBA as a member of the Hall of Fame Class of 2009, and as one of the 25 Greatest Players in league history.
Health problems kept the former Pepperdine University shooting guard from coming over to receive the twin awards, but now he's happy to personally receive the honors.
"For the league to do this to me is overwhelming. But that's not really what I'm here for. My goal is to embrace and reconnect with the fans," said Brown, who now works as a middle school principal in Artesia, California. "I just want to shake hands with the people and give them a hug."
Brown's mother is the former Connie Vidal from Sta. Cruz, Manila. The player is married to Lorna Sahagun, with whom he has two kids, Justin and Kevan.
In his week-long stay here, the first ever Fil-Am player in PBA history will also try to reconnect with people he played for and against in the past, among them legendary coach Virgilio `Baby' Dalupan, former ambassador Cojuangco, ex-national team mentor Ron Jacobs, former Great Taste and San Miguel teammates, and of course, Jaworski.
"Jaworski is very special to me. Any player who ever had the chance to play with him or against him, should be thankful of the opportunity," he said of the Big J, whose iconic No. 7 Ginebra jersey was formally retired on Sunday.
ADVERTISEMENT - CONTINUE READING BELOW
Brown, who won MVP honors in 1985 and Rookie of the Year two years before, said he would have loved to witness the retirement ceremony, which "would have meant a lot to me."
"Sonny was a solid player. They talk about him as a dirty player, but I never recognize that. He just brings out the best in me. He's absolutely my favorite opponent," Brown said.
In his stint with Great Taste (1983-87) and San Miguel (1988-90), Brown remembered playing against the league's best, rattling off the names of Jaworski, the great Ramon Fernandez, top gun William `Bogs' Adornado, Atoy Co, and Abet Guidaben.