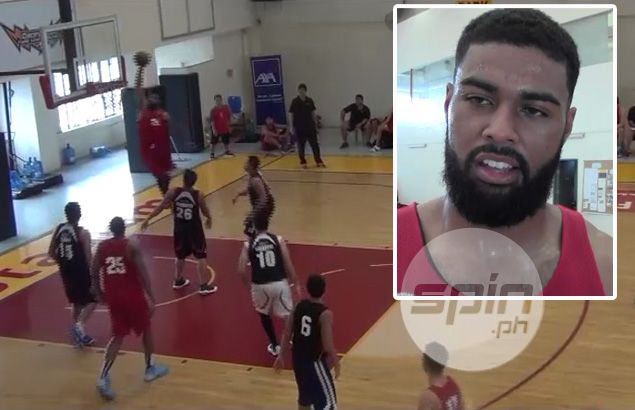 THIS early, Moala Tautuaa Jr. is being tipped to be the top pick overall in the 2015 PBA rookie draft.
A mainstay of the Westports Malaysia Dragons in the Asean Basketball League (ABL), the Fil-Tongan has certainly caught the attention of PBA ballclubs after playing in a series of tune-up games against Gilas Pilipinas and other local ballclubs over the last few days.
They Said It!

"(Moala Tautuaa) is as strong as an axe. He can bulldoze you to the basket and the guy can jump." PBA center Asi Taulava
And why not?
The 6-foot-7 Tautuaa is blessed with a wide physique and strong upper body, but he has shown quickness and agility that could redefine the position in the pro league.
Here, watch a video of some of the dunks he pulled off against Blackwater Sports on Monday:
Asi Taulava is definitely impressed.
"Moala? Boy, he is as strong as an axe. He can bulldoze you to the basket and the guy can jump," said former ABL and PBA MVP Taulava. "He is good. Moala is bound to become a dominant force in the PBA.
"He is still raw, but he has a huge room for improvement. The boy is very good."
Tautuaa is inevitably often compared to fellow Fil-Tongan Taulava, but the bearded big man said his game is actually closer to Ginebra forward Japeth Aguilar's.
"I can see myself a little bit like Japeth. He's a big man, athletic, moves well. Yeah, I can see myself move like him," said the former Chadron University standout.
After playing against Tautuaa, Gilas Pilipinas forward Ranidel De Ocampo was surprised to learn that he is half-Filipino.
"Magaling 'yun. Malakas, mataas tumalon. Wala lang shooting. Pero alam niyang gamitin katawan niya, high percentage shot lagi," said the Best Player awardee of the last PBA Governors Cup.
"Lagi siyang go-hard, mahilig mag-rebound. Tingin ko pag-aagawan yan next year pag nagpa-draft," he added.