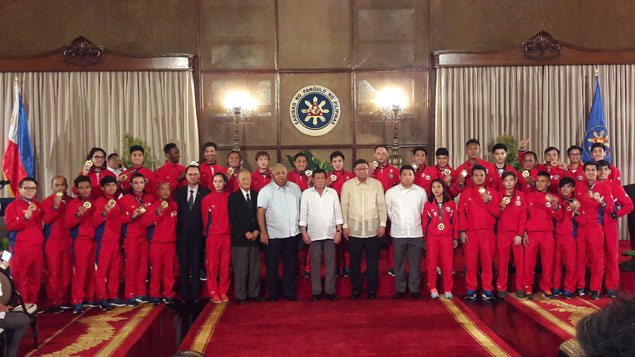 PRESIDENT Rodrigo Duterte encouraged the Filipino athletes to strive even harder as he assured them of the government's full support in their quest to continue to bring honor for the country.
In his speech to medalists of the 29th Southeast Asian Games in Kuala Lumpur on Wednesday at the Malacanang Palace, Duterte lauded them for bringing honor and glory to the country, hoping that they do better when the country hosts the biennial meet in 2019.
Duterte also vowed to support their quest to improve on their performance in the recently-concluded SEA Games.
"I encourage our athletes to focus on improving and strive to do better in the next SEA Games. Rest assured that the government and the Filipino people will support you every step of the way. Continue to represent the best of what Filipino has to offer here and abroad.
"Make us proud again," closed Duterte.
Duterte hosted the handing over of checks of SEA Games medalist as part of their incentives in accordance with Republic Act 10699 in which the gold winners receive P300,000 each, silver P150,000 each, and bronze P60,000 each.
Duterte also handed presidential citations to each of the gold medalists who were present in the occasion.
Fifteen of the gold medalists were present in Mary Joy Tabal, Carlo Biado, Chezka Centeno, the Philippine ice hockey team, Nikko Huelgas, Dines Dumaan, Agatha Wong, Kiyomi Watanabe, the Philippine men's lawn bowls team, Eumir Marcial, Colin Syquia, Brennan Wayne Louie, Reyland Capellan, Samuel Morrison, the men's poomsae team,
"I express my heartfelt gratitude to the athletes who represented us in the recently-concluded Southeast Asian Games. I congratulate you all especially the medalists for the accomplishment that has put honor to the country," said Duterte.