I'M taking next weekend off from running to bike again, and get reacquainted with the sport that literally is a pain in the ass. But first, a quick review of the last three weekends of fun and fabulous foot races, long and short, road and trail.
The North Face 100 Philippines (TNF 100)
I only did the 50k distance, because I was in no shape physically or mentally to tackle the century distance, after which the race is named. Yes, it does sound wimpy to have to qualify that I did the TNF 100, but only the 50k distance, since that's like saying I did an Ironman 70.3. (To non-triathletes, that's only half the distance of a full Ironman.)
But similar to a 70.3 distance triathlon, a 50k trail race still isn't an easy race — especially if you're me, who likes to think that sheer will power and an unflinching fear of a Did Not Finish (DNF) status is likely to get me through. Well, guess what? I survived — again!
TNF 50 was definitely not for beginners. It featured some highly technical portions that made trekking pole-armed participants like me hesitate and wonder at some points if what lay ahead was even passable to a mountain goat. Obviously, it didn't slow some of the runners down, as I would find out two kilometers from the finish. And eventual champion of the 100k (!) distance Jan Nilsen passed a group of us 50k runners and wasn't even breathing hard.
Continue reading below ↓
Recommended Videos
Global warming found its place in a lot of sections throughout the race, as the heat cut quickly through the mildly cool dawn, transforming Baguio into Manila by mid-morning. It suddenly felt like someone had shut off the giant AC that cooled the entire pine city for half a day.
The aid stations were adequately spaced and stocked, while small roadside stores provided timely relief for those who weren't able to properly manage their hydration and nutrition strategies. There was even a store selling halo-halo (shaved ice dessert) at around Km 35, which a number of participants took full advantage of.
The seemingly endless ascents toward the end of the trail were a real test, made more arduous by the onset of rain, creating minor flash floods and muddying up the terrain. The slippery slopes and sticky underfoot was only experienced by those of us (50k runners) who ran beyond 11 hours. At least we got to enjoy the pleasant downpour, which made the 'uphells' more tolerable.
Unlike the Clark Miyamit 60K (CM 60) experience, where I underwent a 'Walking Dead' catastrophe of wondering how I was going to finish the race on cramped quads and sore feet, this race was simply a matter of getting to the finish at the time I promised the missus I would meet her (under 13 hours).
I made it with less than seven minutes to spare and was awarded with a warm embrace and a cold glass of craft beer. But like CM 60, I was walking like a duck for days and cursing stairs like they were medieval torture devices.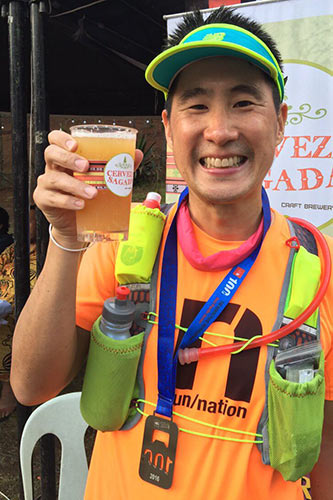 Tagaytay to Nasugbu 50k Ultra Marathon (T2N)
On its 10th year, T2N has grown in participation due to its relatively easy course (given that it's mostly downhill) and personal record (PR, in runner speak) potential. I signed up thinking that this would be a nice follow up to TNF, and figured it wouldn't be too much of a stretch even coming a week after a hard race. I was right. But I was wrong as well.
My thighs were not fully recovered from TNF 50, but the rest of my body seemed to have benefited from rest, some swim days, and several close encounters with the foam roller. No carbo-loading meals needed for this one, I told myself. If there was anything to be wary of, it was the heat (again) and my quads and hammies locking up due to fatigue.
But this was one race I did not want to pass up, since the route was very similar to one that I had done a couple of times in the past — except that I had done it astride my road bike. It would be novel to experience it from another point of view: running against traffic and for an extended period of time.
T2N was well attended with close to 250 runners, which may have been a record of sorts for a 50k road ultra (or perhaps a record for T2N races). There were a few old faces I was glad to see again, and quite a number of new ones, most of whom I guessed were running their first ultras, judging from the way they were prepared and the kind of support crew they had along. I decided that I would enjoy this 'recovery run' and also test a new hydration/nutrition strategy that may prove useful in future races.
Hanging back at nearly the tail end of the throng that took off at 4 a.m. from the picnic grounds in Tagaytay, I gradually moved closer to the middle of the pack with quiet surges as daybreak cracked through the sky less than two hours later. The course was not all downhill up to that point; I didn't expect it to be. Having ridden most of the distance before, I anticipated the rolling roads for the first 15 kilometers before the downhills hit with more consistency.
By the time the sun came out with all guns blazing, I had made considerable progress in distance as well as position. Not that I was racing to beat anyone other than my target time of six and a half hours (okay, I was really gunning for an even six), but it helped to pick off some runners that 'stood in my way' and served to motivate me to push harder.
I did feel twinges of cramps coming on in both my upper and lower legs, but they somehow never fully surfaced. I'd like to think my run-walk-run and hydration/nutrition strategy staved off these confidence killers.
Of course the heat was still a factor and the periodic dousing of cold water over my head and nape every few kilometers did wonders to keep my body temperature in check. I did slow to a shuffle several times toward the end due to my aching thighs, but the company of runners ahead and behind me spurred me to pick up the pace in the last few clicks. I missed making my target time, but was able to test my hydration/nutrition strategy with some degree of success.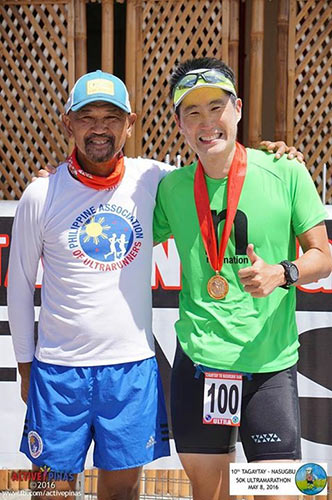 Lagalag Sundown Trail Run
An afternoon 21K trail run in Timberland Heights that stretches into early evening, featuring an amazing sunset to close the day — what's not to like?
I couldn't recall doing any afternoon races in recent years, so I grabbed the chance to be part of this as a sponsor and participant. The three featured distances (6k, 12, and 21k) welcomed runners of all levels, and guaranteed an adrenalin-pumping rush through the trails of this mountain biker's haven.
The most memorable part of the course for me happened very early into the race. It was the abrupt steep uphill from just past the 2.5k mark that slammed most of the newbie and veteran runners with a wall of earth and rock, leaving many panting and chasing their breath at portions of the short (it was less than half a kilometer) assault. I noticed not a few runners park themselves off-track to try to make sense of what just happened, as I leaned on my reliable poles to steadily hike past them.
With the most trying bit of the race over so early, it was time to just sit back and enjoy the remainder of the trail. Like T2N, there were sections of the course that seemed familiar, and rightly so as I had ridden parts of the trail a year or two ago on my mountain bike as part of my introduction into trail riding.
The gentle berms and sharp switchbacks were just as challenging to do on foot as on two wheels, and I was careful not to plant my steps lest I risk twisting an ankle from a loose rock or slippery soil. Water at the well-placed aid station was plentiful and the bananas I brought along came in handy during short bouts of hunger pangs, despite a full lunch less than two hours before gun start.
My single regret was not making it to the finish before sundown. I reached Km 18 as the sky was turning blood orange and was still hopeful of celebrating with some light out. It did happen, with that light coming from the headlamp perched on my forehead, which I had switched on with less than a kilometer and half left. I still managed to complete the race within my self-imposed sub-four hour limit, and walked away with just a couple of blisters that would fade a few days after.
Afterthoughts
In the last few of years, I've learned that racing in succession can be as much fun as racing in properly spaced events. It all depends on what your body and mind are prepared to take on, as well as what your wife and family can tolerate. Which means that balance is still the prime consideration when planning your race calendar. I've still got a few trail races, triathlons, and open water swims left for the next six months, which isn't unlike the schedules of a number of weekend warriors I consider friends. But there's still work, family, vacation time, and so much more. That's life. Live it.