THE thought of spending the weekend I turn forty-eight running one hundred miles from one province to another that could easily take a day to cover may not be everyone's idea of fun, but I never was one for convention.
Having done my first one hundred kilometer race two years ago, and coming away inspired and energized, going for a hundred miler seemed like the next logical race to sign up for.  Of course, only I and fifty-nine other participants who made up the third batch of Bataan Death March 160 km Ultra Marathon saw this as logical. And why not?
The Bataan Death March (BDM) Ultra Marathon is the only one of its kind in the Philippines that features two ultra marathon races along a route steeped in World War II history and infamy. The 102-km event retraces the route of the original march of death endured by thousands of Filipino and American prisoners of war (POWs) in 1942, who were forcibly transferred from Mariveles, Bataan to San Fernando, Pampanga under unforgiving weather conditions and even more unforgiving treatment by their Japanese captors. The 160-km event includes the additional 58 kilometers, where the surviving POWs were loaded onto train boxcars and transported by rail from Pampanga to Capas, Tarlac.  The inhumane and sadistic handling of the survivors by the Japanese soldiers are well documented in various publications, and is a grim reminder of the horrors that war leaves in its wake.
My first BDM ultra experience, the 102, gave me a profound understanding of the courage and strength, both physical and mental, of the Filipino and American POWs who were forced to march under a burning sun with no food or water, with a significant number perishing en route, due to exhaustion or murdered by their Japanese captors for not keeping up with the marching pace. My support vehicle during the race, complete with support crew, food, hydration, spray bottles, medication, and other necessary materials, was a virtual hotel on wheels compared to the original BDM. There was no way in heaven (or hell) that I would not finish the race. I jumped at the chance of doing the longer course almost immediately after crossing the 102 finish line. Here was another one of those 'because it's there' and 'because I can' moments that have been the stuff of my forays into endurance racing since I started six years ago.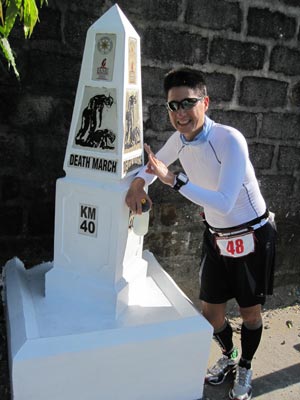 The Plan
Simultaneously training for a 100-miler and a full distance ironman, with both events less than eight weeks apart, basically told me to kiss my holiday off-season goodbye.  While most of my friends were bingeing on alcohol, roast pork, and other blood-pressure unfriendly fare over the holidays, I was patiently working on my run mileage and complementing it with swim and bike workouts.  Marathon Sundays became part of my weekends for the last quarter of 2012, as I tinkered with different run-walk ratios and experimented with possible sustainable hydration/nutrition plans.
The Crew
As soon as I announced my participation in the BDM, a number of my teammates voiced their willingness to be part of my support team aka The Crew.  It wasn't until late December that I finalized the crew's members (Raul, Steph, Camilla, Charlie, Vinson, Rico), including Gina (the missus), Gerry (driver), and Jilbert (former aide). Gerry and Jilbert were tried and tested, having assisted me throughout my 102, and they would be counted on to take on much of the mileage starting from Km Zero. My teammates would take over from Gerry and Jilbert starting Km 70, which would include pacer work, until turning it back to Gina, Gerry, and Jilbert somewhere around Km 140 for the final 20 kilometers.  Days before the race, I called for a meeting to discuss logistics and coordination, the tracking sheet for monitor of hydration/nutrition/medication/other needs, and other concerns. With this kind of support, I would be hard pressed not to finish the race. 
Getting Going
Over the years, I've managed to contain my excitement the night before the race and have been able to get enough shuteye to wake up refreshed and raring to go.  Since this race was starting at an ungodly 4 AM and required us to be at the race venue an hour before, it was a bit tricky to time a good sleep schedule. Long story short, I got about five hours sleep before getting up at eleven thirty in the evening to get ready for the ride to the start line.
The trip took shorter than expected and we arrived at the venue a few minutes before two in the morning. I wasn't at a loss for company as there were support vehicles everywhere with racers and support crews prepping their cargo of food, hydration, and various supplies for the long day/s ahead. I made my way to the registration area along with other runners, some who were already decked out in full battle gear: headlamp, blinkers, luminous vest, flashlight, and handheld water bottle. The mood was easy and relaxed, much like it was during the 102.  After getting my number listed, I went back to the car to take in some food and drink, and suit up before the starting horn. A short prayer, the national anthem, a last-minute briefing from the race director, and innumerable group photos later, sixty brave souls were then sent off into the cool four o'clock morning to begin what some might call the race of a lifetime.
Patience and Pacing
Restraint. That's one thing I've learned to do over the years that has kept me from getting slapped, punched, or even killed, usually because I've chosen to keep my trap shut. It's the same thing I'd learned in my last endurance race, and it got me through to the finish in good time and injury-free. I wasn't about to toy with this successful strategy, especially for a 160-kilometer race.  So that's what I did. I held back and stuck to my guns: run-walking the course with a carefully calibrated mix of distance for the run and time for the walk. But speaking of reckless…
I remembered my juvenile attempt at run-walking the course when I did the 102.  My ingenious plan at the time was to run as far as I could before starting to walk, then run again, and simply repeat as necessary.  Suffice it to say, my legs, which I have had a love-hate relationship in the years with since getting into endurance events, made sure I knew just how smart a strategy that was.  The knotting calf muscles and seizing quads reminded me that Operation Wing It just wouldn't fly.
Two years later and just a little wiser, I found myself stopping every two clicks to drink and (even) eat early in the race. My hydration of choice, coconut water (or buko juice), combined with my main food staple, bite-sized spam sushi rolls, lovingly prepared by the missus, kept thirst and hunger at bay.  There were the requisite bananas, potato chips, chocolate, water, energy drinks, soda as well as some supplements like energy gels, anti-fatigue caps and anti-inflammatories. This was a long race, and I patiently ate and drank at each stop, just as I exercised the same when my feet were driving me forward.
Weathered and Wondering
Somewhere around the 19k mark and under an overcast sky, I was feeling strong and confident; telling myself that if this kind of weather keeps up, I could probably hit my target time. It didn't matter that I even missed noticing the sunrise – this was turning out to be a beautiful day, I murmured optimistically.  Me and my big mouth. Within a matter of five or so kilometers, like an elephant charging through the brush, the sun pushes the clouds aside and comes out firing on all cylinders. The heat bouncing off the road and the blazing sun above conspired to transform the course into a pressure cooker. At km 35, I found myself weathered by the heat and wondering if I'd make it to even fifty kilometers.
Of course, this is where my inner bully materialized and started taunting my inner wimp with all sorts of insults.  How can you even say you finished a 102 when you're in such a sorry state this early?  You're weak — you've always been weak.  Why don't you just give up? At least you'll be remembered for being the first to DNF (Did Not Finish). I should start calling you Lou from now on — short for Loser!  Hey, I think you left something back at the hotel — your gut! Quit now!
Despite the insults and the brutal weather, I managed to make it to the first major stop at km 50 in under seven hours, but not without struggle. I took a load off and rested on a folding chair for fifteen minutes while munching on spam sushi and gulping down soda, buko juice, and water. I surveyed my surroundings and spied other racers taking refuge in their respective makeshift rest areas.  They too were showing signs of heat exhaustion and race fatigue. In this early battle of man versus nature, it looked like the smart money was on nature.  Ruminating my next course of action, I knew I had to claw back, since I'd come into this fight undefeated.
Conserve and Preserve
Realizing that continuing my original plan of running two kilometers before taking a walking break would be pushing it, I decided past km 62 to cut back to one and a half kilometers of running as my new interval distance. This revised, conservative run-walk ratio would significantly lengthen my average pace and throw the original support crew schedule off, but I also had to think of preserving my strength and energy if I was to finish this race before the cutoff of thirty hours. But even before the 30-hour cut off, I had the 18-hour cutoff at km 102 to think about.
During one of the breaks, I asked Gerry and Jilbert to get in touch with Raul and Steph who were due to take over by 4 p.m. at km 84.  There was no way in hell I was going to keep that schedule, so Raul and Steph would have to meet me way before km 84. Turns out, they had left Manila early and would be able to meet us earlier. I continued running and noticed a familiar figure crouched on the roadside pointing his mobile phone camera at me. It was Raul.  He just waved me off to keep going and said we'd see each other at the next stop. Sure enough, waiting at the next stop were Raul and Steph, standing in front of Raul's minivan, which would be the next support vehicle.  In between bites of a banana and gulps of soda and buko juice, I apologized to both and said that the weather was beating me up and slowing me down. I wondered aloud why I was doing this.  And you're wondering only now came Raul's snarky reply.
Apologies All Around
To my horror and embarrassment, I learned that the other crewmembers were also on their way or near their designated turnover points hours before the start of their respective shifts. Apparently, they were just as, or even more, excited than I was to be part of this epic run. I had Raul send all of them my apologies and suggest ways to while the time, such as visiting the nearby mall and watching a movie. I apologized to Raul and Steph for taking so long between stops, explaining my predicament and tweaked run-walk strategy. Raul patiently monitored my pace while Steph jotted down my mileage and assisted me with food and drink.
The sun had set when Charlie and Camilla joined Raul and Steph at one of the stops, and I again apologized for pushing back the timetable. Charmilla, as they are jointly referred to, had already come from km 102, the next major rest stop, bought dinner for everyone, and came to see how I was doing at km 95. They would take over at km 98 so that Raul and Steph could finally go home after putting in three hours (not counting travel and waiting time) of support work.
Stopping and Starting Over at The 102
The long road to km 102 didn't look or feel any different from when I did it during daytime the first time around. It was just as arduous and seemingly endless; and the road markers that were (again!) a kilometer behind my GPS-tracked timepiece added to the anxiety of reaching what most of the runners regarded as the last major rest stop before pushing on to the final 58 kilometers. Charlie was waiting for me at the turn into the final 200 meters leading to the km 102 marker. I checked in at the registration counter to make sure my number was listed by the race officials, and followed Charlie to the waiting support vehicle. Camilla and Cesar (Charlie's driver) were standing by, with the folding chair already set up and the trunk of the SUV open and ready for my immediate needs, the first of which was a seat. Plopping into the chair, I was instructed by Charlie to prop my feet up on the vehicle's bumper to elevate my legs, which would allow the blood from my legs to flow to the rest of my body. Having done support and pacer duties in the previous 101 and 160 races, Charlie was an old hand at this, so I knew better to follow his lead.
With still a full stomach, I took in just water at this point, as I announced it was time for a complete wardrobe overhaul. Working efficiently and despite my protestations, Charlie and Cesar removed my shoes and socks and fitted me with a fresh pair of each.  Talk about spoiled: the last time I recall ever letting people put shoes on my feet was in grade school, while buying my school shoes at the shoe store.  And just like I experienced when I changed shoes at km 60 during my BDM 102, easing my feet into this fresh set felt like putting on a new pair of feet.  In the middle of changing out of my wet clothes, a sudden but brief downpour had us running for cover. I was ushered into the backseat of the SUV so I could complete the costume change.  With the rest of my ensemble donned, I was ready to head back onto the road for the balance of the run.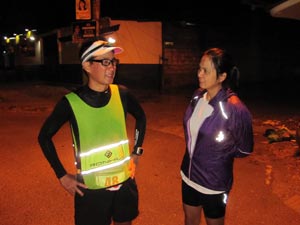 Camilla was up as first pacer. She was ready to go at whatever pace I was comfortable with, which at the time was my turtle to her hare. This is your race, Bobby, she reminded me. And even if this was the resounding sentiment that was voiced by all my pacers that day, I just couldn't distance myself from the embarrassment of being such a slowpoke and a drag on all of them. It was when I started from km 102 where I discovered that too much time off your feet relaxes the legs to the extent of making it hard to start up again, even if the rest of your body is ready to get going. Or maybe it was too brief a rest.  In any case, I had no choice but to put left over right repeatedly till I made 160.
We started slow, as Camilla paid close attention to my pace, glancing over her shoulder every now and then to make sure I wasn't falling too far behind, and offering me water from the bottle she so generously volunteered to carry. Race rules required pacers to stay in front or behind the runners; and even if this made it difficult for us to hold a continuous conversation, we were actually able to discuss everything from the forthcoming academy awards to quantum physics. I lie. Camilla was also very protective each time we reached a crosswalk or had to cross from left to right lane. She would grab hold of my arm or hand and lead the way, making sure any oncoming traffic was a safe distance away.  We stopped for a cup of noodles in between two bathroom breaks, and I was feeling physically better and sufficiently warmed up by the time Charlie's turn as pacer came up at km 114.
Cranking It Up
After a quick change into a long sleeved compression top, a bite of sushi, and a swig of energy drink, I was ready for Charlie. Vinson and Rico had already made their presence known by showing up at this point. They'd already had dinner, taken in two movies at the local mall, and were raring to run and support. They would have to wait just a little while longer as Charlie was up next, and he was determined to make his turn count. Whatever pace Camilla set before, Charlie was set on ratcheting up. I was beginning to feel the balls of my feet blistering at this point but chose not to mention it as an excuse to slow down. In retrospect, it was the right thing to do, because Charlie stepped on the accelerator and didn't let up for the next five kilometers, which at that point, was the longest distance I had done without stopping.
Charlie kept us on the road for most of the run, which was a good thing, since running on the side of the road was akin to running on a trail that was filled with gravel, stones, potholes, and all sorts of natural and man-made obstacles. He also made sure to wave vehicles away from our run path, looking back every so often to check that I wasn't slowing. We reached km 119 where I finally broke the news about the blisters and we tried patching them with Band-Aids, hoping that would help. Gina, who had showed up a few kilometers back with the now rested Gerry and Jilbert, rolled down her rear passenger window and asked me how I was doing. I replied I was fine, and that the blisters were the only problem at that point. Satisfied, she rolled the window back up and settled back into her seat. 
A Blistered Pace
It was at km 122 that Charlie handed over pacer duty to Vinson, now armed with the brightest LED flashlight I had seen on any racers or pacers that night. After the requisite pictures with Charlie, Camilla, Vinson and Rico, it was time to get going again. Vinson looked prepped and ready to run, and saw to it that he did not slow from the pace Charlie had set earlier. By this time, the blisters were more than just pinching my soles, and as this was the first time I had ever experienced blistering in that area, it was a new pain that I was getting acquainted with, and one I had to learn to deal with until the conclusion of the race.
Vinson and I continued to run-walk, but had significantly slowed due to the painful blisters that made every step feel like running on needles. We were stopping after less than one kilometer of running at some points, and I knew then that it would be a mammoth struggle to keep a respectable run-walk combination. Halfway through km 129 and 130, we tried taping up the blistered areas but when that didn't help either, and appeared to exacerbate the situation, I opted to just remove them. 
At close to km 131, we took a break and had cups of macaroni soup courtesy of Gina, who always makes sure the crew is sufficiently fed. It was then that Vinson suggested I try socks that he/Rico brought, which might help alleviate the pain.  Off came the shoes and socks, and on came the new two-ply pair. It could have been the two-ply or simply the feeling of a fresh pair, but there was definitely an improvement once I slid my socked dogs back into my shoes.
Rico took his place as pacer after receiving last-minute instructions from Vinson.  Vinson probably told him to bump the tempo back up, as I felt swept up by Rico's pace, running with a faster cadence than those last few clicks with Vinson. In what can only be explained as the universe's way of maintaining balance, my GPS-tracked timepiece breathed its last during our subsequent rest stop. Rico lent me his timepiece and after a few adjustments to the settings, we continued on our steady run. I continued to feel the stabbing discomfort (okay, pain) of the blisters on both feet, with the left feeling a tad worse than the right. Hydration and nutrition plan continued to click, supplemented by hourly intake of anti-fatigue caps.
I'll Hold Your Hand and Just Close My Eyes
It was still dark when Gina took her turn at pacer duties, and having her run-walk with me gave me an excuse to ease up and lighten the pace. It may have been this very action, combined with my body's internal clock that sent waves of exhaustion and somnolence like an express train straight to my head. It had been 24 hours since I started the race (twenty eight and change, including preparation and waiting time), and I hadn't napped for even a second. We were walking along an open road when I took Gina's hand and in the most unromantic tone spoke the words: I'll hold your hand and just close my eyes … just so we don't stop moving.  What a prince! The warmth of her hand and the slow but steady strides may have lasted only seconds, or a couple of minutes at best, but they were enough to revive me when I opened my eyes to a seemingly brighter skyline.
We ran-walked with more purpose now, aware that the next landmark would lead us towards the Capas shrine, which meant that real food, a bed, and a cold shower were not too far off. Maybe it was the fatigue, my impatience, the blisters, Rico's watch shutting down, or all of the above — but finding our way to that damned Mickey D's outlet was probably the only point during the run where I voiced my frustration.  Aren't things supposed to be nearer in the daylight? Why the hell is this pivotal landmark so effin' far away? That taho vendor and Gerry were lying when they said we were near. No longer a stranger to my profanities (which I politely held back from my teammates), Gina heard me curse a few times under my breath, not enough for anyone else to hear, but loud enough for her to understand from what part of me all the infuriation was coming from.
In The Zone
Upon reaching the turnoff point, we made a pit stop and I took in more fluids.  We had caught up with a number of racers at this point, and some of them decided to put some distance between us by running while we continued our walk. There were less than twenty kilometers to go, but the winding and undulating path towards the shrine made it seem longer. Added to that, there were parts of the course that didn't look familiar to me. Even if I had already run this leg of the course during the test run just a month ago, I didn't recognize some stretches and voiced my annoyance to Gina. We picked up the pace when the gradient sloped or flattened, with Gina holding strong and staying with me throughout the way.
After two-and-a-half hours of pacer work, Gina pulled over to the waiting car, where she would switch places with Gerry.  Just a little more, Bob, she called out as she entered the driver's seat. Gerry ran towards me as my pacer for the final kick.  We got this, Sweetie, I yelled back.
As we approached the foot of the 10k hill that had to be negotiated before making a right towards road to the finish, something inside me stirred. And it wasn't my loins or my intestinal tract.   After running and walking for more than twenty-eight hours, I expected to finish the remaining mileage at a relatively slow and easy pace — because that was what was expected. What happened next was pretty astonishing.
First came a sudden burst of energy, radiating through my body and giving me a pleasant feeling of weightlessness. Second was the absence of pain, which enabled me to quicken my step/turnover as I ran quickly up the first continuous incline. Finally, a uncanny effortlessness that allowed me to propel myself forward without being short of breath or feeling any form of strain on my legs and the rest of my body. I raised an eyebrow as the corners of my mouth slowly turned up uncontrollably to form a closed mouth smile. This felt good. And although I was aware that running uphill at this speed was making my blisters even worse, I could hardly feel a thing as my cadence continued with their efficient churn.
The only other time I had felt this way – of being 'in the zone'— was during my first marathon six years ago. I was suddenly overcome with the same feelings of weightless and ease, and zipped seamlessly through a crowd of runners during a stretch of about three kilometers 30 km into the race. I remember not being able to hear the music streaming through my earphones, or any of the surrounding noise. It was as if I was in a vacuum. I remember reading about how professional athletes who made the game-winning basket or threw the pivotal touchdown described being in the zone as not hearing the crowd of spectators, or anyone for that matter, and seeing everything move in slow motion. I guess I understood what that meant during both these times.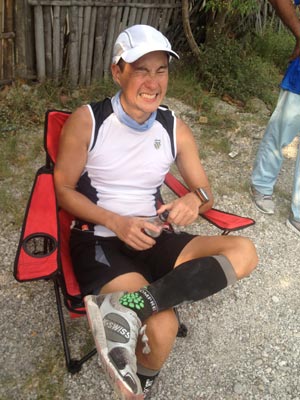 Some of the runners I passed on the way up looked up in surprise from their stooped positions, while others shot quick glances in my direction, all of them amazed to see a lone runner (and his pacer) running up the incline at such a tempo. After I had sped through most of the incline and reached a lesser gradient, I decided to slow down, fearing that I might not have enough juice left on the way back. With that, the surrounding noise came back, but I still felt pretty high on the effortless feeling. I began to walk, with Gerry right behind me pouring water on my head to help cool me down as we pressed on to reach the turnaround. I waved at and applauded runners on their way down, congratulating them for their success. We reached the turnaround, and the marshal posted there informed me I was the 25th runner to reach that point. Not bad, I thought.  And I smiled a big smile. 
From that point, I began to recount the many great things that I had experienced by entering this race – a race that many of my friends and acquaintances thought was one crazy adventure reserved for only the select few who were demented enough to sign on and actually finish it. One of them even told me that he would live vicariously through me the many races I'd chosen and will choose to do. I thought about the new friends I had made, who shared the same road of toil and trial with me in the past twenty-eight hours. I reflected on the two sunrises and the one sunset that I so unappreciatively walked through, as they happened during times when I was either too focused or too distracted to notice. I reminisced on all the forms of help my wonderful support crew threw my way: food, drink, medication, pacing, pushing, patience, perseverance (No wonder I was in such a good mood — well, most of the time at least). I marveled at the kindness of strangers, who offered words of encouragement, friendly smiles, and iced sponges. And I ended my musings with the thought that waiting at the end of this and every race was the warm and loving embrace of a wife and children who continue to tolerate and support with unconditional love this middle-aged lunatic who continues to test the limits of his body and will.
We were halfway down from the turnaround when two runners zoomed past us.  Kids, I told Gerry. Let them go. They're probably chasing a finish time and still want to go for it. Having built enough of a gap between me and the rest of the runners I passed on the way up, I decided to settle back into run-walking the remainder of the course. With a kilometer and change left to the finish, I turned to Gerry and asked if there was anyone else behind us. No one from even a distance came the reply.  With that, I slowed to a trot.  Big smile again.
We got this, Sweetie.