OUTRUN the road, outlast the trail.
On April 12, X-Trail Run is going back to Hamilo Coast, which is famed for its trails, vertical ascents and steep descents. This year's race will be offering three distances – 6km road to trail, 12km road to trail, and the much-anticipated 24km & 32km mountain runs. 
Salomon Philippines held a special press briefing last Friday at R.O.X. Bonifacio High Street to give media, the blogging community and participants a better idea of what to expect in this year's trail running event.
Around 1,300 participants are expected to take part in an event that has become a must-do for weekend warriors, athletes, outdoor-inspired individuals, adventure travelers, thrill seekers and healthy lifestyle practitioners.
Salomon brand manager Janice Tanada offered some hints of what to expect.
"The 32Kkm trail will cover four different coves. This is the first time the public will be traversing this route so we're very fortunate for the privilege in exploring it. It's very beautiful and really amazing," Tanada said.
"Although Salomon is a competitive sports brand for trail running but more than that, we want to proliferate a passion for the trails. Hence we are creating new routes, new categories, new adventures for everybody. It's not your ordinary race," she added.
X-Trail veterans were also told they should expect more ascents compared to last year's race.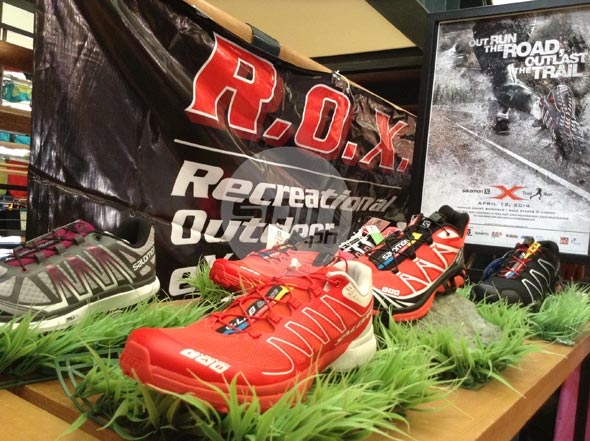 The Global 'X-Trail' branding is categorized as a technical trail running race, with a mix of different terrain surfaces, which include dirt, rocks, sand and concrete paths.
The most recent Salomon Pilipinas X-Trail Run, held at Tagaytay Highlands and Hamilo Coast, registered the most number of short-distance trail runners, totaling over 1,000 trail runners.
Aside from enthusiasts, the X-Trail run is also very much geared towards providing a challenge for beginners, who want to give trail running a try. As for those who are already into road running, the race is a great way of taking things to the next level. The 6km race category is an ideal introduction to the trails for them, with majority of the distance on the road.
Meanwhile, the 12km road-to-trail category is a distance targeting beginners in trail running who can already endure longer distances of road running. This is the perfect distance for them to take their trail experience higher. Trail and road ratio for this distance is 50-50.
Mountain Run is a distance catered to experienced runners. This year, there will be two distances for this category: 24km & 32km. The term is based in part to the steep ascents and descents, which simulate skyrunning. It's a 'hardcore' route for trail runners who want to experience the real "Salomon Experience".
Organizers continually stressed the importance of keeping hydrated and assured runners that the routes will have adequate drinking stations providing water and Gatorade.   
A "no mandatory gear, no race" policy will be in place on race day. Mandatory gear for 32km and 24km runners are a headlamp, a whistle, hydration pack/belt that would be checked prior to the start of the race.
The registration fee covers the race bib, timing chip, Salomon Xtrail technical jersey, Salomon racing belt (for 32km and 24km only) and a post-race meal.
The Salomon Xtrail Run is a green race. No disposables will be provided at the hydration stations and all participants mustbring their own provisions.
A leading footwear brand in trail running, Salomon has been holding its long-running X-Trail Run in the Asia-Pacific region, notably Malaysia, Singapore, Taiwan, and the Philippines.
The brand has been a proponent of various types of races – adventure, off-road runs, even mountain runs, and its Salomon X-Trail Run is considered one of the events trail runners and outdoor enthusiasts  look forward to each year. 
The Salomon Xtrail Run 2014 is in cooperation with AXN as the official TV partner, powered by Gatorade, R.O.X., and Suunto with official venue partner: Hamilo Coast and Wave 89.1 as the official radio partner. This event is also sponsored by Pico de Loro, Pico Sands, Nalgene, Sea to Summit, Otterbox, EcoXGear, Honey Stinger, Monster Energy, Vaseline Men, Spy eyewear & Primer Group of Companies. Media partners are The Philippine Star, Philippine Daily Inquirer, Runner's World, MultiSport, Animo Magazine, Travelife, OneSport Magazine, Pinoy Fitness .com, & SwimBikeRun.ph. 
For more details, visit www.salomonxtrailpilpinas.com
Salomon is exclusively distributed by the Primer Group of Companies.