A RUST buster is athlete-speak for a race (or races in plural terms) that serves as a break-in or re-entry into the race season for pro and non-pro after a hiatus brought about by holidays or time off from racing and high intensity training.
Rust busters usually come as early as January, and are short-distance races that enable the athlete to ease into the season with less pressure. They are viewed as tune-/warm-up events to shake off whatever rust may have accumulated in the off-season, and gently bring the participant up to speed before the races get longer and harder.
Starting the year with a 100-mile foot race spanning more than an entire day isn't the best way to kick off a race year, but that's what I did. So with no off-season to speak of, and no real rust to dust off, the question that logically follows is: After doing so much so early in the year, could I still find more activities to top what can already be a season-ending race in most people's annual list of to-dos? The answer in plain vanilla is yes. 
Thanks to an enduring and unending craving for challenges of all sorts and sizes, my race calendar is starting to look like a provincial bus schedule on Easter week. And since I haven't been sick or injured (touch wood) in the past few years since taking on more endurance races, it means I can make a few more trips to the race buffet table, much to the silent protestations of the missus. It would have been an entirely different story if I had a bout with a cold or cough, and outside the usual aches and pains that come with the territory, I've managed to get a domestic visa for all my lined-up races (so far).
So if I should call any races my rust busters, there would be three, two of which will be mentioned here: Tri United 1 and the Barcelona Marathon. The third rust buster is taking place on April 7 and I will save that for the next blog.
Tri United 1
This event's appeal to both veteran and newbie triathletes has grown steadily since its inception a year or two ago. Its main draw is a standard distance race, which covers a 1.5-kilometer swim, a 40km bike, and a 10km run.  It also has a shorter sprint distance as well as a relay, which is a great introductory race for those who want 'to give it a tri' or for those who have indulged too much in the off-season and want a gentler re-entry into their race year. This year's race took place in Subic Bay and featured calm waters for the swim portion, short and sweet inclines for the bike leg, and a considerate route for the run finish.
For some twisted reason, I didn't pay much attention to my nutrition and training after finishing my 100-miler.  I'm not absolutely sure, but 'Licensed To Eat, Drink, and Be Stupid' was written somewhere on my finisher's t-shirt. I had a beer almost every night with my meals (except the night before the race), ate more than my fair share of sweets and late-night snacks, and did not follow the training program assigned to team members. This was a standard distance race and I'd done it many times before, I matter-of-factly told myself, and this race was no different. I figured it would be another test of resolve to finish the race with just enough training.  It was a test in foolhardiness as well. 
A day before the race, we were required to do a 20-minute ride followed by a 10-minute run off the bike. Due to miscommunication with a teammate I was training with that day, I ended up doing an hour-long ride that ate into my run time, so I decided to scrap the run altogether. Nothing was particularly harried in the preparation for the race, and though I felt a slight hitch in my right hamstring during the test ride, it wasn't enough to affect my pedal stroke or cause me to favor it. 
Come race morning, I woke up feeling pretty sound. I did a few yoga stretches to warm up my muscles and loosen up my joints, snacking on coffee, bananas, and health bars in between. At the transition area, everyone seemed relaxed and having a good time, even if we knew this was the first time most of us would be starting in a group of over 400 swimmers, which was definitely no beach party. True enough, the swim leg got off to a rough-and-tumble start.  I'd been in some tight situations before, but this was the first time I was purposely pushing and elbowing people to keep them from cutting into my swim path. Of course my smiling demeanor upon surfacing for the next swim loop or on the way to the bike transition tells another story. 
The bike portion went smoothly, and I pushed myself at some points, driven by different 'rabbits' I had chosen to chase along the course. This strategy helped me finish with good, but far from outstanding, time and gave me some room to relax on the run leg. The unusually long transition area required all athletes to run farther to reach their transition slots, costing precious seconds/minutes to overall race time. In my case, the long run out of the transition area signaled a premature tightness in my left hamstring muscle that I though would not pose any serious problems during the race.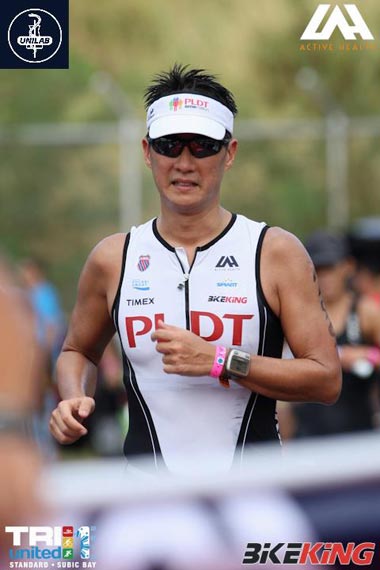 On the run, I shortened my strides and upped my cadence, hoping to counter any tightness by not over-stretching my muscles and quickening leg turnover. I stopped at every aid station to drink-and-douse, downing half a cup or two of water and dousing my head and legs with the same. This worked until I passed just beyond the 4km mark.  My left hamstring began to twitch and throb, which made me slow to a walk, reach for an energy gel sachet, swallow its contents, and quickly chase it down with a cup of water. The cramp was threatening to go full on as I continued to try to walk it off. A minute or two later, the seizing muscle eased up and I broke into a managed jog until the turn around. The rest of the run was what I'd call a shuffle-and-scuttle show, with me muddling through the course disquieted by the thought that the cramp might rear its ugly head at any time.
But luck favors the stupid, and I got off easy this time. I effectively fended off the diabolical stitch and finished with my best time for a standard distance. The aftermath of the race was pleasant, with some soreness that a deep tissue massage could easily erase. But as with most of my races, this one left me wishing I had prepared better.
Barcelona Marathon
Visiting Spain for the first time to attend a sales conference was exciting enough for me; but when my supplier offered to cover for race kits to the Barcelona Marathon that would take place a day before our scheduled conference, I jumped at the invitation even if I had another marathon following in three weeks. Compared to some friends who did the same 100-miler I did followed by a marathon a week later and a 100-km road race a month after that, this wasn't exactly pushing it. I hadn't run longer than 30 kilometers since the 100-miler last January, mostly because of recovery, so I was going into this race with no great expectations. I did learn that the course was flat and fast, but put aside any ideas of gunning for a personal record (PR, in runner-speak), since there was still the conference taking place the next few days, with one of the items in the agenda ambiguously described as  'sporting activity with elite athletes.' 
Race day rolls around and I'm kitted out in a visor, racing shirt, arm sleeves, quad sleeves, calf sleeves, and racing socks courtesy of my supplier. The weather is a chilly 12 to 14 degrees and the sky is overcast. After the requisite photos and exchange of 'good luck and safe race' with my co-distributor/racers, I head to the yellow corral that corresponds with my race bib. We are grouped with the elite runners and will start first. The holding pen brims with hyperactivity, as the elites warm up by briskly running in a coordinated counter-clockwise loop. I do my active stretching while looking over at the runners waiting in the next pen; I can tell from the derisive looks that they're impressed. 
The starting horn sounds and I'm off to a good start-- for the next two hundred meters. Within minutes, hundreds of runners are passing me. I'm at Km 10 and feeling good about myself, but the tidal wave of runners that rush by me has not slowed one bit. It has, in fact, grown to a tsunami. What is it with these people, I ask myself, how come nobody is slowing down?  I'm now at Km 15 and am starting to feel the need to take a breather and walk a bit, but I can't. I can't because no one is walking.  It suddenly dawns on me that I might have to keep up this embarrassingly painful façade of running until the very end of the race, or risk being tagged as the first guy to walk in this year's race. By now, literally thousands of runners, mostly Spanish and Catalans, have passed me and I settle in with the idea that Iberico ham will henceforth become an intrinsic ingredient of my diet. I can already see myself hitting multiple PRs with Jamon Iberico on the menu.
It's km 25, my cardio effort is all good, thanks to the cool air and my now-slowed pace. My legs have begun to hurt and my illiotibial bands are acting up. The rush of runners continues and the four-hour marathon pace group has just passed me. I make the call. Looking behind me to make sure no runners will be compromised, I pull over to the side and begin to walk, eager to show everyone the proper way to pace during a marathon. The crowds gathered on either side of the run course are great cheerleaders, shouting and yelling, encouraging me with words that roughly translate to 'Go', 'Don't Give Up', and 'Only the weak walk.' I soldier on, making sure to acknowledge their whoops and applause with a wave and a smile. 
It isn't until the 36th kilometer that I begin to pass a number of runners who have started to slow, with others actually walking. I'm still hurting, but feeling a tad better than an hour back. Glancing at my watch and making a mental computation of the pace I'll need to hit my self-imposed four-and-a-half hour cut-off, I arrive at the distressing conclusion that I'm in over my head. I cannot slow down, nor can I take a walk break. I've been in this situation before and had only failed once — because the actual distance of the course was way over the official 42.195 km marathon distance.  But that's also because I cut it too close then, as I was doing now. 
Left with no choice and with ego-killing reminders in the form of pudgy, overweight runners and senior citizens still ahead of me, I straighten up and make my way through the sparse assembly of pavement pounders. It isn't a chore to weave through the thinning crowd, but pushing ahead at a slightly faster speed touches a whole different level on the pain scale. At km 39, I finally pass a little old Spanish lady who had obviously started much later than me but has kicked my ass practically the entire race. Hasta luego, Granny, I silently sneer at her. You're not taking this boy down today. 
Long story short, I made my cut-off with under a minute to spare, although I didn't get special recognition for being the first person to walk during the race. I hiked another two kms to my hotel, took a hot bath that felt like forever, and had a terribly healthy post-race meal comprised of chocolate milk and potato chips. The next morning, my legs felt like Manny Pacquiao's punching bag before he got into religion and politics. Fortunately, my Wolverine-like regenerative mutant powers had me walking straight and even running a fast 6.5 km two days later. But even Wolverine needs rest to regenerate completely, and I'm not about to go out and run myself ragged before my next race.  I'm saving my legs for my next challenge that's up in less than two weeks.
What It Is
I'm not the ideal source for best practices in training, nutrition, and good behavior. This is a blog, for heaven's sake, not an advice column. Still, I'm hoping my experiences serve as lessons on what (not) to do in the very subjects that I mentioned. 
Rust busters are great tools to kick start your race year. But just like whipping out that can of WD-40 to loosen stubborn joints and bearings, we would all be wise to get into proper conditioning first before actually flooring that engine.
Happy Racing!  And don't forget to enjoy.
                        --------------------------------0----------------------------------
"It's a funny thing:  the more I practice, the luckier I get."
                                                                      -Arnold Palmer