"TO fight political fat we begin working on our personal fat. Remember, the personal is political."
'Running Priest' Robert Reyes' latest campaign against the controversial pork barrel system has become more than just political and will probably hit close to home to many couch potatoes.
Reyes said his Six Million Kilos vs "FAT" campaign aims to collect pledges from runners and participants who would commit to lose a combined six million kilos in body weight to go along with the protest action against the pork barrel system in government.  
"Madali kasing pumirma na ako ay tutol sa pork barrel and then tapos na," the outspoken Catholic priest said in an interview with Spin.ph at the Rizal Park on the 1st anniversary of the Million People March and the launch of the 6 Million Signatures Campaign for the People's Initiative that aims to eliminate pork barrel.
To make the protest have a deeper meaning, Reyes said he decided to make it more personal.
"Tingnan mo ang sarili mo, ano ang personal fat mo? It can be a physical reality, it can be mental. Fat means anything that can become an obstacle to your health. Maraming tao ang hindi mataba ang katawan pero psychologically, spiritually, mentally they are stuck," he pointed out.
Last Sunday, the 'Running Priest' and his supporters ran from the Quezon Memorial Circle to the Diliman campus of the University of the Philippines where they collected 1,700 kilos from 120 people.
"We divided it and the average commitment of every Filipino we talked to is almost ten kilos. This means Filipinos accept there is something to work on. This is the twist to the Six Million Signatures Against Pork - that is outside. This is my own "pork" - its personal. And it's not only own physical pork, my own physical fat but everything that does not really belong to me and does not help me anymore."
He said that pork barrel and its various iterations that include PDAF and DAP are symptoms of an addiction.
"It's a cultural and psychological state of leaders na pag sila ay naupo, they get stuck and addicted. Hindi nila mabitiwan. They appropriate the position that is just a privilege to serve becomes personal - sa akin ito. They feel that the money that they are supposed to use for the people is theirs to use for whatever they wish, 'Hindi na. Sa akin ito!'"
"That is what I meant by fat. Fat is very personal. Kain tayo ng kain and it grows on us. Pera na hindi sa atin bulsa tayo nang bulsa."
Under Reyes' campaign, runners are asked to provide their names, the date they started, the location of their run, contact details, their present weight (in kilos) and the amount of weight they intend to lose (2, 5, 10, 15, 20 or 25 kilos) to reach their weight goal by May 2016.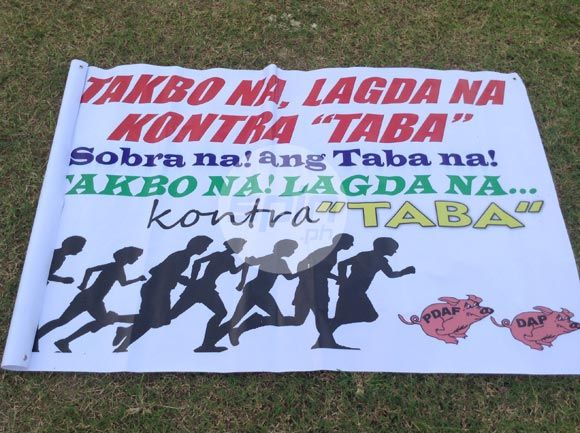 To aid the personal battle in losing weight, the 'Running Priest' said there the "3 Fs": To FIT (Freedom, Integration, Transformation) thru FED (Fasting, Exercise and Proper Diet) from FAT (Fear, Addiction, Temptation).
"We have a choice. FIT means Freedom, Integration, Transformation - you as a person strives towards genuine and not licensed freedom. As a person we are broken and divided. We are inconsistent, we are contradictory. There are things within us that are not whole. Buuin natin. Then there is transformation - we evolve. Hindi yung pare-pareho na lang," he explained.
As for the FED part, the 59-year old Reyes said many people have asked him how they could lose weight. He said FED stands for Fasting, Exercise and Proper Diet.
Participants in the campaign can fast for twelve hours or 24 hours once a week from 6am to 6pm on a water or liquid only intake.
"What I do is 24 hours. I will not eat from 6am today until 6am the following day. If you do this every week within a month you would have avoided eating four times. Within a year you would have avoided eating 48 times. You would have given your system so many hours of rest because fasting is resting the system. It's not torturing the system, actually you are being kind to your system. You are giving your stomach and your heart a rest," Reyes said.
"On the day that you fast you slow down. You also fast from activity since you have less nutrients. But people do not realize that we eat so much during the week when we suddenly stop eating we still have so much nutrients to burn. You would be surprised how much energy we have in store to enable us to function in the next 24 hours," he added.
According to the priest, fasting helps get rid of toxins and helps counter addictions.
"We are all addicted one way or another. It becomes an obstacle. It is also simplifying our cluttered lives. Food in our refrigerators and cupboards are a clutter - you wonder there is so much food if there is an emergency. Then you go to a house that has nothing there but cheap noodles."
Starting this month to the elections in 2016, Reyes said he will be running to different provinces and cities to spread the campaign as well as another campaign he and global runner Cesar Guarin began four months ago, the Takbo na Movement.
Takbo Na centers around a 24-hour renewal run at the Quezon Memorial Circle where for 24 hours, people can run from an hour to a whole day and has been held every weekend for the last 3 1/2 months.
Guarin leads it every weekend while Reyes will bring it to the provinces such as Baguio City, Laguna, Quezon and Bicol.
"Our concept is there are runners everywhere but they are running for themselves. They run for their own fitness. It's not difficult to tell them to run for the country," he said.  
The run not only has a nationalistic component it also has a Christian one as well.
"Run for your neighbor. Christ never did anything for himself. He was always for the other. He was never selfish nor self-centered. The problem with this fitness culture of ours is there is nothing wrong except it is too self-centered. You want to be beautiful and sexy. For what? For myself, whether I want to become attractive or competitive. Are you striving towards fitness so you could serve others better? People ask me what my running has accomplished. It enables me to serve others better and to sustain my service to others."