I ran the Sagada Marathon (trail) last January 31st followed by the Condura Skyway Marathon (road) one week later, and I just signed up to run another full road Mary (Clark Animo) in a few weeks. You could say that: a) I enjoy torturing myself; b) I fancy the thought of defying convention; c) I indulge in the occasional thumb-nosing the face of danger (and my doctor's orders); d) Am merely looking for a subject to blog about; or e) All of the above. The answer is none of the above. I simply go with the flow, and absolutely love running, in its many forms and distances. For reasons I will expound on in a future blog, the long runs captivate me more than the short and sweet ones. The longer the distance, the better I somehow feel.
It's racing season again for me, so here's an account of my latest Mary and merry misadventures.
Sagada Marathon
Who wouldn't jump at the chance of running a trail race in Sagada? Sagada has long been on my vacation bucket list, so the trail marathon thrown into the mix made going way up north a no-brainer. The estimated ten-hour drive from Manila to Sagada sounded more delightful than daunting when the missus and I did our standard research on online and social networks. Our drive up by way of Baguio and the Halsema Highway, which included a leisurely lunch break in the City of Pines, proved to be as breezy as the cool mountain air that welcomed us upon reaching The Rusty Nail, our quaint residence for the next three days. There was enough time to do the touristy stuff like walk through town and visit the Sumaguing and Lumiang caves for some amateur spelunking. My pre-race meal of an Ilonggo buffet and three glasses of beer courtesy of the Cellar Door was just the right combination to prepare me for the next day's adventure.
Continue reading below ↓
Recommended Videos
Race morning began with the usual briefing in the dark cover of early morning, with some of the runners (this writer, included) armed to the teeth for what was expected to be a day filled with breath-taking sights and even more breath-depriving trails. At a few minutes past five, we were off and running, headlights and handheld torches alit, and an audible buzz of excitement wafting through the crowd of runners. We ran on pavement for the first two kilometers before turning onto a rocky trail that took us uphill to Kiltepan View, a lookout point teeming with tourists who had gotten up to queue for a good view of the sunrise that wouldn't peek until more than an hour later. I was amazed at the pace of some of the lead pack that were running downhill with hardly any illumination to light their way, and at a pace I wouldn't even dare try in broad daylight. I stuck to my slow and steady jog, giving way to those who wanted to pass me along the narrow dirt road.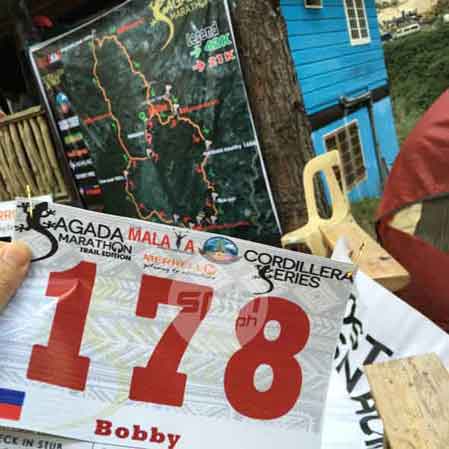 By the time we reached Marlboro Country, the sky began to lighten, though most of us kept our headlamps on until much later. We ran into traffic along the single track, as we shared the trail with trekkers enjoying the early morning fog and the damp earth left muddy and patchy with puddles from the cloudburst the day before. At the Blue Mountains, there was enough light to take a few photos and a selfie. I stopped for a few moments to catch my breath, and to touch the unusually colored soil, a result of a chemical reaction to copper sulfate content in the dirt. I got to meet a new runner from my age group, Sammy, who told me about his own entry into long-distance running, as we both made our exit onto a road leading to the first aid station, where I caught up with my friend Ricky who was adjusting his shoes and topping up one of his hydration bottles. I was glad to see trail legend Roland Wang, who sat this race out and decided to give others a chance at the podium by volunteering to man the aid station. A couple of group pics later, we were off and running again.
The next part was lots of road that kept going up and up, with a few respites in between. It was here that we ran with Tommy, a very fit and strong 64-year old (and now, one of my running idols), who alternated with us in running/hiking up the inclines. At the second aid station, I scarfed down a couple of tasty patupat (native rice cakes) and topped up my bottle for the long trail trek ahead. This is where I took out my hiking poles, which would prove invaluable to both Ricky and me (one pole each). Somehow, during the hike up the trail, I found myself ahead and alone, and upon reaching flatter terrain, began to pick up my pace. Thinking that the others behind me would eventually catch up, I began to run while I could. My plan was to rest and hike it when the trail started to turn upwards again. And that's when the trouble started.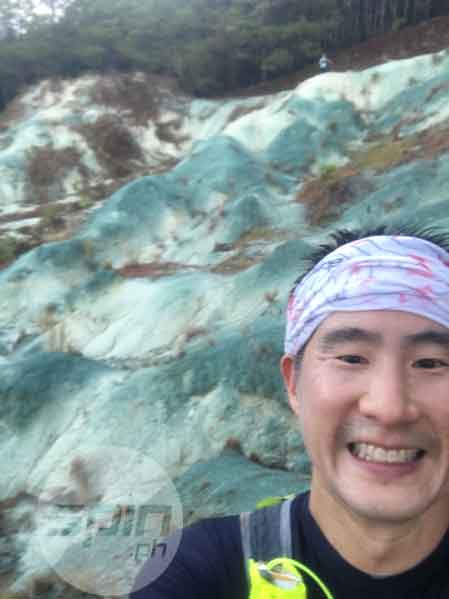 It wasn't after a few minutes that I noticed another runner in front of me who seemed to be running with great determination. This encouraged me to run even faster, as we took turns leading the other through the grassy trail that seemed to be going in the right direction. We continued this pace until we reached a portion leading downhill towards a creek. We crossed it and found ourselves in the middle of an open field with the wind howling through the trees in the distance. It was here that we first noticed the absence of red ribbons that should mark the trail. Instead of retracing our steps, we both decided to trudge forward and look for ribbons that might be strung along the trails ahead. Finding none, we turned tail and ran back towards the creek. We took the opportunity to introduce ourselves. My newfound friend in crisis, Wildo, was a 52-year old first-time trail marathon runner (and friend of Sammy, who I met earlier) who had discovered his love for running as a way to take his life back following a triple bypass heart surgery six years ago. I was impressed and astounded by this man's mental and physical strength to take on Sagada as his first marathon and trail race. As we neared the creek, we ran into another lost runner, Michelle, who was probably relieved to find company in her momentary misery. As the three of us walked along the banks of the creek, yet another stray (I never got his name) popped up. This was followed by two other male runners, who we happened along as we climbed back up the trail past the creek.
There were now six of us in this merry band of strays (Side note: In a moment of hilarity, one 'member' dubbed us Team Ligaw, and four of us even had a photo taken at the post race meal area), as we took turns volunteering possible routes out of our predicament, and patiently tried each solution. One of us was able to get a signal on his mobile phone and contacted his friends and the race director about determining our location and our way out. In the end, we walked through an additional five kilometers or so of thorny thickets, unmarked trails, and brushy descents and ascents before retracing our steps and finally discovering that we zagged when we should have zigged. I later computed the time lost and learned it was anywhere between 90 and 120 minutes. But I must say that getting lost was never so much fun, what with the great weather and amiable company. Of course, it would have been a totally different story if we got lost after dark.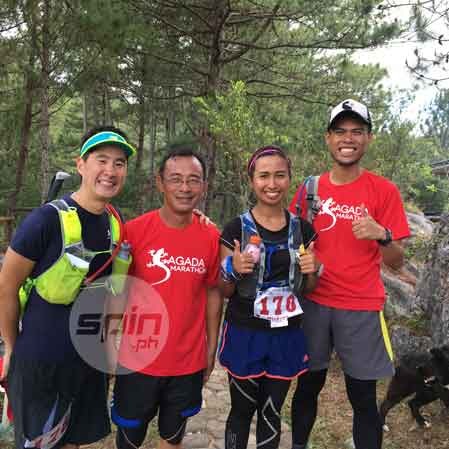 We pretty much knew our way from there. Lake Danum, a site to behold with its golden water gleaming in the noontime sun, was panning and selfie shot worthy by my standards. The third aid station up the road from the lake was well stocked with water, electrolyte drinks, soda, and more patupat. I took the opportunity to top up my hydration reserves and rid my shoes of pebbles that had found their way inside, before beginning the assault to Langsayan Peak. The winds along the trail were a comforting companion all the way to the top. Here, we were met by a race marshal who extended a warm smile and a firm handshake, welcoming us to the highest point (1,950 meters) in Sagada. Pausing for more than a few minutes to take in the view (and snap a few photos again), we were informed that it would literally be downhill from where we stood. That was good news to Wildo, Michelle, and me; the three of us had gravitated towards each other due to our pace after coming out of our lost period.
The last aid station at Bangaan village, where I met an animated group of kids sitting in a parked jeep who obliged a group photo, was where the trail once again transitioned into road. Wildo and I utilized the run-walk method, squeezing in occasional surges in between to keep things interesting. Wildo, a native of Samar, working in Pangasinan, shared his inspiring account of discovering his heart ailment, the bypass surgery that followed, the road to recovery, and his eventual rebirth through running. I was captivated by the details of his journey and this made the run toward the finish easier and more meaningful. By the time we finished, we had run 'only' 37.7 km, inclusive of the additional mileage from losing our way. It wasn't technically a marathon distance, but what an incredible race it was! I would have gladly run another five kilometers to cover the full 42.195 kilometers, but I had a worried group of friends and the missus waiting at The Rusty Nail. I couldn't have chosen a better race to start my 2016 season.
Condura Skyway Marathon
I last ran the Condura Skyway Marathon in 2012, and I clearly recall hobbling through the last few kilometers in my valiantly awkward struggle to stay within my sub-4:30 target (I barely made it). This year, I resolved not to impose too much pressure on myself and simply set the bar lower at a sub-five hour finish. With no running done after Sagada (only a swim and some cross-training exercises), the time off my feet would provide the required recovery but still maintain enough fitness to achieve my more forgiving target finish time. The only change in my day before the race was a three-hour afternoon nap for added rest, since gun start was set for midnight.
Arriving at the venue with a lot of time to spare, I got to schmooze with some friends who were also doing the 42k, and we wished each other luck as we made our way to our respective waves. This year's Skyway Marathon set a record for the number of participants (over 5,000) and this was apparent at the start of the race where the funneled throng crowded its way from the underpass to the ramp leading to the Skyway. It took more than several minutes before most runners outside of the first wave were able to find their paces as the pack panned out where the road widened.
The ambient temperature was crisp, as a soft drizzle drifted gently on a grateful herd. And as it has been with most of my races, I started out strong and kept a good steady pace, surging at some points when I needed to pass groups of runners running abreast, unmindful of race courtesy and etiquette. The familiar rolling terrain of the Skyway was still a non-factor as I reached the first of four U-turns. I stayed with my strategy of taking salt and energy gels for nutrition and plain water for hydration, confident that this would sustain my energy and prevent any muscle aches and cramps that could derail my performance.
Maybe it was the narrow gap between two marathons, or perhaps my going out too fast at the beginning. By the time I reached Km 25, I was feeling the effects of fatigue in my legs as my calves began an intermittent twitching pattern that was a preview of what was to come later. Upping my salt dosage and wolfing down bananas at the aid stations, I hoped to stave off the inevitable arrival of cramps for as long as I could. At the 30th kilometer, I looked at my time and concluded that even a run-walk strategy would get me to the finish well within my target time. This was one of those days where I was grateful for being overenthusiastic at the front end of the race.
Even if there's not much to see as far as scenery on the Skyway, it's the running on smooth, unencumbered roads that makes for a pleasant experience. Add to that the camaraderie created by sharing the pain with other runners, great support from race volunteers from all corners, and you get another unforgettable running experience to tell your grandkids about. With five clicks to go and shuffling through cramps, even walking the remaining distance would get me to the finish in under five hours, but I didn't want to play that risky a game, so I continued my run-walk tactics until the blaring sounds of the PA system were audible. With two hundred meters to go, I ran towards the finish arch raising my right hand in a snappy salute to the heroes of the armed forces and their families, for which the race was dedicated to.
It's always a pleasurable ache to walk back to my hotel, car, or home after a long run, knowing that I've finished what I started. Never mind that it was my slowest Condura finish—it was still one wonderful long run.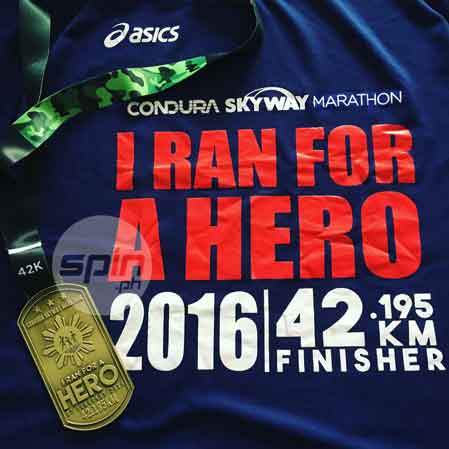 --------------------------------0---------------------------------
Let's Keep It Honest, People
One of the lowlights I uncovered at the Condura Skyway Marathon, aside from the untimely and unfortunate deaths of two runners (one each from 42k and 21k distances), was the claim by one runner to have run a sub-four marathon, when I clearly saw this guy finish well behind that; I even passed him before the halfway point. When I checked his race time in the official results page, he was a few minutes ahead of me (my time was a slow 4:40), so he may have slipped past me as I walk-ran the last five clicks to the finish — but not fast enough to have finished in less than four hours.
Numbers don't lie, nor do timing chips and eyewitness reports. How anyone can claim something that can be easily validated by both timing devices and ocular accounts is beyond me. I clearly saw him a number of times fagged out and struggling to maintain his pace when he was lagging behind me, the slow runner.
Look, there is absolutely no shame in walking, finishing over four hours, or even not finishing a marathon. It's enough that you show up. But to boast about something that just wasn't true? That's just one big pile of meadow muffins that you will not be able to live down — to me, at least. Your credibility is compromised, and you should seriously rethink your behavior (and Facebook posting) before your next race.
You never know who's watching.