HAPPY New Year!
2013 will be best remembered as my racing year without an off-season. It may have been unwise to precede 2013 with a long distance triathlon in December 2012 (Timex 226 in Bohol), but that was already planned way ahead and was, for me, too good a race to pass over. That Bohol event touched off a wild and woolly calendar of racing that made 2013 nothing short of significant. Anyway, for anyone who cares to know, here's a quick month-to-month review:
January – Bataan Death March 160k Ultra Marathon
When you start your race year with a 160k ultra marathon, you could expect that the following months would be ho-hum affairs. Not so. But the BDM 160 Ultra did allow me to start the year on a high note. With great support from my teammates and the missus, I managed a strong finishing kick in the last 10k while sustaining just two coin-sized blisters and sore legs that stayed for less than a week. I was up and swimming, biking, and running within four days.
February – Training As Usual
Kicked off the month with a bike time trial, and pretty much kept a regular schedule of swim, bike, run for the next four weeks. I jump-started practicing yoga and tried my best to maintain a twice-a-week routine, which really helped with recovery, though flexibility was still (and still is) a struggle. February also marked the first time I took to the road and trail with my newly purchased mountain bike. That first MTB ride made such an impression that I was set on making 2014 my off-road year. Of course that remains to be seen, but the prospects of doing MTB races, off-road duathlons, and even an Xterra event, are exciting.
Continue reading below ↓
Recommended Videos
March – Tri United 1; Barcelona Marathon
A nice little Olympic distance triathlon on the second week was a gentle kick-start to my triathlon season. A week after, I was in chilly Barcelona running a memorable marathon where I got my ass kicked by sixty-something (year old) Spaniards and Catalans, as I struggled to make my self-imposed four and a half hour cut-off. It was the hardest 4:29 I ever ran. Surprisingly, two days later, I ran a fast recovery run together with friends in the vacation island of Tenerife. None of them were Spaniards.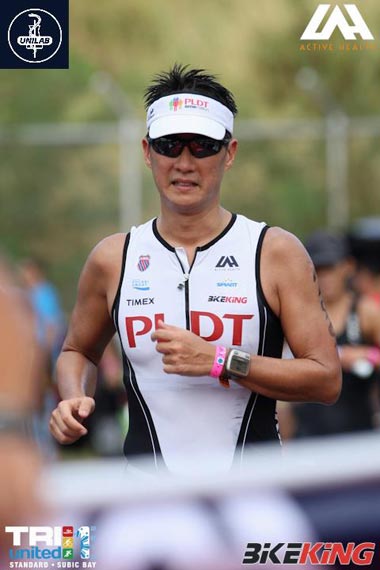 April – Paris Marathon; SubIT
As my European vacation came to an end, I capped it with the Marathon de Paris on the first Sunday of April. Could I really ask for more than Paris in the spring? Well, maybe a fresher pair of legs after all the walking through museums and historical sites in Spain, Italy and France, and gorging on tapas, pasta, gelato, macarons, cheese, and wine; because I almost died just trying to beat my 'new and revised' cut-off time of five hours.
It was back to triathlon when I returned to Philippine shores soon after that, which included a diagnostic run (not too shabby there) and a better-than-expected, but still sub-par Oly distance at the Subic International Triathlon. Missing a turn and finding myself headed for transition during the bike leg was such a newbie thing to do — and yet, stupid is as stupid does.
May – Tour Of Subic
And the training continues, this time under the watchful eye of a coach known for extracting the best and worst out of his students. Before I decided on training under him, I did my homework and learned that his training was not for everyone, with a dropout rate of more than 50 percent. What's not to like, I thought to myself. Over a healthy lunch of pizza and soda, we discussed my goals and were able to come up with some realistic targets, which showed up later in the training program he designed and throughout the year as my races unfolded.
The only race I joined for May wasn't even a race, as far as I was concerned. The Tour Of Subic cycling event consisted of three legs, of which I only did one, the group century ride. It was more akin to a weekend long ride, but with a lot more riders on board, so there wasn't any need to pressure myself to gut it out.
June – 21k World Vision Run
I was training six days a week under my coach, and began to realize why the dropout rate was so effin' high. But I've always loved challenges, so I stuck to the program and only did a half-mary race on the third Sunday to keep my running legs and spirit competitive. Days later, I injured my back while lifting, of all things, stocks of nutrition gels, in the basement. What did I say about stupid earlier? But there's something to be said about stubbornness as well: It can push you to finish the job — which is what I did. I continued training without missing a beat, swimming, biking, and running through the god-awful pain, hoping to get myself ready for my next race, which was up in a week.
July – Tri United 2; Indoor Duathlon
Tri United 2, which is a hybrid-distance race, an 'in-betweener,' so to speak. It's longer than an Oly (Olympic distance 1.5k swim-40k bike-10k run), but shorter than a 70.3 (1.9-90-21), and was viewed by many as just the right distance (2-60-15) to prepare those who were racing the Cebu 70.3 Ironman, which was to take place a month later. My back was still complaining, and I had to wear a brace for most of the days leading to Tri United 2, including the day before, when I had some selling duties at our product booth at the race venue. I raced decent, though feeling somewhat ragged from the selling activity (setting up, schmoozing with customers, rolling down) and barely getting any sleep. On a lark, I signed up for an Indoor Duathlon, which was similar to doing a brick workout indoors. It didn't upset my training program, through it did further my hatred for stationary bikes and treadmills.
August – Cebu 70.3 IM 2013
My race performance in Cebu was one of the proving points of training under a coach who understood my goals and crafted a program that would feed my work ethic and level of competitiveness. I entered the race completely relaxed and finished in good time. So destressed was my demeanor that I was able (for the first time ever) to pee on the bike. Twice. And though it did come as a surprise to some of my teammates and friends, I was the least stupefied by the outcome, knowing that the weeks of training in the midst of some setbacks and simultaneous preparation for future races were balanced to deliver satisfactory results.
September – Unilab Duathlon
Duathlons are always fun, if you enjoy a high-intensity race that gets your heart pumping out of your chest and leaves your legs screaming throughout the activity. More painful than triathlons, duathlons like Unilab's 6k-40k-4k race, attract more enthusiasts and end up closing registration within a few days from posting. I always enjoy the less-preparation-more-suffering nature of this race and had a great time improving over my previous year's performance. This month also marked the beginning of my training for my second ultra race for the year. Long runs on Sundays stretched from 21k to 42k, using a run-walk technique that proved very successful during the BDM 160 ultra in February.
October – Run United Philippine Marathon; Tri United 3
In further preparation for November, I joined the Philippine Marathon on the first Sunday and continued running long on the second and third Sundays of October. The scheduled White Rock Triathlon was cancelled due to bad weather, which left me doing a brick on a sunny Saturday afternoon the same day I motored back from Subic following the race cancellation. Training for December's 226 full distance triathlon was likewise in full swing; so long bike rides on Saturdays stretching to as long as 170k were de rigueur. I closed out the month with an Oly distance in Subic (Tri United 3), which was a good way to loosen up before the long race coming up over the All-Soul's weekend.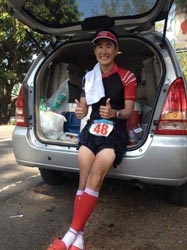 November – West Coast 200k (Subic to Alaminos) Ultra
And I thought a 160k ultra was long. The West Coast 200k Ultra was a race that I decided to join on a moment's thought. It didn't take days, weeks, or months to throw my hat into the ring; it only took a few minutes. It was only after deciding that I started asking pertinent questions on how to go about running 200 kilometers over a period of three days. The WC 200k Ultra turned out to be my most memorable race of the year, replete with lessons on tolerance for suffering, the art and science of pain management, and patience in executing the game plan. I'm looking forward to a slightly longer race come February.
December – Challenge Phuket Half IM; Rizal Day 50k Ultra
When this year's edition of the Bohol 226 long distance triathlon was cancelled due to the Bohol earthquake, many of the participants were left anxious and frustrated due to all the training preparations. Fortunately for me, I had a minor back up plan in the form of a half-ironman distance race in Thailand courtesy of my compression wear supplier. What I hoped would be a 'racecation' turned out to be a sufferfest on the bike and run due to a series of unforgiving hill climbs that gave me my worst 70.3 distance finish to date, yet provided me my most fulfilling one as well. I'll have to wait a few years before I'm ready for a grudge match with the hills of Phuket, but I will definitely be back. To finally close my 2013 race calendar, I signed up for the 1st Rizal Day 50k ultra scheduled for the 29th at Camp Aguinaldo. The seven loop course featured rolling terrain and false flats that kept me and my run partner (who insisted on running at my slower pace, until breaking away in the last lap) adequately engaged throughout our run in conversation ranging from training with cycling power meters and running trails to awful dress habits of triathletes and the latest sports community gossip. We both finished with decent times, coming in under our 'agreed' six-hour cut-off. We were both fine the next day, save for painful blisters (me) and sore knees (him). I decided to stay off my feet for the next few days and just bike on my last day of 2013 and first day of 2014 while on an out-of-towner with the family.
Not exactly bursting at the seams where race schedules are concerned, compared to some other people I know whose race addiction makes my calendar look like child's play. But when I look back at the training days and all the mileage I had churned out, maybe my friend Jael was right in hashtagging the word 'hamster' in one of his comments to my race posts on Instagram. I can't say that I swum, biked, and ran myself to pieces in 2013, because I haven't sustained any serious or (touch wood) long-term injuries. I don't remember being downed by fever, the flu, or cough/colds either. Though I may not have been having the time of my life in the middle of some of them, I did enjoy every race. And upon revisiting Jael's comment on my post days later, I began to realize that the hamster tag might just explain my passion for long, repetitive activities, which in this case is sport.
The first quarter of 2014 is looking rather packed already. A couple of marathons in January, an ultra marathon and half-ironman distance in February, and an Oly triathlon in March are staring back at me from my phone calendar. I can't say for sure if all of these events are going to materialize (or if more will surface), because that would really depend on how I'm feeling before and after each race. But if I come out at the end of each one with a smile on my face, all organs in the right places and my sense of humor intact, you can be sure I'll be toeing the starting line in April for another helping of endurance sports madness.
And now for my next trick…
--------------------------------0---------------------------------
"Struggling and suffering are the essence of a life worth living. If you're not pushing yourself beyond the comfort zone, if you're not demanding more from yourself - expanding and learning as you go - you're choosing a numb existence. You're denying yourself an extraordinary trip."
Dean Karnazes, Ultramarathon Man: Confessions of an All-Night Runner