I'VE just passed the twenty-six kilometer mark, clearly more than halfway through this race that has been a tad chillier and wetter than what I trained for, and I'm starting to feel a familiar worrisome throb in both calves. Although I've run a surprisingly fast first half, I'm still fretful about the remaining distance, and the unavoidable tread through an all-too-familiar corridor of pain.
And without a doubt, I am aware that I'm in for a lot of it — a whole lot more.
Getting In and Getting Ready
'We're going to the land of tulips, windmills, and weed, Sweetie,' I calmly remark to my wife across the room, while rereading the email informing me that I will be joining tens of thousands of others for the 2015 TCS Amsterdam Marathon on Sunday, October 18. The term racecation (race-cum-vacation) was still foreign to runspeak when I started running marathons abroad seven years ago, but I (and I'm quite sure many others) had already embarked on capitalizing on each international race by soaking up as much of the local food and culture - outlet shopping be damned - as a post-race reward. So a trip to The Netherlands (and further on to Belgium) would be nothing short of a treat, since it would be our first time there, and visiting its impressive assembly of museums, romantic canals, and stimulating coffee shops that serve brews other than simply java would be just some of the reasons to get all excited. But first, I had to get ready, which meant hours of training.
Coach Ige had mapped out a rigorous but manageable training plan that allowed me to squeeze in a road marathon, a trail marathon, and a trail ultra before flying off to try to hit my sub-4 (hour) marathon time. We both learned a thing or two following my monumental Bonking In Berlin the year before, and were determined to make amends. So with three months left till race day, I was forbidden from joining any multi-sport race that could upset my training schedule; foot races varying from 10k's to half-marys were fine, but I chose to just do simulations. Aside from a short business trip that didn't allow me to train for a few days, the only hitch came in the form of getting myself knocked to the ground by a commuter jeep while doing a long ride one weekend. That little kiss to my rear tire by the jeep's front bumper left me sprawled on the pavement with bruises to my elbow, hip, and knee, and a nasty sprain to my wrist that still bothers me as of this writing. But as they say, the show must go on. And I wasn't about to let a minor accident like that keep me from my goal. No, sir.
Pre-Race Pragmatism
One of the causes of my downfall in Berlin was going crazy with walking tours, bike tours, and beer before the race. I also ignored the early signs of dehydration days before the race, which came collecting at Km 15. I wasn't going to be stupid a second time. We did visit museums and went on our own walks around the city, but kept the distances modest and I always had a water bottle handy to keep my tank full throughout the day.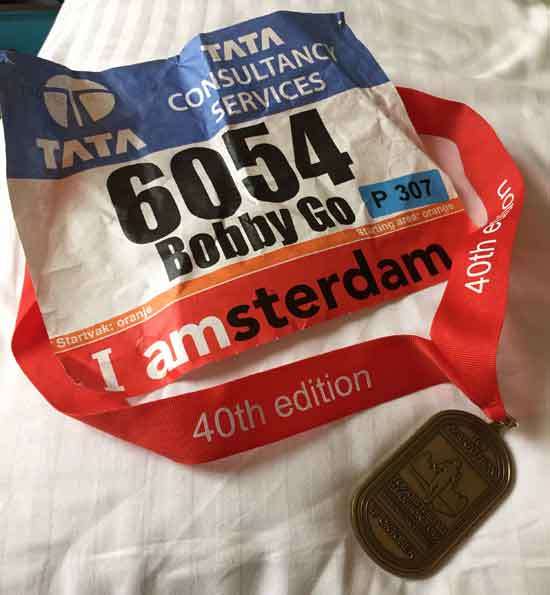 In retrospect, the self-imposed one-beer-a-day rule didn't appear to hurt my chances, and eating hotel breakfasts and mixing up various cuisines for lunch and dinner weren't factors that affected my race, though I wouldn't recommend them as nutrition strategies. Skip this last portion and move on to the next heading if you don't want too much information: Any concerns I had about GI (gastrointestinal) issues flew out the window a day before the race after two very substantial and satisfying visits to the loo. I had struggled a bit with my GI system since touching down at Amsterdam's Schipol airport, an apparent result of indulging too much on in-flight food and drink. But all was well come race morning, which was ideal, because I was looking only to my heart and head as the sources for me to gut it out when I most needed to.
What Race Pace?
It's a chilly six or so degrees, and a soft drizzle drifts gently on our assembled throng as the gun goes off, sending the elite wave bounding like gazelles through the first hundred meters of the 1928 Olympic stadium. I've emptied my bladder five times in the last ninety minutes, and am grateful that there's time for one last whiz at the outdoor portable urinals conveniently located near each wave. Just as most marathon starts go, my wave (color coded orange for the 3:30-4:00 target finishers) begins with a brisk walk, which gradually builds to a light jog, which eventually flows into a run somewhere after the first kilometer.
I'm trying my best to ignore the cold, and the five euro pullover I bought the day before at the local sports chain is doing a decent job at helping me break a sweat early into the race. By kilometer four, I'm sweating as the rain continues its easy assault, sneaking moisture into every surface of fabric that it meets. I ditch my top layer the moment I find a trash bin, which seems a rarity along the course. By this time, I've passed the first hydration station and feel comfortable with my pace. I keep my strides short and maintain my cadence that has allowed me to keep within sight runners I have selected to be my rabbits, at least for the first half of the race.
Even with the thought of not having completed my training, I feel unusually confident. Memories of Berlin begin to creep in as the km 16 sign comes into view. Nothing. I glance at my wrist to see that I've kept a surprisingly (for me, at least) swift 5:08 min/km pace, and don't feel like I'm moving faster than 5:30. Aside from the adrenaline kick, it's the cold weather that's helped make for a less laborious run thus far, frozen and numbed body parts notwithstanding.
If there ever were such a thing as a running peloton, this probably would be it. I am flying with and within the flock of runners, amused by the circumstance, and swept along by the verve. Heck, it's beginning to look like I could not just run a good race, but a great one. I'm feeling more than good and riding on a natural high here. At the halfway mark, and amidst all the positive vibe comes the killjoy voice of reason, reminding me that I've never run at this pace farther than 10k. Certainly something to ponder, as I notice my pace has slowed to 5:15.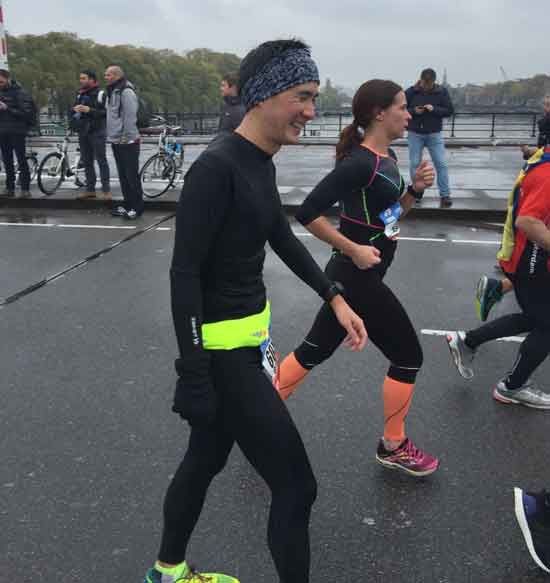 The Agony And The Ecstasy
Fast forward to kilometer 27, and after hearing the missus cheer me on from the sidelines, I've still managed to hold my pace, despite the inevitable onset of cramps. I start to think about my nutrition, my training, my going out too fast, the cold, and all the possible factors that are bringing on the hurt by the time I've crossed the 35k mark and have decelerated to 5:26. And then I think about what Coach Ige told me about elite runners running positive splits (where the first half of the race is run faster than the second) and wonder: Have I put in enough on the front end to compensate for a struggling second? Will I be able to still make my target even if I take walk breaks to stave off my contorting, twisting muscles? Why am I even thinking of this alternative when I'm obviously not an elite runner?
Including stops at aid stations for hydration and nutrition, I've taken ten walk breaks up until km 35. The cramps have hit with such an impact that I've taken another eight (or is it nine? I've lost count) as I close in on the 40th click. I try not to think about parts of my feet that I can no longer feel because of the cold; and I am better off removing my damp gloves and tucking them in my race belt than worrying about frozen fingers. My legs are wobbly and my arms are sore from pumping myself forward through this flat-as-a-Holland-pancake course that would have given me even more grief if there were a few inclines thrown in. But I did not come here to miss my target with two effin' kilometers and change to go. No, sir.
So what if I have to grind through a few more minutes of almost unbearable pain? There's too little to lose and so much to look forward to: Rest, a hot bath, pints of beer, indulgent food, a warm bed, an even warmer hug, and something called recovery Amsterdam-style. So just chow down on that plateful of pain for a little while longer, make a mad dash past the others who have slowed to a crawl, and breast that imaginary finish line tape with flourish and a big smile.
It's a long, agonizing walk to the train station with other duck and penguin impersonators, and I am grudgingly amazed at how some of the other finishers can look like they just finished a 10k. I know that the next couple of days will be unkind and make walking feel like a curse — but I'm happy as a clam. I came so close to giving up (again) and put up another tremendous fight back that may seem like a whimpering afterthought when I look back at it months and years from today. But I learned how much more I can squeeze out of myself when under duress, just as many others have discovered in their own personal struggles.
And I'm aware there's more where that came from — a whole lot more.
---------------------------------0--------------------------------
If you always put limit on everything you do, physical or anything else, it will spread into your work and into your life. There are no limits There are only plateaus, and you must not stay there, you must go beyond them.
- Bruce Lee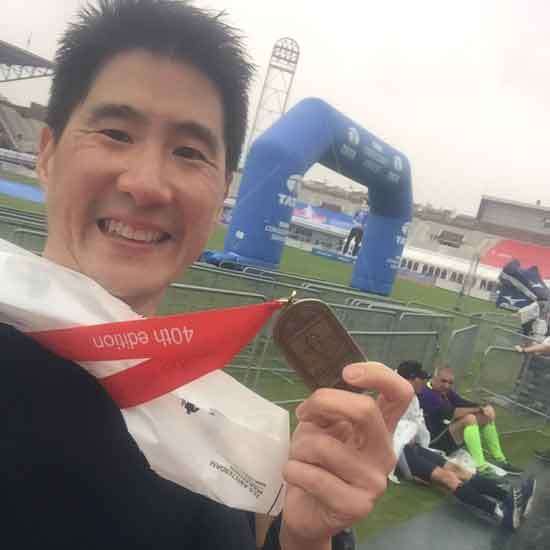 Recommended Videos