ORDINARY people doing extraordinary things.  The phrase conjures images of well-known personalities in the fields of sport, entertainment, science, and business, who have defied the odds through hard work, discipline, and determination, and now stand as icons and role models.  Michael Jordan, John Lennon, Thomas Edison, Steve Jobs — we look up to them and idolize them for their contributions and their achievements.  They are, unequivocally and undeniably, heroes.  And their stories of triumph over adversity -- of taking those endless shots before and after practice, or playing guitar for eight hours straight in a smoke-filled club with hardly a break -- are told and retold, spoken about like ancient lore reaching almost mythical status.
Everyone loves a success story, no matter what size it comes in.  When that size happens to be triple extra large shirts that can double as pup tents and 40-plus inch trousers that a small child can disappear into, you can't help but be overwhelmed.   When the situation looks futile and hopeless, fraught with disappointment and depression, then you've got a good story to tell.  And when the story involves ordinary people who decide to stand up to that very situation, attack it head on, and win, it can be downright inspiring. These are two of those stories.
Mr. Ground Zero
Caloy Chua, 25, was 264 lbs. four years ago.  He had never engaged in any sporting activity, save for required physical education classes in school (which were a chore for him) and was constantly picked on for being 'the fat kid.'  Caloy never thought twice about scarfing down that extra spoonful of mashed potato or chugging glasses of refillable soda or taking a last puff on that cigarette.  He was literally living large, perhaps even double extra large given his blubbery physique at the time.
There was never a reason to worry about his health, much more try to even lose some weight to improve his self-image.  That is, until he was diagnosed with Type 2 Diabetes.  The sobering news hit Caloy like a runaway bus on Edsa.  The reality of actually walking around with a disease that could prevent him from leading a normal life, or even making it past age forty, made Caloy think long and hard about what he needed to do to hopefully reverse the situation.
Taking his cue from the simplest form of aerobic exercise that was (almost) as natural as walking, Caloy joined his first 5k run and finished in an insufferable 45 minutes.   Encouraged by his minor achievement, he began running three times a week, building enough mileage to increase the frequency of races that he joined, eventually completing five half-marathons (21k) starting with the Condura Run For The Whale Sharks race in 2009.  Complemented with a nutrition plan that had him eating sensibly after 21 years of unhealthy diet, Caloy saw the pounds melt away and got reacquainted with the rest of his body.
His journey into the world of multi-sport racing began when he watched a video of ITU Triathlon European Championships winner Javier Gomez.  The Spanish triathlete made enough of an impression to spur Caloy to train for his first triathlon in 2010, a sprint distance race covering a 300 meter swim followed by a 10k bike ride, capped by a 2.5k run.  With that first taste of the swim-bike-run event, Caloy was hooked and went on to race longer distances such as the Olympic distance (1.5k swim, 40k bike, 10k run) and the recent 70.3 IM in Cebu (1.9k swim, 90k bike, 21k run).  Impressive is the fact that Caloy is a self-taught swimmer, having learned his aquatic skills from watching clips on YouTube. 
Even with his rapid ascent into longer distance triathlons, Caloy considers himself still a baby in triathlon and relishes being a student of the sport. On his bucket list is the 70.3 IM in New York (because he loves NYC) and 70.3 IM Kona (triathlon Mecca).  He leans on his triathlon team (Greenhills Tri-Team) and his family for support and motivation, and sees himself doing triathlons until he physically can.
The Comeback Kid
Beeps De Los Santos, 32, used to be a member of the badminton varsity team from elementary to high school, and enjoyed team sports such as basketball.  With an athletic background like his, it would be easy to imagine carrying this lifestyle over into university life.  Not so for Beeps. 
Entering college meant having his own schedule to manage, which also meant having more free time.  Instead of making use of the time productively or trying out for the college badminton team, Beeps found it easier to slack off between classes.  Smashing shuttlecocks and improving footwork were replaced by knocking back bottles of beer and smoking packs of cigarettes (Beeps was a chain smoker who got hooked on the habit in first year high school), while playing billiards with like-minded friends.  There were instances when he would report to evening classes reeking of alcohol and tobacco, gaining the ire of both teachers and classmates.  It didn't help that Beeps later found a group through an internet chat room, whose main activity centered on hanging out while smoking and drinking until sunrise the following day.  Still in his teens and being the youngest member of the group, he enjoyed a lot of 'freebies' in the form of drinks and cigarettes, as his group mates were working men, the oldest being fifty years old.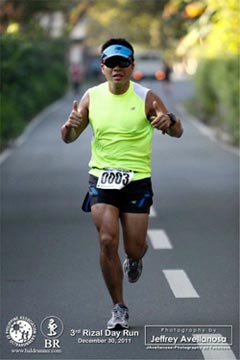 Upon graduation from college, Beeps joined a research and ratings company where the work environment exacerbated his health situation.  Beeps calls his former work place 'the cancer room' for its unventilated, smoke-filled, claustrophobic atmosphere.  It was the only room in the office where people could smoke, and his boss smoked as if cigarettes were going out of style.  An overseas assignment to Switzerland in 2004 (which lasted close to a month) gave birth to another health problem: obesity.  Beeps' rapid weight gain began during that Swiss sojourn as he ate to battle the cold weather.  The bingeing continued when he returned to Manila, where he ballooned to a husky 245 lbs.  Smoking picked up to two packs a day, while the pub-crawl became his new sport, chugging a regular quota of five bottles after each workday and going on all-night benders during weekends. 
Life was good, but some other aspects of Beeps' life weren't exactly making it as much fun to enjoy.  There was the uncomfortable and irritating smokers' cough, the unpleasant nicotine breath, and the stench of eau de tobacco that permeated every stitch of clothing at the end of each day.  Being overweight resulted in inconveniences that couldn't be overlooked.  His incessant snoring that disturbed his girlfriend during bedtime, the teasing from his friends/officemates about his weight and the difficulty of finding clothes that fit properly were minor aggravations compared to the health risks his obesity posed.
One day, Beeps found his supply of cancer sticks had run out.  Walking over to the corner store, he bought himself three sticks of his favorite brand.  At that very moment, Beeps made a startling promise to himself:  Those would be the last three cigarettes he would ever smoke in his life. Probed for a reason when we talked about this life-altering decision, he simply stated that he had tired of the lifestyle.  He decided to take back his life and start living the way he should have done many years ago.
So starting in 2008, Beeps joined his first foot race, a modest 5k run that was to become the start of a personal journey of transformation. That first run progressed to a four-times-a-week regimen and a daily visit to the local gym, with Beeps becoming a hard-core gym rat in the process.  He complemented his workouts with a diet that replaced his rice intake with wheat bread (lately, he's started eating brown rice as well).  Encouraged by his health re-awakening and newfound strength, Beeps went on to conquer longer distance road races, highlighted by the physically punishing and mentally challenging Bataan Death March 102k and 160 ultra marathons in 2011 and 2012. 
Runner friends who had made the jump ahead of him influenced his entry into the world of triathlon.  Like Caloy, Beeps' first triathlon (the National Age Group Triathlon in Alabang) was a sprint, in which he described his performance as 'sucking big time.'  He joined again in December of the same year (2011) where he, as he puts it, 'still sucked.'  Never one to be discouraged, Beeps registered for the IM 70.3 Cebu that same month, completing his first half-Ironman distance at that very race early this month.  Beeps draws strength and inspiration from his family.  His mother jokingly tells him to stick to running instead of triathlon due to the latter's cost.  His older brother, who used to be a runner, motivates Beeps to keep pursuing his passions.
A Life Renewed
Querying Caloy and Beeps about their renewed life, I found interesting similarities (in their responses).  They both stopped smoking and drinking cold turkey (Caloy has the occasional celebratory beer while Beeps has a vodka drink that he can nurse the entire evening during social affairs). They have both influenced and inspired their friends to get into a healthier lifestyle, instructing them to deal with the temptation of backsliding by sticking to the plan, focusing, and training hard.  Remarkably, both of them point to fear as a chief motivator in upholding their current lifestyle.  Describing their past lives as 'dark moments' and 'the lowest days even when you were enjoying (the vices),' Caloy and Beeps often found themselves not wanting to explore new things because of their then portly physiques.
Both agree that, in a rather 'older but wiser' and almost regretful tone, they should have done all of this earlier.  And why do they do it?  Caloy does it for health and personal goals.  Beeps does it to inspire, hoping to be able to share his comeback story as a resource speaker for motivational seminars. Both share a competitive spirit that spurs them onward in pursuit of goals ranging from a top five age group category finish to trying more extreme sports like mountain climbing and bungee jumping.
Caloy and Beeps represent the fighter in everyone that refuses to stay down after being told not to get up. They stand for resilience, for determination. In our most honest moments, we admire people who are able to do what we can't – because of their fearlessness, their focus, and their grit.  And sometimes, all they have to do is be a second faster, a meter ahead, or an inch closer to the bull's-eye -- as long as they're ahead of us.  Because therein lies the difference.  And it's that very difference that separates the human from the hero.
You don't have to look too far for heroes.  They're probably right in front of you.