IN the aftermath of an ultra marathon that conjures images of seemingly endless roads, dizzying ascents through winding asphalt and concrete, and the scent of pine penetrating both sense and sensibility, there remains one critical question that demands an answer best told through personal and introspective narrative: Why the hell would anyone in his right mind want to run from Manila to Baguio?
Of course, the short answer of this writer is as unimaginative as it is dismissive: Because it's there — and because I can. And having said that, I submit my account of the first-ever Manila to Baguio 250k Ultra Marathon held last February 7 to 9, 2014. And since it's nearly impossible to keep this story short, I'll try to keep it as gripping as watching grass grow on a parched summer's day.
Stage One: Rizal Park, Luneta, Manila to Dau, Mabalacat, Pampanga
I'll jettison most of the 'What I Did To Prepare For This Race' section, simply because I've already come off a 200 km ultra in November and a marathon in Cebu last January, so there's not much of a training plan to speak of; just that I had already logged enough running miles to leave me more excited rather than tense for this multi-stage epic footrace. Our saga begins at the Rizal Monument in Luneta in the heart of Manila, where the race kicks off its first leg spanning 90 kilometers through Manila and Caloocan all the way to Mabalacat, Pampanga by way of the never-ending thoroughfare that is MacArthur Highway.
Continue reading below ↓
Recommended Videos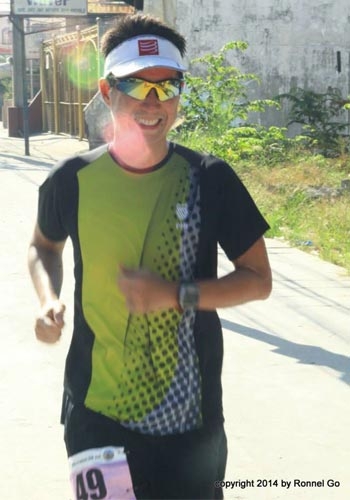 I arrive more than two-and-a-half hours before the 1 a.m. gun start to find a few participants already waiting around the area. Some, who the race director refers to as 'the usual suspects,' are runners who are familiar and near-permanent fixtures in ultra races, welcome each new arriving runner with a warm smile, an acknowledging nod, or a firm handshake. Here is a fraternity of unhinged pavement pounders that embraces the rush and high of running for hours on end, while pitting mind and body against the best and worst the natural elements can dish out. I am honored and humbled just to toe the line with these individuals. And because of our small number (forty-two brave souls), there is a greater probability that we will get to know most of the group before the weekend is out.
I have to pee. The nearest toilet is approximately half a kilometer away, and by the time we're a few minutes from starting the race, I've already covered three kilometers. I wonder if I can 'charge' this as an advance to the 250 km we're soon to run. Story of my life, but it's a small price to pay for staying sufficiently hydrated. I've also forgotten to stuff my pockets with gels for nutritional security, and this causes me to be the last runner past the start line after grabbing a couple of these energy packets from my support vehicle. With ninety or so kilometers to cover today, I'm in no hurry.
I pass a few runners along the first two kilometers and expectedly fall behind one or two of them when my walk interval begins. I know this will be a repetitive theme throughout the race and do not allow myself to get carried away by the thought of being left behind. From my previous experiences, I am able to pull even and sometimes surge ahead starting from around Km 25.
The run through the bowels of the city reveals a metropolis in decay. While traversing the length of Rizal Avenue, the main root leading to MacArthur, the indigent and the homeless litter the wayside, garbage is strewn like carpeting on the craggy, weather-beaten streets, and the stench of rotting food and human waste pierces sight and smell. But it is a city that is also alive, propped up by the bright lights from the seedy night clubs and 24-hour convenience stores, the pounding music blasting from the jeepneys plying their routes, and the animated chatter and exchange of the ambulant vendors and residents of the neighborhood.
I approach the 10k point and take my first hydration break of coconut water (buko) and plain H20. This will be the hydration combo that I will depend on most to get me through the next three days, and will hopefully help stave off any cramps in my legs and the rest of my body. At the turn off from Monumento to MacArthur, the volume of traffic becomes more familiar and serves as a wake-up call for all runners to stay alert as we run against the procession of cargo trucks, private vehicles, and ubiquitous tricycles and jeepneys.
Although I've run along most of MacArthur during the two Bataan Death March ultras, I've somehow forgotten that most of the running takes place along the side of the road that is characteristically rugged and dusty, not the most ideal surface for minimalist shoes. The consequential agony brought about by the stony surface of the side road doesn't harass me until the second day, when changing to a back-up pair of thicker padded running shoes that I wasn't counting on using hardly helps and, in fact, accentuates the pain in my poor feet.
Most of this day's run stays with the run-walk interval that I've set on my watch, an interval that I've practiced on my long runs and that I'm comfortable with. Hydration and nutrition are also balanced, with the buko-and-water cocktail working its magic while bites of home-made spam maki, hard-boiled egg, and banana keeping my tummy happy.
At around the 35th km, my support vehicle is nowhere in sight. There are road cuts and detours that force all the vehicles through alternative routes, separating most from their runners. I'm thankful that I have my thumb drive sized cellphone and some money, so I'm able to call my support and get an idea of how off–course they are. I'm able to buy some soda and water at sari-sari stores along the course that features an abundance of ongoing road construction, making me wish at some portions I had brought my trail shoes instead.
Of course, no run of mine would be complete without a number of pit stops. Unlike my previous ultra last November, the scarlet avenger decides to show up a day earlier, but this time, I don't panic when it does surface. As the stream of rose-tinged discharge hits the cement post I've carefully chosen from among the hundreds that line the highway, I let out a casual greeting of nonchalance ('Oh, there you are again'), and go about my business like it was the most normal thing in the world. It pays to read up on these conditions, and having stayed properly hydrated thus far, I know it will just be a matter of time before everything is upright and unremarkable again.
The morning sun has broken gently through the clouds, and a crisp coolness hangs in the air. I am joined by a local runner out for his morning run. He has a nice steady pace, and we run abreast while chatting for a good five to six clicks before he peels off when we near his place of work, a plant nursery just off the highway. After 15 or so kilometers, I finally meet up with my long lost support team at km 51, where I take my mandatory long break of twenty minutes to rest and load up on food and hydration.
I'm not in a terrible rush at this point, since I've covered more than half of the day's required distance, and have more than enough time to finish the balance within the 16-hour cut-off. And just as well, because I take another major break upon reaching km 70. That ten o'clock sun is starting to suck more than the usual out of me, so I take in some salt tabs, more food, and more hydration. The color of my pee has normalized to a clean stream of light yellow while I stay with simple hydration (i.e. no more food) from that point on. With nothing more drastic or dramatic happening, I am able to reach the 90-km mark with lots of time to spare. Most of those who finished ahead of me are still sitting around and chatting in the shade, looking like they can still run another marathon. Not me. I stick around for about fifteen minutes before excusing myself to retire to a nearby motel for some much-deserved rest.
Stage Two: Mabalacat to Urdaneta City, Pangasinan
It's 12:30 p.m. and as the race director (RD) briefs the assembled runners, who are now less three from the first day's 42, the only words that resound in my head are ominous and foreboding: road work ahead. My feet are cringing in anticipated terror of more tortuous treading, as we are released into the darkness of an early morning calm. The lights from headlamps of the lead pack grow fainter into the distance, floating away like fireflies into the shadows. I settle into a relaxed and evenly paced jog through the first of forty-plus intervals that will take me to the 180 km distance marker, which by my estimate, is easily over half a day away. Another day, another 90k.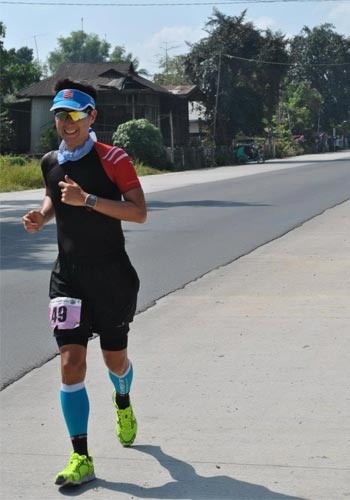 As we run through streets undergoing road work at various stages of progress, we stay alert for the various camber, cut out portions of concrete, or loose earth that come up to greet us on our passage. There's also the regular side feature of curious onlookers who are eager to know what this odd assembly of athletes is doing, running through their town at a most ungodly hour. Their reactions always amuse and, in some ways, lighten the load of having to cover many more hours and miles before calling it a day. The smiles, cheers of encouragement, and the expressions of shock and awe from the vendors, tricycle drivers, fishmongers, and everyday people provide the invisible lift that has us running/walking with less labor and more fervor.
At Km 32, the pain in my feet as well as the limited hours of sleep from the day before begin to take their toll. I stop to change my shoes and hydrate, hoping that switching to a pair with thicker padding (which I did not train with, ever) will alleviate the soreness. The beating my feet has taken in the first 120 kilometers over a mostly gravelly path forces me to shorten my stride and adjust to a lighter step, even on the now-smooth surface of the concrete road. For my fading energy level, I have my support team drive off to get me a hot bowl of noodles. Along with a diet soda and an extended sit down break at a waiting shed at Km 34, the noodles are the perfect repast to get me up on my feet with renewed vigor and back running at a pace even faster than the previous day. I even manage to switch back to my minimalist shoes at the 46th kilometer.
I'm secured at a conveniently manageable run-walk pace through mid-morning, surviving on my buko-and-water cocktail with some bananas, eggs, cookies, and soda thrown in. The sun seems angrier today, deftly dodging the tufts of clouds that have engaged it in a game of tag. Without much-needed cloud cover, the concrete highway seems to go on forever, and the heat bouncing off it threatens to bleed more sweat and spirit from me. I take more walk breaks, and shorten the distance between stops at my support vehicle to drench myself with iced sponges while ever-reliable Jilbert sprays me with cool water from a hand-pumped atomizer. This is Bataan Death March weather, I think to myself, as I trudge towards a nearby tree to relieve myself and do a urine color check while at it. All clear and good to keep on going.
Except I'm experiencing acid reflux (or in more precise medical speak, Gastroesophageal Reflux Disease, or GERD for short) and my feet have begun to hurt again. The GERD situation started somewhere after that food binge at my last major stop (Km 60), and it wasn't until late that my support was able to find a roadside drugstore to buy medication. Popping two antacids at km 81 and a final change back into the thicker-padded pair at km 83, I stick to plain water and some buko to get me through the remaining seven kilometers. I have slowed considerably, and am left behind by three other runners on this final stretch. It's taken me almost two hours more than the previous day's finish time for the same distance, but the cowbell ringing less than a hundred meters away is the audible signal that I have arrived at the gates of relief, at least for today.
I check in with the race official, and exchange congratulatory high-fives and fist bumps with the other runners, some who appear to have finished days ahead and are engaged in easy banter, further highlighting my pitiful weariness. A quick change of clothes later and our little group of three is off to the nearest hotel recommended to catch up on sleep. Or so we all hope.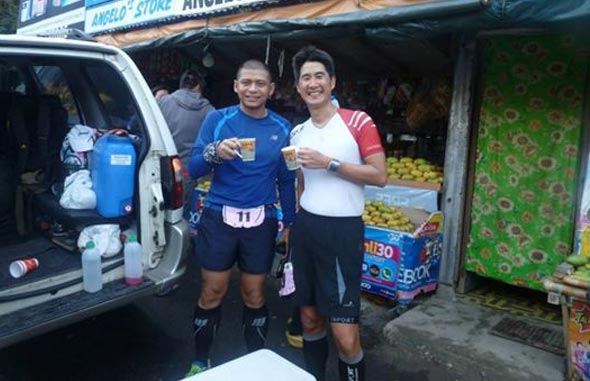 Upon reaching the hotel five or so minutes later, I select the rooms and prepare to pay the reception clerk — except that I can't seem to find my wallet. Not one to panic on the spot, I go through all my bags, twice. No wallet. I call out to Jilbert and driver Rey in the parking lot and ask them to comb the support vehicle and check every nook and cranny. Still, no wallet. I go out to the car and forage under the seats; a cloak of dismay drapes over me as I grapple with the possibility that I may never see my wallet again. And then it hits me: Could I have left it at the motel in Pampanga?
It only takes a minute or two before I locate the motel's phone number on my mobile's browser. I'm speaking to the supervisor and telling him about having checked in the night before, with our group occupying rooms this-and-that, and checking out just after midnight. Then I ask him if they happened to find a wallet in my room. Could you describe the wallet, sir, he replies. Bingo! My heart jumps through enough hoops to win Best In Show at the national dog show.
I describe the wallet and its contents in detail, and sure enough, the super confirms that the room boy found it and turned it over to the administration office. I tell the super it's already five thirty in the afternoon and I have to get some serious rest since the race resumes in seven hours. Can I just send my driver to pick up the wallet then? Of course, chirps the super, just send over a letter of authority along with an identification card. But all my identification cards are in the wallet!
Short story long, we all ride back to the motel in Pampanga, I engage the super and personally thank the honest room boy with profuse gratitude and a cash reward, check into the motel (again), and send out for dinner. With all the excitement that's happened today, I can't even manage an hour's sleep before it's time to leave again for the start of the final stage 90 kilometers away. It's on this two-hour ride to Pangasinan where I am able to get some amount of sleep, although I'm not counting on it to adequately replenish my energy stores. It is exactly half past midnight when our vehicle pulls into the parking lot of the restaurant where the second leg ended yesterday. I unhurriedly alight from the vehicle, slip on my reflective vest and headlamp, and walk towards the assembled party of runners.
Final Stage: Urdaneta to Rizal Park (in Burnham Park), Baguio City
There's a perceived and palatable tranquility among the remaining twenty-five runners, as we pose for pictures and exchange stories of the past forty-eight hours. To hear some tell it, yesterday's stage was nothing short of brutal, which in some measure explains the severe fall-out rate. I'm pleased to be counted among the survivors, and sleep deprived notwithstanding, promise to make this stage the best one of all three. I haven't run enough races to qualify me as a seasoned ultra marathoner, but my last race, also a multi-stage ultra, nurtured me with confidence to run the last leg at a faster pace, but with a disposition that is easy and relaxed. I'm hoping to see that happen at this monumental event as well.
As we gather round for last-minute instructions from the RD, the group is informed that there is more roadwork ahead. Lucky us. By now, I'm used to playing the native street game of patintero with the oncoming vehicles while negotiating road blocks, detours, and shifting terrain. Today's stage covers 'only' seventy kilometers with the same 16-hour cut-off, though the latter half of the stage involves a winding climb through the famous Kennon Road, known for its zigzag course. At the strike of one, our tiny company of runners takes off for the final push that promises a most satisfying conclusion at the City of Pines, Baguio.
I'm hungry. No more has this been more evident throughout the entire race than it is today. My famine is no doubt caused by lack of sleep, abundance of adrenaline, and the crisp morning weather. And so I eat. At Km 15, I stop to enjoy a hearty bowl of thin rice noodles in Chinese herbs broth and some local rice cake, prepared by Dennis Uy, a Pangasinan resident, who happens to be a runner and known to a number of my co-racers and the RD.
I'm grateful for such acts of generosity and hospitality, a trait that is not uncommon among ultra marathon folk and their support crew, and one that has time and again revealed itself along the course of any ultra race. Extended help by way of offered food, drink, dousing sponge, or just a place to cool one's heels is typical of nearly all support crews, while words of encouragement or consolation and accompaniment from fellow runners along difficult stages are regular affairs. I believe the invisible bond among ultra runners that is forged by empathy, kindness, and fraternity is what makes this company of men and women special and unique.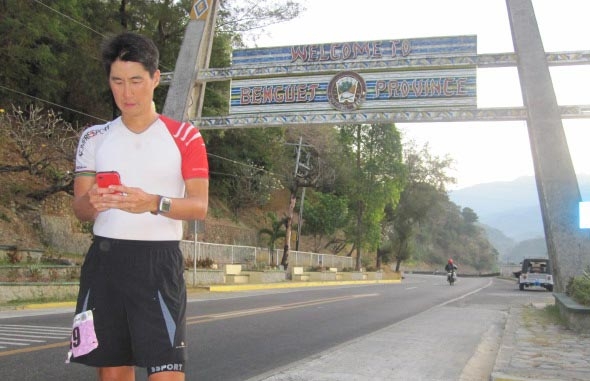 And now back to regular programming…
Here's what happens when you temporarily lose your support crew (the second time in three days): you find yourself a place to eat — again. I spy a truck stop a few hundred meters ahead and giddily point to one of the large steaming pots, park my ass on a bench, and prepare to chow down a second time. While I thought I had my fill at 15k, here I am less than five miles later shoveling a spoonful of chicken rice porridge into my pie hole along with a side order of hard-boiled egg. This will keep me going for another 10 or so kilometers, that is, until my furnace of a metabolic system decides otherwise.
Everyone talks about the importance of nutrition in ultras, and these last few days have taught me that eating well and regularly can make a world of difference. I'm lucky enough to posses a digestive system that allows me to eat most of whatever's thrust in front of my face without suffering any serious gastro-intestinal issues; but I still take the necessary precaution of not eating everything put in front of me. What's more, I'm running and walking with ease, cramp and blister free, and enjoying the sights, sounds, and scents of the towns and provinces I have traversed thus far.
The roadwork seems to go on forever, and as the sun creeps slowly over the mountains on the horizon, the runners continue playing hopscotch over an assortment of potholes, roadkill, and water hazards. I've covered 33 kilometers of the course so far, and scurry into a rest room by a roadside gas station for a pee stop, but not before getting my race number noted by a strategically positioned group of race marshals. After emerging from the toilet a few ounces lighter, I buy myself a glass of silken tofu, sugar syrup, and tapioca pearls - but everyone else calls it taho. It's great stuff. Served hot and fresh, my 10 peso investment generates more returns than a hot stock market pick. I am off and running again, with an even wider smile on my face.
Two kilometers down the road and at the halfway point of this final leg, I am standing under the boundary arch of Benguet Province. It's enough to make me jump and squeal like a prepubescent girl at a One Direction concert. Ever the ham, I pose for a photo and quickly post it on Instagram (and share on Facebook and Twitter, of course) before skipping past the arch in the direction of Kennon Road, where the cool mountain air has now assumed a pleasantly distinct scent of pine.
Running up the looping inclines and undulations of Kennon, both gentle and steep, is an experience I had only considered doing once before, that is, when the initial whispers of an ultra race that would span two hundred fifty kilometers from Manila to Baguio first broke almost a year ago. The thought of traversing the snaky uphill road and how I would feel after running close to six marathons over three days fascinated me and held a genuine appeal for this average guy with an endurance sport addiction.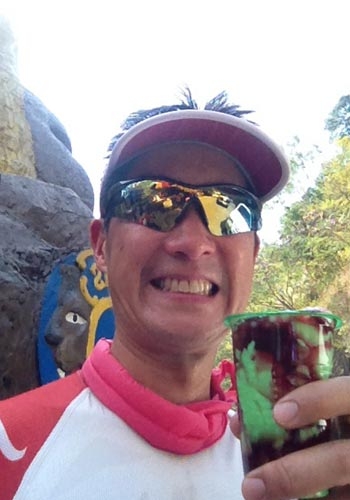 And now for the final push, which is nothing short of delightfully distracting.
I am momentarily stupefied upon catching sight of the first twist in the road against a backdrop of lush mountainous range. It is just past seven in the morning and is unusually quiet, save for the sound of water rushing over a gravel bed and the chitter of birds nestled in the trees to welcome the day. That's nature racket, and I absolutely love it. And this is what the race is all about. It's arriving at this particular instance and realizing that it was never a question of not being able to finish the race, but confidently accepting the conclusion of it. There is no doubt that I will complete this race — that is, unless a falling boulder pummels me to an unrecognizable pulp.
Not far ahead, I spot Simon, one of 'the usual suspects,' who is running at a pace comfortable enough for me to follow. I catch up to him, and we run together for a good distance before Jilbert tells me at the next rest stop that he recalls the RD warning against having support vehicles along Kennon, except on wider portions like landings and driveways. Though I don't have any recollection of it, I promptly slip on my hydration vest packed with energy bars, gels, and a 2 liter bladder filled with water and instruct my support to wait for me at the next major landing. Simon picks up his bottle from his support vehicle before we continue running after a short coffee break courtesy of his support.
A pack of cyclists riding downhill catches my eye; among them is a friend, JT. After a quick introduction to Simon, JT tells me they are out on their Sunday ride, which traces a route down Kennon and up Marcos Highway. This is no time to be envious about cycling, I tell myself, because that will be for another day. After about 5km, we come upon a vehicle on the opposite side of the road where inside sits the race director in the driver's seat, shooting pictures of us. We gamely smile and wave, and I take this opportunity to validate the 'No Support Crew On Kennon' provision, which he quickly debunks. Relieved, we push on, until I reach my support vehicle parked in front of a truck stop. I tell Simon to go ahead and that I'll see him later, since I am getting the munchies again and also need to make a pee stop.
Soup! They have macaroni soup in milk with diced vegetables! Why, that's the best kind of soup for a day like this! I cheerfully hand over a damp, crumpled twenty-peso bill to the smiling lady behind the counter, who hands me a big bowl of piping hot soup. She later brings over some pepper and a glass of cold water to round out the meal. My legs and feet are fine, but taking a load off and sipping macaroni soup while watching an episode of Adventure Time is a refreshing recess that gives me time to do what's critical at this stage of the run: update my friends through my social networks.
Thoroughly satiated, resurgent, and energized, I am able to break into a faster stride and catch up with Simon, as we take turns leading each other up the road that appears to be gaining more elevation with every turn. Our pace is easy and conversational, and we talk about family, work, and (what else?) running. Time flies, not as quickly as we would like it, but fast enough to get us to the famed (Rotary) Lion's Head without much of a struggle. We take our requisite photos (my first ever) with the colossal golden yellow lion in the background, update our status on Instagram/Facebook, and give in to another Baguio tourist must-try: strawberry taho (It's good.).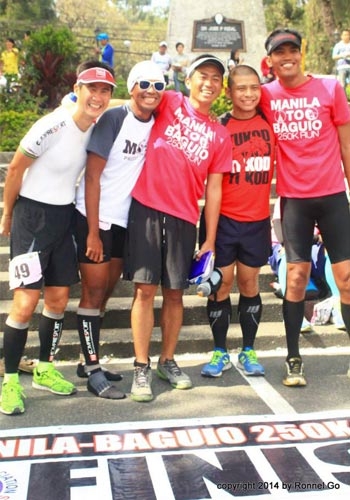 Only seven kilometers to the finish, at least that's what my GPS tells me. What it doesn't tell me is how steep a climb the remainder of the course gets. It doesn't take long for us to figure it out, as the gradient immediately after the Lion's Head reminds me that I should have brought along my hiking poles. Most of the trek is now down to a hike. With so much time to cover a relatively short distance, it doesn't seem practical to shred our legs by running it.
We pause at another famous Kennon landmark, The Viewing Deck, and take a few moments to gaze at the zigzag road below. Simon points out the Lion's Head and I try to distinguish what I want to believe is the foot of Kennon, where the climb started. We've certainly come a long way. Quietly amazed at the little piece of history we are about to achieve, we turn our backs to the chasm below and go on our way.
I get word from Jilbert that the missus is not far ahead, and sure enough after several hundred meters, Gina is standing outside her parked car, waving to me from across the road and shouting an enthusiastic "Go, Go, Bobby Go!" I respond with a big smile and shout back "Not much longer now, Sweetie." A white car pulls over a few meters in front of us and the driver, a friend of Simon's, alights to congratulate him and wish him well. Another vehicle pulls up to the roadside and the lady passenger hands us plastic tumblers containing soda. At an earlier part of our climb, fellow runners driving back to Manila after a Saturday race handed us chocolate bars. Whoever said that you could always count on the kindness of strangers was definitely spot on.
The ascent towards the last major landmark before the finish, the provincial hospital, elicits the same sentiments as most races in the past: Where is that damn landmark? The trip seems longer and more arduous even if the distance is a mere half-kilometer or less away. When we finally reach the hospital, we take a turn to where a waiting runner leads us through the city streets, stopping traffic with an outstretched arm and spread out hand, while running at a four-hour marathon pace. It helps that it's now mostly downhill. Simon and I are laughing now, because our runner is pushing the pace, oblivious to our situation of having run an average of two marathons a day for the last three days. We round several corners before it is clear to us both that the finish at Rizal Park is but a few hundred footfalls away. I give Simon a congratulatory pat on the back and send him on his way to finish ahead of me. It's been great running with you, Simon. See you at this finish.
As I skirt the last corner towards the finish, I spot a low profile monument of Rizal in the middle of a cement quadrangle with pebble-washed steps leading up to it. The streets are teeming with Sunday park visitors, but there is still enough space to run freely towards the area where several individuals clad in bright pink shirts are milling. I hear the cheers from support crews and runners alike, as I run up the steps towards the race director, standing in front of the event banner, who receives me with a warm handshake and a congratulatory smile. I thank him for an incredible experience, and mentally file it under 'Stories To Amaze and Bore The Grandkids With.' The slew of photo opps ensues: receiving my finisher's medal from the RD, posing with the other finishers, cozying with the wifey, hamming it up with my Fellow Go, Ronnel, for a yin/yang shot, and the customary pose with the event banner.
I look around and see faces of runners, support crew, family, friends, and the race staff and volunteers lit up with smiles that toast the success of this maiden excursion into Philippine endurance racing history. And I am proud to be part of this. There is no drama here. I joined this race for the same reasons I have signed up for every single race since I can remember: To enjoy myself while again testing the extent of my physical and mental fortitude. And I have succeeded in accomplishing both yet again. The memories of this eventful, long weekend will linger long after the aching in my legs and feet has subsided, and the chafed and sunburned skin has healed.
This is one fun run I'm going to remember for a very, very long time.
--------------------------------0---------------------------------
"If you run, you are a runner. It doesn't matter how fast or how far. It doesn't matter if today is your first day or if you've been running for twenty years. There is no test to pass, no license to earn, no membership card to get. You just run."
John Bingham, Runner and author