There are no bad marathons — just bad runners.
BEFORE you start guessing which running guru or famous athletics coach came up with that zinger, allow me to save you the effort: I said it.
I said it to myself while struggling past kilometer 30 of a marathon I ran last Sunday, wondering why I had (again) put myself in a position to add to my growing list of marathon personal worst times. Last Sunday's 42.195-km footrace turned out to be my slowest (but not necessarily most difficult) marathon since I started running this distance five years ago.
Even as I found myself in the middle of training for two bucket list races coming up in December and January, I still wanted to turn in a decent time, which, by my personal standards, is a maximum marathon time of four-and-a-half hours. Finishing beyond that psychological hurdle would depress me — but nothing that a little chocolate ice cream or a steaming bowl of ramen won't cure.
Having done weekend long runs within and beyond marathon distance over the last few months, and recently rediscovering the joy of running with music streaming through water-/sweat-proof earphones (I finally found a pair that can actually withstand all the perspiration and water dousing), I decided to tote my iPod along for this particular run. I was feeling pretty confident about running a fast marathon using my iPod, since I was able to run a fast 10k while breaking in my new earphones a week before. The last time I remember bringing music along for a marathon was years ago in Tokyo, where I finished with good time, crossing the finish line with The Eels' (Goddamn Right) It's A Beautiful Day playing on my shuffle. I had since abandoned the use of any music gadgets after going into multi-sport racing, which prohibits the use of such.
Continue reading below ↓
Recommended Videos
The problem with running with music that hasn't been properly queued according to a managed pace (as pointed out by a friend and Twitter follower) is that you can easily get carried away and run your legs off early into the marathon. That's just what happened last Sunday. With the cool 3am morning air and my run playlist of bouncy tunes blaring in my ears, I set off on a pace that would later have me tearing off my earphones before reaching the 28th kilometer and packing away my iPod until the conclusion of the race. It would be so convenient to point a finger at John Mayer, Hall & Oates, Huey Lewis, Foster The People, Snow Patrol, Bamboo, Sandwich, and the rest of the gang for my pain, but that wouldn't be fair. At the end of the day, there's only one person that deserves to be castigated for my recent debacle: Cher.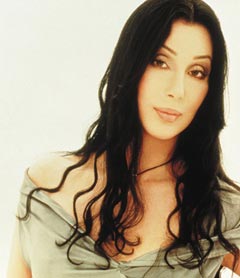 Yes, I blame Cher.
Sprinkled across my entire nine-hour run playlist and interspersed among the (ahem) masculine soundtracks, are delightful little pink ditties from pick-me-ups Dancing Queen and I Will Survive to feeling-gay-and-sophisticated Fairground and Native New Yorker. But there's nothing, or no one, quite like Cher — at least to me. Every time I go out running with my music, she has this way of encouraging me to 'Believe in life after love' while simultaneously taunting me with 'I really don't think you're strong enough now.' My feet take on a life of their own and I am suddenly trying to catch the elite runners for the next four minutes. Believe has always been that guilty pleasure of a song that lights a fire under my feet and pushes me beyond a reasonable run pace. I'll show you who's strong enough, Cher. Just watch me.
Everything's a blur. I can't recall anymore at what point of the race Believe's techno-music intro seeped into my ear canals, where the next moment found me weaving and whizzing past an uncountable number of runners, but I remember when I stopped to walk as a result of my 'too fast too soon' half of the run. When I realized that things were going downhill (and not just because of the flyovers) while pushing past Km 30 with a run-walk-run strategy, it was clear that like the US presidential race focusing on each candidate's pursuit of foreign policy, I had to employ my own Four-En policy to get me through this race. Here's how this bad runner managed and manages through races that test more than just physical limits.
Engage. It's easy to get distracted by the sights, sounds, and smells throughout the racecourse. Early into the race, we passed through parts of the city that were dark and unlit, which required extra focus (aside from having my glasses on) and care not to step on tiny indentions/holes or trip over humps or cat-eyes. Running past sewers and canals that smelled like rotting eggs that can have your stomach doing somersaults is enough to throw you to the side of the road on a retching fit if you don't employ contingencies such as running faster or holding your breath. Pollution from the vehicles, runners who don't abide by the 'left lane for passing' rule, and other minor crimes and misdemeanors can get on your nerves and throw you off, but only if you allow them to. Engaging means finding your inner strength, focusing and centering yourself on what's pivotal and crucial, where the penultimate goal is to finish.
Endure. Let's give the shamed Lance Armstrong a break here and acknowledge the 'Pain is temporary. Quitting is forever' quote to him, that is, unless he's also lying about that. Better yet, let's go with 'Pain is weakness leaving the body' as a motivational mantra that propels us forward and pushes us to endure both physical and mental struggles in order to accomplish what we set out to do. When I am under severe duress, and come to a crossroad which offers me the choice of whether to move forward or quit, here's what I think about: There's a race to be run, and there are even tougher challenges ahead that have been endured by others, some who are even physically and/or mentally handicapped. You just have cramps or some gastro-intestinal issue. Wanna quit now?
Encourage. A little encouragement goes a long way. I've seen this practice in action many times in so many races I've competed in over the years, it's almost an intrinsic feature. One of the outstanding qualities of racing in the Philippines, as observed by a growing number of foreign competitors, is the camaraderie and community that pervades throughout the events. It's not uncommon to see runners exchanging high fives or cheers of encouragement as they pass each other along the course. Acknowledging these uplifting gestures, in whatever size and form they come, stir up and energize the receivers as well as the givers, and provide that necessary boost to keep going. No matter how tired and spent I am, I always make it my business to send out some positive prodding to fellow competitors, hoping that these tiny deeds will result in some good for the recipients.
Enjoy. It's hard to find enjoyment when you're feeling wasted and desperately dragging yourself through a dusty road or concrete pavement that makes you contemplate this being your last race. But nothing quite compares to crossing that finish line — nothing, aside perhaps than the thought of crossing that finish line. Since I join races to finish, them, I tend to pre-occupy myself with the post-race benefits as well as the benefits of actually doing the race. My current physical state has allowed me to toe the start line and will also get me past the finish arch. I can understand why some people get into certain sports or join certain races for bragging rights, but I'd like to think that more people stick to this lifestyle simply because it provides them fulfillment and more than that, enjoyment. Besides, why would you continue doing something that you don't enjoy doing?
In the end, I'm able to look back at all my races and say that I engaged my strengths, endured the pain, encouraged others, and enjoyed myself.
And at the end of a bad running day, that chocolate and ramen fix always does the trick.
-------------------------------------------------------------------
"Good things come slow - especially in distance running."
Bill Dellinger, University of Oregon coach