AND just like the Marcoses, I'm back — except I didn't blatantly steal from the national coffers, flagrantly abuse my authority, or unabashedly deny any involvement in missing persons. Okay, I'm just back. That's all there is to it.
My twenty-one month hiatus was a result of more time devoted to matters domestic that took me away from this not-regular-enough column, though I still managed to do a fair amount of racing (Note: I've never been comfortable using the words 'racing' or 'race' since I've always equated it with speed — a word I would never have the gumption to use with my name in the same breath.). There were marathons and ultra marathons on road and trail, a couple of long-distance open-water swims, and one or two multi-sport events. One particular endurance adventure in early August last year proved quite amazing: a nine-day cycling tour of the Spanish and French Pyrenees mountains with seven friends that had us traversing breath-taking mountain passes and quaint little villages through a wonderful mix of tarmac, pavement, cobblestone, and earth. Believe me when I say that it's best for me not to write about it, because I wouldn't know where to begin nor I would ever be able to capture in prose the richness of that most unforgettable experience.
Continue reading below ↓
Recommended Videos
I'm here about a more recent experience - one that pushed me to the brink of surrender, but never quite finished me off: The Old Spanish Trail 50k ultra marathon (OST 50k, for short) in Kayapa, Nueva Vizcaya last February 17.
The OST 50k is part of the King Of The Mountain, or KOTM, a trail race series organized by Jonel Mendoza (he of the infamous 'extra miles at no extra charge' race hallmark) that features views and terrain that literally take your breath away and claims the souls of lesser men and women who are brave (or is it foolhardy) enough to try any of the distances that range from forty two (Mount Ugo Marathon) to one hundred and sixty (Hardcore Hundred Miles) kilometers. The KOTM series counts five formidable races held through the months of January through May, each highlighted with a trip to the summit of beautiful Mt. Ugo, with all races starting from the quaint little town of western Kayapa, Nueva Vizcaya. Just finishing one of these races is a feat in itself. And here's where our story begins.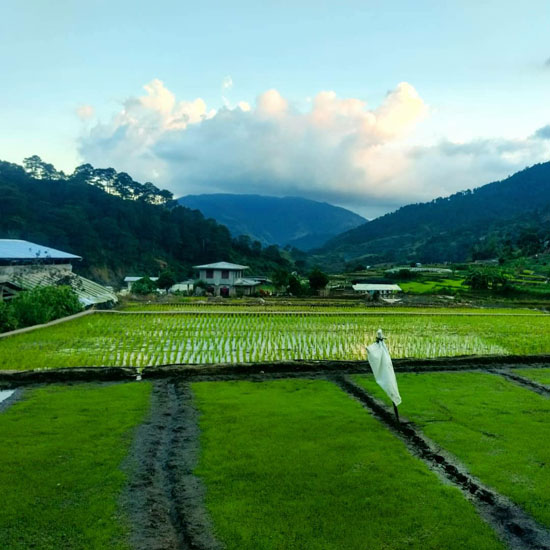 Falling Behind From The Start
The temperature was comfortably cool as we headed into the pitch black Saturday morning after a 2 a.m. start for both 50k and 100k distances. Heavy mist and thick fog blanketed the trail, ceding only three meters of visibility at some points, providing an added challenge with still about four hours before the crack of daylight. While still favoring a nagging impingement on my right shoulder, I opted to hike the first 10-k ascent of some 700 meters without resorting to my hiking poles. Choosing to do so might be a bit more laborious on the legs, but at least I wouldn't have to worry compromising another part of my body later in the day. At one point, a veteran runner and race director armed with poles passed me with a steady pace. 'Use your poles,' he advised. I managed to mutter something about saving my arms for later as I watched him disappear into the darkness ahead. Having been party to more than a handful of ultra distances, I've never had a problem with lagging behind even during the earliest stages of a race. But watching the headlamps in the distance slowly disappear one by one made me reconsider the no-poles-until-it-gets-harder gambit; I quickly unsheathed my poles and was walking assisted with my telescopic buddies within minutes.

I managed to catch up with a group at the first aid station in Bundao, where I topped up on my water and grabbed a couple of sweet potatoes before rushing off ahead of some of the runners, mindful of the great probability that they would pass me further down the course. My haste cost me about a hundred meters of climbing in the wrong direction. Fortunately, I was still within sight of the marshals in Bundao who yelled at me from below to come back down and follow the runners who had just left the aid station. Strike one, knucklehead.
Summiting and Cutting It VERY Close
The rest of the hike was mostly down hill and well paced, so I thought. I was able to refuel again at the 17k mark in Domolpos before trudging up the next five kilometers of 400 meters gain to the summit of Mt. Ugo. The climb was not particularly trying, save for that last kilometer before reaching the top. Along the way, I was blown over by the number of people running down from the peak at such amazing speed and footwork. Upon finally reaching Mt. Ugo's apex, I hurried over to the marshal to get my tag scanned and sauntered over to a clearing, hoping to catch a panoramic view of the Nueva Vizcaya morning. I was somewhat disappointed to find it obstructed by clouds and fog — not exactly the scenery I was anticipating. Glancing at my watch and seeing that I had summited in five hours, I figured there was still enough time to take a few photos at the place marker, make myself a peanut butter sandwich, eat it, and hydrate, before heading down for the East Market 13 kilometers away, where the mid-race cut-off of eight hours awaited.
Made a new friend in Kenneth, a twenty-something brimming with spirit and good cheer, who I had been able to keep in step with halfway up Ugo. We spent the next few hours together running and walking towards the East Market aid station, taking turns leading. From the time we started our descent, I could tell that Ken could negotiate the terrain a lot faster, so I let him lead most of the way. When we got to the halfway mark, I looked at the time and distance we still needed to cover and figured it was time to do more running than walking to make the cut-off. We passed a runner who seemed to be going with a brisk walk strategy, and I told him we had to make tracks, to which he replied that there was still time. I then told Ken to go at his own pace so that he would have more time to rest once he reached the aid station.
The 1,260 meter descent over 13 kilometers was quad-crushing at its finest. As I watched Ken disappear from view, I began to feel the early stirrings of tightness around my quads, an indicator of the onset of cramps. Quickly downing a tablespoon amount of mustard from my tiny squeeze bottle to stave off the spasms, I shifted from a shuffle to a trot until I hit a passable excuse for a run pace. My legs already felt heavy, but there was still a good amount of distance between me and momentary rest. The road ahead transitioned from a mix of earth and rock to a two-tracked cement road meant for motorized transport. The even-surfaced monotony of concrete winding downwards with no end in sight forced me to focus entirely on my pace, even as the nagging feeling of failing to make it on time hung heavily with every glance at my watch. With the temperature rising and my hopes dropping, the growing pain in my legs and mild panic in my head conspired to whip more punishment to an already desperate situation. Where the hell is that aid station? Why is this road so frickin' long?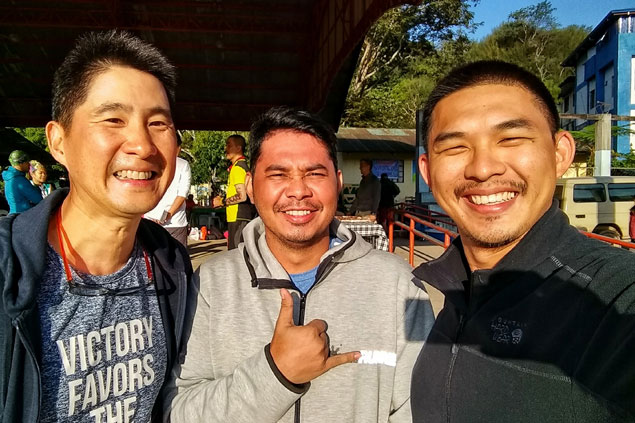 Bobby Go with young trail guns Niko and Ken. Keneth Laureno
Rounding yet another bend and hoping to see some indication, any indication of human life, I finally spotted a figure in red emerge from behind a concrete structure shouting 'Kaya pa (You can still make it)' while alternatingly glancing at his watch and looking up to see that I didn't fall over while making a mad dash to where he and other race marshals were waiting. Remove your hydration pack, fill it with water, grab whatever food you need, and fix your pack later, the marshals excitedly yelled. 'Two minutes!' called out the lady marshal holding the timing device that decided whether I lived or died, while I crouched over the familiar water jug wishing that the spigot could fill my hydration bladder at a faster rate. Not quite done with the bladder, but under immense pressure, I hopped out of the covered area to get my race tag scanned, officially exiting the aid station. 'Thirty seconds!' exclaimed the marshal triumphantly, as I heaved a sigh of relief and dragged myself over to a nearby sari-sari store to regroup, aware that I had dodged the first bullet of this twin-barreled assault. Kind-hearted marshals and support crew offered me orange soda and food as recompense; orange soda never tasted this good ever.
Down But Not Out
Heading out of East Market, I crossed a small rice field and noticed two figures crouched at the foot of a long hanging bridge. I immediately recognized Ken as one of them, while the other would later introduce himself as Nikolai, or Niko, for short. I raised both arms overhead as I walked toward them, boasting to them of my dubious achievement of being the last runner to make the mid-race cut-off. They didn't seem impressed, as Niko continued to ice his legs and nape while Ken just remained seated, gathering whatever valuable recovery to prepare for the damnation that awaited us. I was glad to share the trail with these young guns, whose chatty exuberance made the first part of the climb almost tolerable. But even their light and bright disposition was not enough to spark my flagging energy level. That last downhill push to the aid station really sucked the life out of my legs and spirit. I was barely hanging on, stopping every few exhausting strides, waving Ken and Niko ahead while I desperately tried to figure out what was leaving me so worn and weary. Maybe you're in a hypoglycemic state and need to eat again, volunteered Niko. I didn't feel the least hungry (or so I thought), but did feel a tad thirsty, so I took a few sips from my water bottle; that seemed to help, but the energy surge didn't last long.
Soon after, I informed my two companions to go on ahead and wait for me at the radio tower before making a good run for the finish. I took a couple of sitting breaks and began to contemplate throwing it in, seriously considering going back down to the 35k aid station and calling it a day. This argument's logic surfaced a few more times as I continued up that treacherous 540-meter ascent to Barangay Amelong Labeng. This can't be just two kilometers, I kept telling myself as I grudgingly put left over right, while still thinking about quitting. Give it up, Bob. It's not happening today. But then, as I plopped my ass down on a flat rock for what seemed like the nth break and shoved a saltine into my parched mouth, something miraculous happened: a sudden flicker of energy surged from my neck to my head. I immediately felt my surroundings get brighter and my backpack become lighter. A few more pieces of crackers later and I felt flush with renewed strength. Niko was right: I was hungry, and wasn't even aware of it (I later found out that both Niko and Ken are registered nurses!).
Now what was all that talk about quitting and going home with my tail between my legs? I had a race to finish and I'd be damned if I didn't make an honest go of it. Besides, I did not drive eight-and-a-half hours from my house to Kayapa to earn a DNF (Did Not Finish).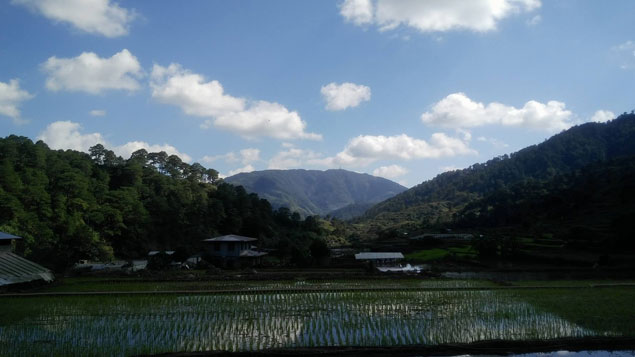 Amelong Way From Home
With my newfound vigor, I managed to reach the flats and began to actually run a bit. I reached a fork in the road and seeing no marker decided to take go right — Strike two, mother chucker. After going some distance without seeing any markers, my gut told me to double back to the fork and check the left lane. Upon returning to the crossroads, a young man riding a motorbike asked me if I was the last runner; I replied yes. He asked if I needed a ride, implying that I was opting out of the race. No, I gleefully snapped back, I'm just trying to find my way back because I think I'm lost. True enough, Mr. Motorbike directed me to go left. And so off I went past a herd of grazing cows until I came upon the Amelong village hall with townsfolk gathered in easy conversation, enjoying the sunlight and gentle mountain breeze. I spotted a cubical structure with a pipe sticking out, water flowing gently from its opening. May I please help myself to this, I asked no one in particular. Better to get from the tap, was the reply. Next to structure sat an outdoor sink with a gooseneck faucet. I unfastened my vest and pulled out the hydration bladder to top up my reserves. Would you like us to call rescue, inquired a young lady. Rescue, I shot back, why would I need rescue? Your friends said you didn't look very well when they last saw you, came the reply. I'm good, I assured her with a smile. Kaya pa (I can still make it).
With a wave and a thank you, I left the congregation that appeared to be evaluating and wagering on my chances of finishing the race. I ran past a waiting shed and was once again accosted by a fork in the road, the right going up a dirt road and the left leading downhill. No sign of any marker (again). Since choosing right proved wrong the last time, I decided on left this time, hoping my instincts were correct. What a beautiful and refreshing view, I thought, as I trotted happily down the trail, entertaining thoughts of making good time and maybe even catching up to Ken and Niko. Hmmm, still no sign of any trail markers. Maybe I'll see one further down. After a little over half a kilometer of running, I came across a farmer tending to his cow and asked him if this was the way to Castillo village. Oh no, was his bewildered answer, it's back there going uphill — that's where all the runners are headed. Strike three, you moron. Batter out. My heart sank, and with it, a considerable amount of bounce in my step that had up to that moment driven me to push past the mounting pain in my legs and feet. There was nothing left to do but turn around and make my way back from whence I came and redirect my energy towards that daunting dusty ascent.
That cannot be the effin' cellular site they were referring to, I exclaimed as I spied the two towers that seemed light years away from where I stood. How in the world will I make it on time on this blasted winding incline that goes on forever and a day? This was it. This was the way it was going to end. I was going to finish this damn race, but it would be past the fifteen-hour race cut-off. You failed, you damn fool. Best to just enjoy the rest of the trail and put this one down to humiliating and submissive inexperience.
Making A Go Of It
After stopping and restarting four times for rest and hydration/nutrition breaks along the two-kilometer clamber, I was finally at the approach to the towers and noticed the markers to the right leading downhill. To my left was the pathway to the cell sites; naturally, I went left. Selfies done, I prepared for the long 14-kilometer walk of shame towards the finish. Hold on, there was still roughly three hours left to cover that distance. That amounted to roughly 4.7 km/hour. I could still make it!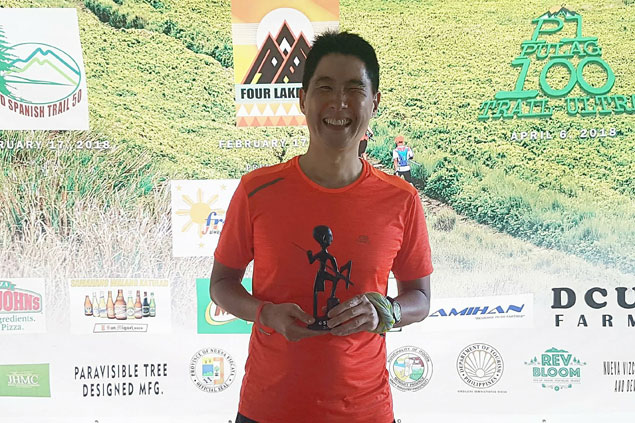 Of course the trail wouldn't simply hand me that respectable finish; I had to bloody earn it. By now, my quads were so tight I could bounce golf balls off them, while I dared not remove my shoes to inspect my soles as they felt like a layer of blistered skin had already torn away and was gnawing uncontrollably against the balls of my feet. I pondered the multiple funerals I would have to attend for the dead toenails accumulated thus far, with more to come in the descent ahead. On the brighter side, the weather was pleasant and I still had myself for company.
And then my watch died.
With roughly eleven more kilometers to cover, the digital readout froze at 44.7 km. Okay, how much worse could it get? A flare up of cramps on both calves at kilometer 46 and down to the last drop of water at kilometer 48. Won-der-ful. I was absolutely dying just trying to maintain a good walking pace, eating the pain with each stride towards the Nueva Vizcaya-Benguet road that would lead me to the last aid station at Km 52. From behind came a voice calling out my name. It was Joven, the indefatigable sweeper who it turns out was looking for me for some time, having 'lost' me when I took the two wrong turns at Amelong. He finally tracked me down and paced me up the road. Joven asked if I needed anything and promptly handed me his hydration flask after I told him about my water debacle.
Why does everything seem so far in trail races, I complained like a spoiled child after learning from Joven that the aid station was still three bends away. We chatted while power walking and did a quick calculation of how long it would take to get to the finish. There was enough time, and after a long while since starting more than fourteen hours earlier, I felt a sense of relief.
We stopped briefly at the aid station at Km 52 so I could get a good dousing and refill my water bottle with the help of the marshals. Joven grabbed a banana that he handed to me later, which helped a lot when he decided we weren't just going to walk our way to the end. At that point, I didn't mind the run-walk sequence we followed (one minute run, two minutes walk). I was too delighted knowing that I had conquered another challenge that had pushed me to the point of near surrender and had tested my threshold for suffering. Now there's the pleasure in the pain, I told myself, rounding the final bend leading to the town proper.
I crossed the finish line in an atrocious and laboured 14 hours 42 minutes and 10 seconds. Contrastingly, the winner of the OST 50k, Al Tellias, finished in 7:32:16, barely half the time it took me to slog through those fifty-six kilometers of humbling terrain and shifting weather patterns. I was dead last among forty-one finishers, and with a battered body to boot.
But I still felt like a winner.