SPORTS fans are some of the loudest people in almost any room before or after any game. Take their voices to the realm of social media and the discourse becomes even more intense, despite failing to register a decibel.
Social media platforms like Facebook, Twitter, and even Instagram have dramatically altered the landscape of how people view and experience sports. Conversations and debates usually confined to sports bars, barber shops, and living rooms pre- and post-games are now easily and widely accessible to anyone with an internet connection. And the dedicated, passionately vocal flock of sports fans will only continue to grow in number because of the unprecedented access afforded to them to express their opinion online.
Sports teams, athletes, coaches and executives have been capitalizing on these new outlets to reach a whole new audience, creating a more interactive connection with their fans online. Some organizations and personalities have used their social media accounts to grow their 'brands' so to speak, be it with witty posts, endorsement promotions, or selfies and photos to give fans a peek at the players outside the playing field.
Others, however, have used that increased influence and went beyond self-promotion either to inspire, stand for something, sway public opinion, push a noble cause, or educate. By making a difference and continuing to do so through this new medium, these sportsmen and sportswomen have, consequently, become the most influential online in this digital age.
Continue reading below ↓
Recommended Videos
We pay tribute to them through this list of Most Influential Sports Personalities on social media.
Gretchen Ho
@gretchenho on Twitter – 494K followers; @gretchenho on Instagram – 418K followers
While the former standout of the Ateneo Lady Eagles is more visible now in front of TV cameras as a host and news anchor than on the volleyball court, Gretchen Ho has become a larger-than-life figure on social media. She tweets about her personal life from time to time to keep her fans updated on what she does, but she does more than that. Gretchen is one of the few athletes on Twitter who dare speak out on issues both in and out of sports and is never shy in giving her opinion on anything she feels strongly about. Truly a woman of substance.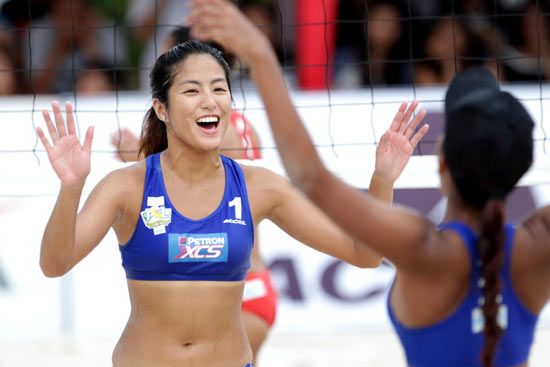 Tim Cone
@manilacone on Twitter – 129K followers
The two-time grand-slam winning coach is always a great interview who's direct to the point and incisive. And he continues to dish nuggets of wisdom and honest observations on his Twitter feed. If he's not retweeting great reads or inspirational quotes and insights, he's heaping praise on well-deserving teams or athletes, or taking the blame for his team's losses. He's not the most active guy on your Twitter feed (rightly so, because you can be sure he'd rather be busy coaching), but when he does post something, anything, it always matters.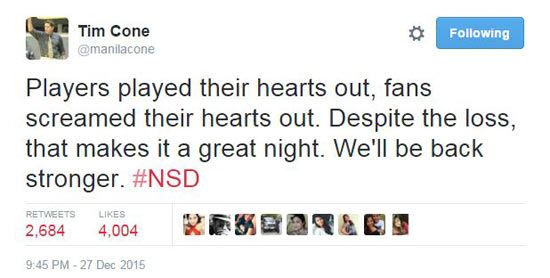 Manny Pacquiao
@Manny PacquiaoTR on Twitter – 2.55M followers; @mannypacquiao on Instagram – 2.8M followers
The social media account of the Filipino athlete with the most number of followers is what you might expect from a global icon — plus a lot of commercial endorsements. But a few gold nuggets come once in a while. A devout Christian, Pacquiao would share inspirational messages in the form of Bible verses and, lately, he has learned to hit back with a punch line or two against detractors like Floyd Mayweather. In reality, Pacquiao's Twitter account was a lot more exciting when it was handled by Pacquiao himself - not 'managed' by other people. But it's still worth tuning in to.
Kiefer Ravena
@kieferravena on Twitter – 434K followers on Twitter; @kieferravena15 on Instagram-295K followers
A line in the movie Pulp Fiction goes, "personality goes a long way." Ravena is surrounded by a positive and clean-cut vibe that even nitpicking detractors find hard to penetrate. He uses social media to garner support for noble causes (the most recent being a volleyball match in partnership with fellow Atenean Alyssa Valdez for the benefit of typhoon victims), shows he can be an unabashed fan (to his own humorous detriment), or supports worthy causes. Heck, the guy even went to the defense of a rival player accused of game-fixing. You certainly don't see that everyday.

Manny V Pangilinan
@iamMVP on Twitter – 131K followers
Considered by many as the "Godfather of Philippine Sports", MVP has used social media the way Vito Corleone employs his caporegimes — to get his message across. Whether it's an official announcement from one of his companies or his commitment to the country's national sports programs, Pangilinan is on point with his posts. Twitter has also given us a window to the business tycoon's human side — what books he reads, his opinions on public matters, and sentiments — who can forget his 'Mapapaaway kami dito' tweet prior to the China vs Gilas final in the 2015 Fiba Asia championship in Changsha, China?
Phil Younghusband
@philyhusband on Twitter – 900K followers; @philyounghusband10 on Instagram – 78.8K followers
Check his social media feed and you'll get a glimpse of the charmed life — vacations, endorsements, training and game updates, cheesy love life posts — of the country's most popular footballer. But he also puts that massive popularity to good use by promoting, participating, and posting about his outreach programs and The Younghusband Football Academy's role in helping develop football in the country. But most of all, he continues to be the torch that keeps the flame burning for the Beautiful Game.
Asi Taulava
@agelessasi88 on Twitter – 71.5K followers; @agelessasi88 on Instagram – 70K followers
The 42-year-old NLEX slotman is not only one of the most dominant bigs in the PBA today, but he's also one of the funniest men outside the court. This much is evident in his regular tweets, bantering with fellow PBA stars. He's also quick to give some shoutouts to well-performing players and interacts with fans constantly. What's more inspiring is his posts on training, serving as a #fitspiration to all by how hard he still trains even at his age.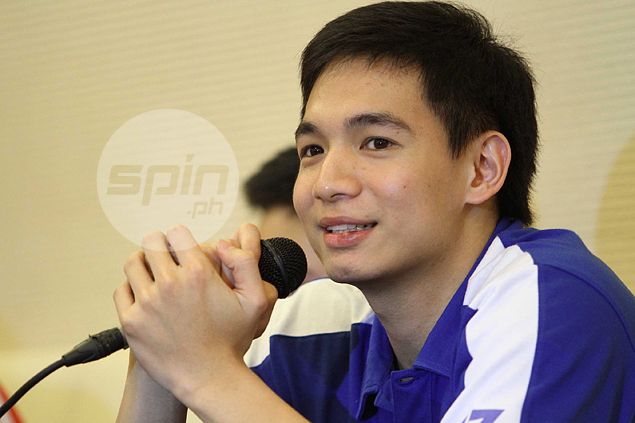 Chris Tiu
@chris_tiu on Twitter – 788K followers; @chris_17 on Instagram – 87K followers
In Rafe Bartholomew's ode to Philippine basketball, Pacific Rims, the Fullbright scholar mentioned Tiu, then a member of the Ateneo Blue Eagles, as being more than just a mere jock. If you follow the Rain or Shine guard on social media, you could see why. Yes there's the plethora of endorsements, but Tiu also uses his feed to mention issues that matter: the campaign against narcotics, nationalism, and his faith in God. So if you're seeking doses of inspiration, this is one guy worth following.
Abigail Marano
@Abymarano on Twitter – 135K followers; @abymarano on Instagram – 115K followers
The feisty volleyball star showcases a different side on social media that's a bit removed from her intimidating persona on the court. She shares the training that makes her a beast of a spiker. But she also shows a kinder even funnier side in baring her heart and soul on her posts, giving fans a closer and more personal peek at her life. Marano's social media accounts certainly paint a clearer picture on her interesting personality off the court.
Chot Reyes
@coachot on Twitter – 170K followers
Chot Reyes will always be a firebrand. The 2013 Spin.ph Sportsman of the Year is pretty active on social media, sharing anything from the usual "what-I-ate-today" to the goings-on in the sports division of TV5. The former Gilas coach is always generous with his take on live game analysis and observations. Reyes is also never one to back away from responding to certain tweets directed at him. Better keep the popcorn handy. Love him or hate him, his Twitter feed will remain irresistible.