THERE'S no other way of putting it: the Philippine campaign in the 29th Southeast Asian Games was a disaster.
Not as disastrous as the 1999 edition in Brunei, when the country hauled just 19 gold medals to finish fifth, but the 24-gold tally in the Kuala Lumpur games was unacceptable nonetheless.
There are some positives, sure. The sixth place finish is not the worst for the Philippines, as the country fell to seventh just four years ago when the biennial meet was held in Myanmar. And comparing the performance of the rest of the field to the last SEA Games in Singapore, the fall of the Philippine contingent is not that bad.
Other than host Malaysia, Laos, and Cambodia, the rest of the competing countries in the regional meet suffered losses in the gold medal tally. Singapore took the biggest hit after losing 27 golds compared to 2015, followed by Thailand (-23) and Vietnam (-15). The Philippines was among the least hit with a -5 tally in the gold haul.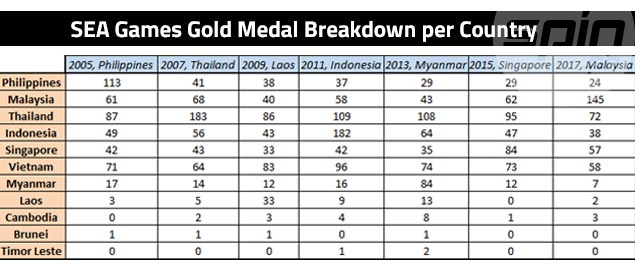 Continue reading below ↓
Recommended Videos
Still, what's troubling is the trend in the performance of the Philippines since the last time the country hosted the SEA Games.
Among the 11 Southeast Asian nations, the Philippines is the only one to show a consistent downtrend in the gold medal count since 2005, the time we hosted the meet and ended up overall champions with 113 golds.
Traditionally, host countries do well in the SEA Games. But in the past six editions before the KL meet, Malaysia and Vietnam have not hosted the biennial tournament yet still to managed to keep an average of at least 55 golds per edition while seeing some improvements.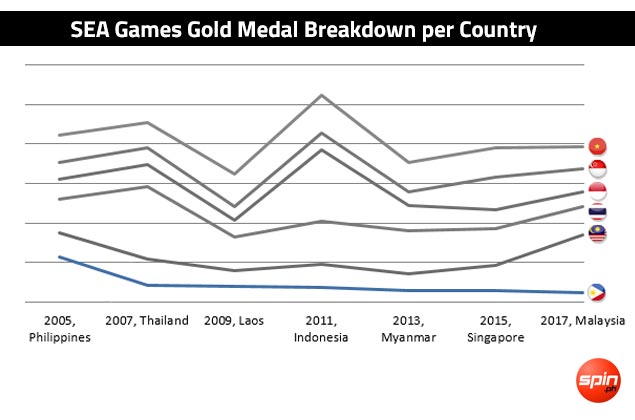 The Philippines, however, has not cracked above 41 golds since 2005, and saw its gold medal count dip in every edition, save for 2015 when the country matched its 29-gold output in the Myanmar games in 2013.
With the country set to host the SEA Games in 2019, expect a break in the trend as host countries have increased its gold haul by an average of 77 golds in the past six tournaments. But if the deep issues hounding Philippine sports isn't addressed, that foreseen improvement for the Philippines two years from now could be as valuable as fake gold.