AMID the glitches and controversies, the 30th Southeast Asian Games had feel-good stories from just about every event – 530 in all – in the 56-sports biennial meet, from surfer Roger Casugay to the overachieving Philippine men's volleyball team.
The playing venues that provided the stage for the athleticism and bravery of more than 5,000 athletes were another great source of pride for millions of sports-loving Filipinos.
One of them was the enchanting Miguel Romero Polo Field in Calatagan, Batangas.
Surely, Brunei will not forget this polo field since this was where it achieved its biggest sporting triumph so far after ruling polo's 0-2 goals division at the expense of Malaysia.
Apart from winning the gold medal, Brunei royalties, including Prince Jefri Bolkiah and son Prince Bahar, Princess Azemah and Prince Mateen – children of Sultan Hassanal Bolkiah – were all charmed by the world-class playing facility.
They, including Indonesia and Malaysian officials, were one in saying that the Miguel Romero Field will be hard to top in any future SEA Games.
ADVERTISEMENT - CONTINUE READING BELOW ↓
Indonesian coach Nico Curto even likened the Romero Field to the well-loved loved Palermo Polo Field in Argentina.
Dato Mohammad Moise, president of the Royal Malaysian Polo Association, echoed Curto's observation, adding that they are looking forward for other tournaments at the Miguel Romero Field after being awed by its world-class facilities especially its now iconic and architectural masterpiece – the Bamboo Pavillion.
"We feel home here because we know Mikee (Rep. Mikee Romero) for a couple of years already so we would like to come back and play here again," added Curto.
For Brunei National Olympic Committee head and Sultan Hassanal's brother, Prince Sufri Bolkiah, "winning one of Brunei two gold medals in a world-class facility such as the Miguel Romero facility will be one of the most memorable moments for the whole Bruneians".
The facility, the ambience and Romero's hosting, according to Prince Mateen and Princess Azemah Bolkiah, will now be the standard for future polo event in the SEA Games.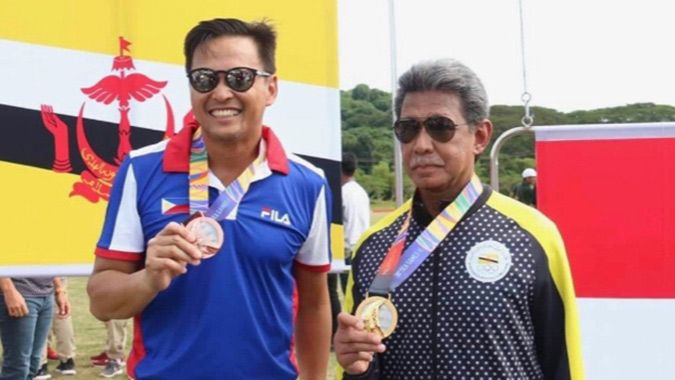 The Philippine team settled for the bronze medal in the 0-2 goals division, but for Romero and company – Tonio Veloso, Noel Vecinal, Jam Eusebio, Santi Juban, Julian Garcia, Franchesca Eusebio and coach Anthony Garcia – the medal glitters like a gold.
"We fell short in our mission but we did our very best," said Romero. "Good thing we received inspiring words so hopefully we can do better next time."
ADVERTISEMENT - CONTINUE READING BELOW ↓