KUALA LUMPUR - The Philippines raised its gold-medal output to 22 golds after winning four on Sunday but remained well off targets with three days to go until the end of the 29th Southeast Asian Games.
Carlo Biado and Chezka Centeno swept the 9-ball singles gold medals for the Philippines while Samuel Morrison of taekwondo and Mariya Takahashi of judo followed suit, leaving the Philippines seven short of its worst output in 2015 in Singapore and 2013 in Myanmar.
The Philippines also has 28 silvers and 54 bronzes to stay in sixth place in the overall tally, which is no small consolation considering it lags well behind host Malaysia (94 gold medals), Vietnam (52), Thailand (50), Singapore (48) and Indonesia (31).
The close to 500-strong contingent is also nowhere near the 50 gold medals which chief de mission Cynthia Carrion predicted it is capable of winning.
Billiards once again became a source of solace for the Philippines as Biado beat Duong Quoc Huan of Vietnam, 9-5, while Centeno won over compatriot Rubilen Amit, 7-6, to complete a sweep of the 9-ball singles gold medals.
The women's gold in 9-ball also mirroed the accomplishment of the men's and women's triathlon team for its 1-2 finishes in their respective events.
Continue reading below ↓
Recommended Videos
[See Golden debut for Fil-Japanese judoka]
Morrison beat Indonesia's Dinggo Ardian Prayogo in the men's lightweight final in taekwondo while Takahashi, a 16-year-old new recruit of the national judo team based in Kobe, Japan, upended five-time SEA Games champion Surattana Thongsri of Thailand in the women's -70kg.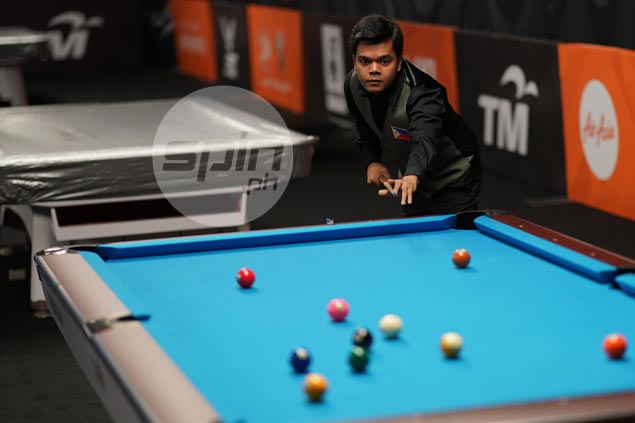 Winter Olympian Michael Martinez failed in his bid to win a gold in the SEA Games debut of figure skating, finishing second to a Malaysian opponent, while Arben Alcantara bagged a silver in the men's featherweight division in taekwondo in a controversial fashion.
Pauline Lopez also got a bronze in taekwondo in the women's lightweight class, while Johann Chua settled for a bronze in men's 9-ball in billiards. Sydney Sy took third place in judo in the women's -78kg class.
Jason Huerte, Rheyjey Ortouste, and Mark Joseph Gonzales copped a bronze in the sepak takraw men's doubles, as Emerson Villena and Lester Troy Tayon also took the bronze in the international 470m event in sailing.
The rhythmic gymnastics group single apparatus team of AJ Melgar, Jean Caluscusin, Katrina Drilon Loretizo, Marian Nicolle Medina, and Shieldannah Sabio wound up with the bronze medal, as did Elmer Abatayo in the men's singles lawn bowls.