KUALA LUMPUR - Gold medals from the usual suspects to the unconventional sports highlighted the Philippines' camapign on Thursday in the 29th Southeast Asian Games.
Anthony Beram sealed his second gold medal of this Games when he ruled the men's 400-meter run while boxing produced two golds courtesy of middleweight Eumir Felix Marcial and light-heavyweight John Marvin.
Unexpected victories in lawn bowls, a sport last played in the SEA Games in 2007, and first-timer ice hockey capped an unconventional five-gold haul for the Filipinos for the day.
Following the five-gold haul which tied its best output on Tuesday, the Philippines raised its tally to 15 gold, 18 silver, and 31 bronze medals to stay in sixth place in the overall standings.
Host Malaysia continues to lord it over the medal tally with a 63-45-36 harvest followed by Singapore (33-30-34), Vietnam (33-23-30), Thailand (25-42-45), and Indonesia (18-23-40).
Beram clocked 46.39 seconds to beat P. Sunthonthuam of Thailand (46.46) and Quach Cong Lich of Vietnam (46.48) in a fitting follow-up to his 200m victory on Wednesday.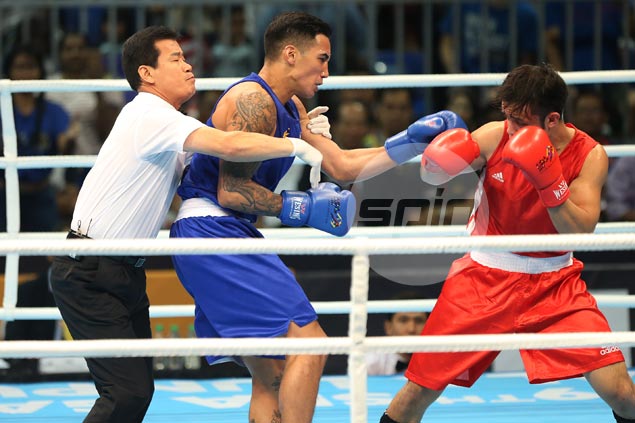 Continue reading below ↓
Recommended Videos
Marcial beat Pathomsak Kuttiya of Thailand via unanimous decision while Fil-Brit Marvin beat Adli Hafidz B. Mohd Pauzi of Malaysia via referee-stopped-contest in just 21 seconds.
The men's fours of Curte Robert Guardin, Emmanuel Portacio, Leoncio Carreno Jr., and Ronald Lising bagged the gold in lawn bowls, beating the host in the final match.
The Philippines also has the right to be called the first SEA Games champion in ice hockey when the men's team completed a four-game sweep of the tournament capped by a thrilling 5-4 win over Thailand.
Three silvers were won on Thursday starting with the women's fours team of Marisa Baronda, Nancy Toyco, Nenita Tabiano, and Sharon Hauters in lawn bowls.
The women's jumbo doubles of Jemyca Aribado and Yvonne Alyssa Dalida also captured a silver in their event in squash, while Mario Fernandez settled for a silver in the bantamweight division in boxing.
Flyweight Ian Clark Bautista and light welterweight Charly Suarez received their bronze medals in boxing to formally join the medal table as well as the mixed doubles squash pair of Aribado and Robert Garcia.
Also in squash, the men's jumbo doubles of David William Pelino and Garcia captured the bronze medal.
Lois Kaye Go finished third in the women's individual event in golf while Teresa Amparo also took third in the women's 50m rifle prone individual in shooting.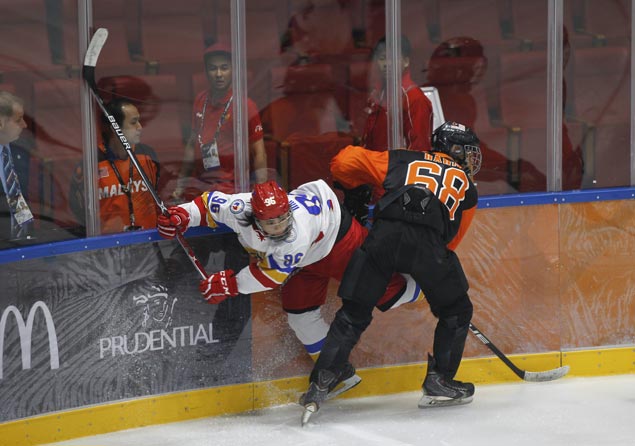 Over at the Kuala Lumpur Convention Centre, the women's kumite team of Erica Celine Samonte, Junna Tsukii, Kimverly Madrona, and Mae Soriano added to the medal output of karatedo with a bronze.
Tenpin bowling provided a bronze courtesy of the women's bowling team of five of Maria Lourdes Arles, Dyan Arcel Coronacion, Maria Liza Del Rosario, Marian Lara Posadas, Marie Alexis Sy, and Krizziah Lyn Tabora.
Mervin Guarte finished third in the men's 1,500m run, as was Janrey Ubas in the men's long jump at the Bukit Jalil Stadium.
Dennis Orcollo and Warren Kiamco salvaged their campaign when they finished with a bronze in the men's 9-ball doubles.