KUALA LUMPUR - The Philippines settled for one gold medal on the penultimate day of the 29th Southeast Asian Games, assuring the country of its worst finish in 18 years in the biennial showpiece.
Only Dines Dumaan managed to break through among Filipino athletes on Tuesday in the men's 45-50kg tanding Class A division in pencak silat, the 24th gold for a 498-strong delegation that its top delegation official predicted would win 50 gold medals.
With losses in gold-medal matches in taekwondo, squash, and sepak takraw, the Philippines is condemed to fall short of the 29 gold medals the country won in 2015 in Singapore and 2013 in Myanmar.
The last time a Philippine contingent finished with less gold medals in the SEA Gmes was in 1999 in Brunei where it won 20. But the scaled-down Brunei showpiece only had 233 gold medals up or grabs - well below the 404 gold medals staked in these Games.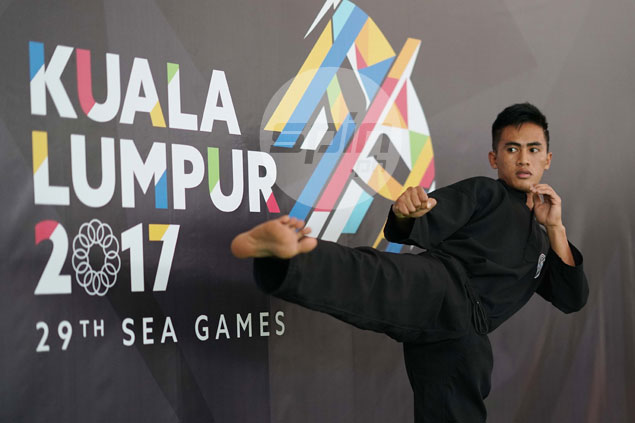 Continue reading below ↓
Recommended Videos
From the remaining events on Wednesday before the closing ceremonies at the Bukit Jalil Stadium, only speed skating has a Philippine entry in Kathryn Magno.
The Philippines now has 24 golds, 33 silvers, and 64 bronzes - good for sixth place in the medal tally, and well behind regional rivals Malaysia, Thailand, Vietnam, Singapore, and Indonesia.
[See PH squash team settles for silver after losing to Singapore in final]
Olympian and flag-bearer Kirstie Elaine Alora settled for the silver medal in the women's -73kg category in taekwondo after bowing to nemesis Sorn Seavmey of Cambodia.
In evening results, squash delivered a silver courtesy of Robert Garcia, David Pelino, and Reymark Begornia in the men's team event while sepak takraw also copped a silver in the men's regu from Jason Huerte, Mark Joseph Gonzales, Rheyjey Ortouste, Rhemiwil Catana, and Ronsited Gabayeron.
Francis Agojo also tabbed bronze in the men's -63kg in taekwondo. Squash also tallied bronze from the women's team event courtesy of Isabelle Gotuaco, Jemyca Aribado, Joan Arebado, and Yvonne Alyssa Dalida.
Bronze medalists in pencak silat were Rick Rod Ortega (men's tanding Class C -60kg), Jefferson Rhey Loon (men's tanding Class D -65kg), Juryll Del Rosario (men's tanding Class I 85-90kg) , and Princesslyn Enopia (women's tanding Class A 45-50kg).
Ryan Jakiri settled for bronze medal in the men's 60-63.5kg division in muay.