INDONESIA has beefed up its roster in a bid to challenge Gilas Pilipinas in the 31st Southeast Asian Games men's basketball competition in Hanoi, Vietnam.
Indonesia coach Rajko Toroman revealed that Marques Bolden and Derrick Michael Xzavierro will be making their national team debut in the SEA Games after joining the squad in training recently.
Toroman said 6-foot-10 Bolden has replaced Lester Prosper as their naturalized player ahead of the SEA Games where Gilas Pilipinas will be defending the gold medal.
Also being called up is the 6-foot-9 Xzavierro, a product of the NBA Global Academy who recently became the first Indonesian player who will play in the NCAA Division I with Grand Canyons.
Standing at 6-foot-10, Bolden has top-notch credentials with the former Duke product having played briefly for the Cleveland Cavaliers. He recently played for Utah Jazz's G League affiliate Salt Lake Stars where he averaged 12.3 points, 9.3 rebounds, and 1.9 blocks during the 2021-2022 season.
Toroman said Bolden joined Indonesia last month and he expects him to eventually sign with the Jazz next season.
"We have changed Lester with Marques Bolden and he arrived here in April," said Toroman during the SPIN POV episode direct from Jakarta. "He is practicing with the team. He was playing in the G League last year. He had a double-double and he will probably sign for the Utah Jazz after Fiba Asia."
Continue reading below ↓
Recommended Videos
"We are a little bit better than before. We will see how we will play in the SEA Games," said Toroman.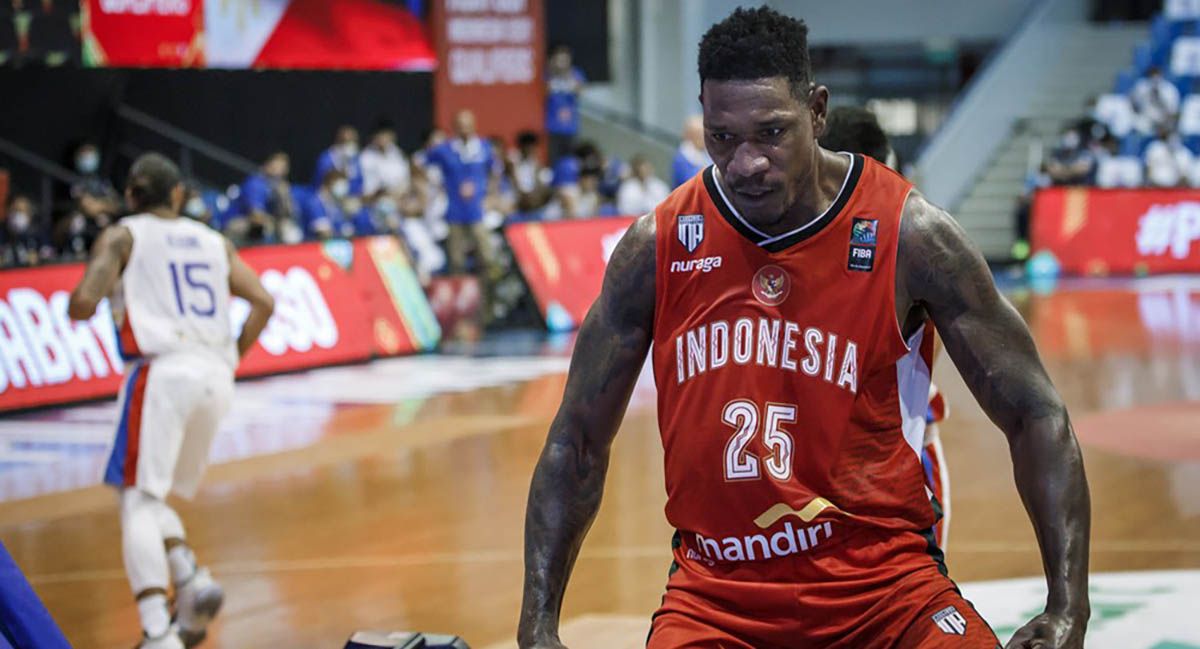 Lester Prosper is not seeing action for Indonesia in th Hanoi Games.
Toroman also looks forward to see Xzavierro on the court which will definitely enhance its chances this time in the SEA Games. Indonesia in 2019 lost to Vietnam, 86-71, in the battle for the bronze after bowing to Gilas, 97-70, in the semifinals.
"I don't know if Brandon Jawato will play because of his injury but the Indonesian kid from NBA Academy, he joined us a few days ago. We now have 6-10, 6-9 just to be a little bit competitive with the size of all other Asian teams. That makes us a little bit more optimistic than before," said Toroman.
Gilas Pilipinas is gearing up for the SEA Games, and is not taking any chances, forming a mix of PBA and Japan B.League players in June Mar Fajardo, Japeth Aguilar, Robert Bolick, Thirdy Ravena, and Dwight Ramos.
Toroman said the SEA Games is also part of the preparation for the Fiba Asia Cup where Indonesia must make it to the top eight in order to qualify for the 2023 Fiba Basketball World Cup.
The Serbian coach said the Philippines remains the strong contender for the gold especially with his new-look team set to play together for the first time.
"Of course, we are better. That means we are 100 percent competitive. With the Philippines, I saw the line-up and it's a very strong line-up. It's Fajardo, Japeth, Bolick, Thirdy Ravena, Dwight Ramos, Wright, all the great players. You have more talent for sure. But we will try to be more competitive than before."
"For us, it's good to see where we are at this moment. Now, we have size. We are bigger. I understand why Chot is putting Fajardo and Japeth in the team. It will be interesting. But still, I think Gilas is a little bit in front of us. We are [playing] first time in this line-up. We don't have too much games together and we understand that SEA Games is like a preparation for the Fiba Asia which will help us to see what we have to change and to improve," said Toroman.
We are now on Quento! Download the app to enjoy more articles and videos from SPIN.ph and other Summit Media websites.