A 'SEX scandal' is threatening to disrupt the Southeast Asian Games in Singapore.
April Manganang of the Indonesian women's volleyball team is again grabbing the spotlight, partly due to volleyball skills but mostly because of questions surrounding his gender.
Is April a boy?
A day before the women's volleyball competitions get underway, the Philippines confronted the issue by filing a formal protest and requesting a gender test for the Indonesian team's star player.
[See Philippine volleyball team files SEA Games protest, seeks gender test for Indonesian star]
The issue, however, is no longer new.
Doubts over the gender and eligibility of the Indonesian spiker have been raised as early as 2011 during the Proliga Indonesia, when a club refused to see action against Manganang's squad, according to news portal pikiran-rakyat.com.
The same issues were raised two seasons later, according to the news portal liputan6.com.
According to another Indonesian website pikiran-rakyat.com, Mangalang underwent a number of medical tests to determine gender and prove her eligibility.
The Philippines, including Alyssa Valdez, is familiar with Manganang, having faced her and the Indonesians during the Asian Volleyball Confederation qualifiers. The Pinay spikers lost the match.
The spiker's manly features and remarkable strength led to eligibility issues being raised during the Southeast Asian-level tournament, but the Indonesian squad reportedly had a document on hand certifying Mangalang is a female.
Continue reading below ↓
Recommended Videos
Still, questions persisted.
A Facebook fan page for April Manganang has pictures of the muscular volleyball player, and refers to the account owner as a "he."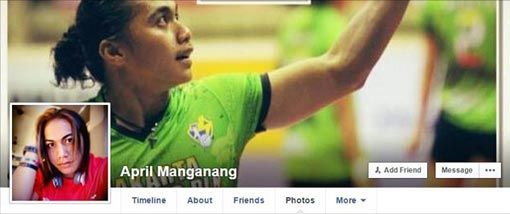 "I'll tell you, lalaki sya maglaro," says Philippine national team coach Roger Gorayeb, who saw Mangarang in action during the Asian qualifers. "Even yung Vietnam, hirap na hirap sa kanya bago siya tinalo."
[See Philippine volleyball coach Gorayeb wary of one Indonesian player. Find out why]